Two Movie Events This Week: "The Social Network" and "The Photograph"
Posted on 9/22/20 8:07 PM
STATIC is bringing you two movie events this week: The Social Network on Wednesday, September 23, and The Photograph on Friday, September 25!

Netflix Watch Party: The Social Network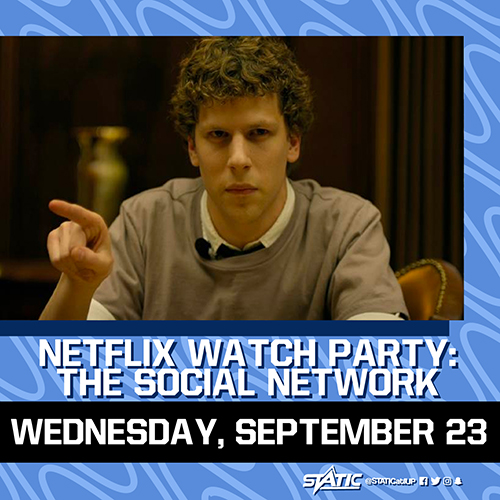 On Wednesday, September 23, STATIC hosts a Netflix Watch Party featuring The Social Network. Event begins at 8:00 p.m.
In The Social Network, "based on the book The Accidental Billionaires, Harvard undergrad and computer genius Mark Zuckerberg (Jesse Eisenberg) begins work on a new concept in 2003 that eventually turns into the global social network known as Facebook. Six years later, he is one of the youngest billionaires ever, but Zuckerberg finds that his unprecedented success leads to both personal and legal complications when he ends up on the receiving end of two lawsuits, one involving his former friend (Andrew Garfield)."
Watch via Google Chrome's Netflix Watch Party extension. Must have a Netflix account, but you can sign up for a free 30-day trial.
STATIC will ask various pieces of Facebook trivia, with the winner taking home some amazing prizes.
Netflix & Chill: The Photograph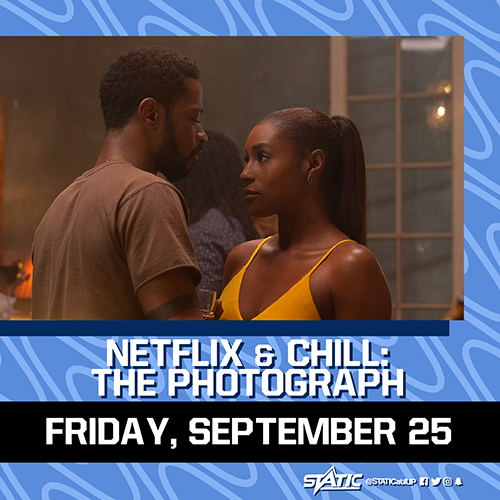 On Friday, September 25, STATIC hosts a virtual Netflix & Chill movie night featuring The Photograph. Event begins at 8:00 p.m.
In The Photograph, featuring Issa Rae, who joins STATIC on Thursday, September 24, as well, "when famed photographer Christina Eames dies unexpectedly, she leaves her estranged daughter, Mae (Issa Rae), hurt, angry, and full of questions. When Mae finds a photograph tucked away in a safe-deposit box, she soon finds herself delving into her mother's early life—an investigation that leads to an unexpected romance with a rising journalist."
This title replaces the previously advertised showing of Knives Out.

Watch via Swank Motion Pictures' online portal:
If you are physically on campus or living in IUP housing, all you need to do is follow [the forthcoming link], also advertised on STATIC's social media pages.
If your device is not connected to the IUP network (IUP wireless or connected to an on-campus network), you will be redirected to the Keystone Library Network username/password page. You will click on the IUP Crimson Hawk to be prompted to enter your IUP Web Single Sign-on login credentials. Once completed, the film will successfully launch.
For more information, check out the STATIC website, Twitter page, or Instagram page.