An Evening with Issa Rae
Posted on 9/16/20 7:58 PM
Join STATIC as we present actress, comedian, author, and YouTube personality Issa Rae, live via Zoom, on Thursday, September 24. The Zoom waiting room will open at 7:30 p.m. with the event beginning promptly at 8:00 p.m.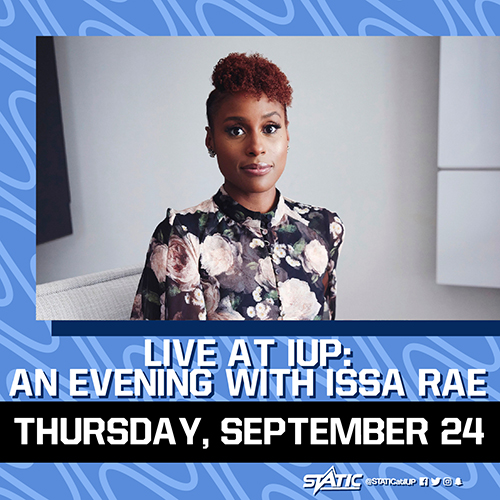 This event is completely free and only open to the IUP community. No preregistration is required. STATIC will publicize the Zoom link on Thursday prior to the event.

STATIC is committed to bringing nationally recognized, diverse artists with a variety of perspectives to campus. Come listen as Issa recounts her story of growing her own personal brand, confronting issues pertaining to racism and inequity in the entertainment industry and her personal life, and finding empowerment in the overcoming of barriers and failures in life and work.

If you would like to submit a question for Issa to answer live during the event, please email us (STATICatIUP@gmail.com) or send us a direct message on Facebook, Twitter, or Instagram.
From the artist's bio, "With her own unique flare and infectious sense of humor, Issa Rae's content has garnered over 23 million views and over 200,000 YouTube subscribers (and counting). In addition to making Glamour Magazine's "35 Under 35," Forbes' "30 Under 30," and Entertainment Weekly's "Breaking Big" lists, Issa's hit series The Misadventures of Awkward Black Girl was the recipient of the coveted Shorty Award for Best Web Show. Issa's first book, a collection of essays, is a New York Times Best Seller, and her latest project, Insecure, a half-hour comedy show for HBO, premiered in the fall to rave reviews and earned her a Golden Globe nomination. Issa has received national attention with major media outlets, including the New York Times, CNN, ELLE, Seventeen, Rolling Stone, BuzzFeed, Fast Company, MSNBC, Essence, Fader, Variety, and more."
Attendees will be able to register for electronic attendance vouchers for those instructors offering extra credit.
Did we mention that this is completely free?

For more information, check out the STATIC website, Twitter page, or Instagram page.