STATIC Celebrates Virtual Family with Virtual Movie Night
Posted on 9/24/20 4:36 PM
STATIC celebrates IUP Family Weekend with a virtual movie night. On Friday, September 25, STATIC will show The Photograph. Event begins at 8:00 p.m.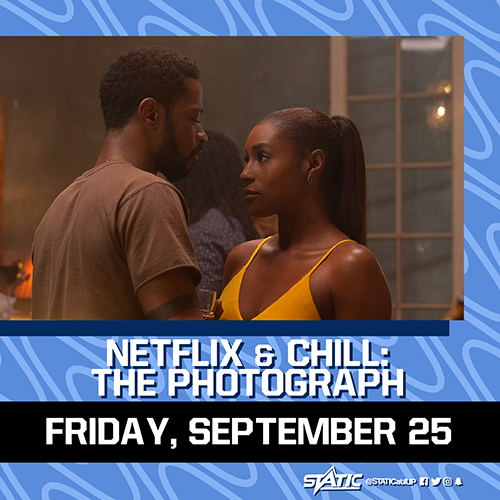 In The Photograph, featuring Issa Rae, who joins STATIC on Thursday, September 24, as well, "when famed photographer Christina Eames dies unexpectedly, she leaves her estranged daughter, Mae (Issa Rae), hurt, angry, and full of questions. When Mae finds a photograph tucked away in a safe-deposit box, she soon finds herself delving into her mother's early life—an investigation that leads to an unexpected romance with a rising journalist."
Watch via Swank Motion Pictures' Online Portal:
If you are physically on campus or living in IUP housing, all you need to do is follow this link, also advertised on STATIC's social media pages. This link will be live for 48 hours, from September 25 to September 26.

If your device is not connected to the IUP network (IUP wireless or connected to an on-campus network jack), you will be redirected to the Keystone Library Network username/password page. You will click on the IUP Crimson Hawk to be prompted to enter your IUP Web Single Sign-on login credentials. Once completed, the film will successfully launch.

Join STATIC live on Instagram at 8:00 p.m. for interactive trivia to win some awesome prizes!
This title replaces the previously advertised showing of Knives Out.
For more information, check out the STATIC website, Twitter page, or Instagram page.