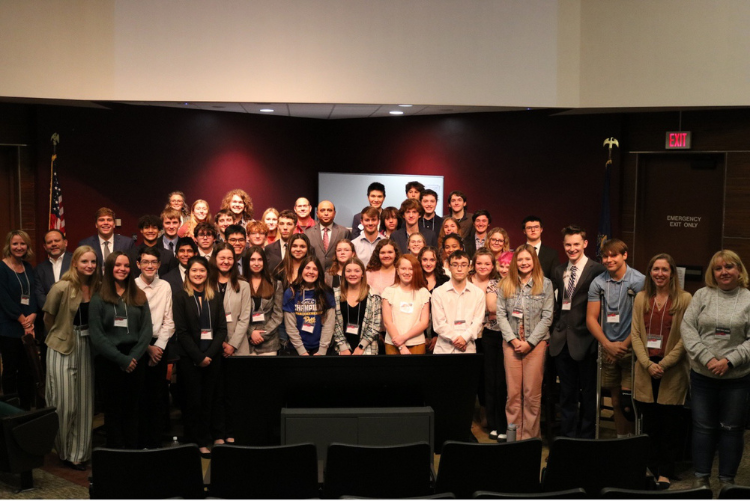 The Eberly College of Business hosted 51 students from eight different high schools on November 10 in the first-ever competition of its kind in the region for high school students. The competition tested the students' knowledge of various business topics in addition to events and trivia pertaining to business and economics.
The competition was held in two stages during the day and students competed in teams of three. There was a total of 17 teams. In the Preliminary Written stage, teams were given a multiple-choice test of 75 questions pertaining to business. The top four teams based on the scores in the preliminary stage competed in the Finals in front of an audience of Eberly students and faculty in a gameshow setting in the auditorium.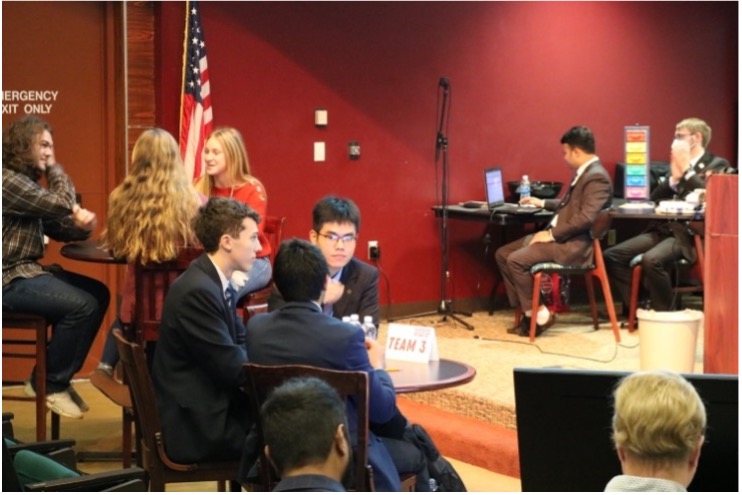 There were fifteen rounds of questions and some of the categories of questions included: Celebrating Western PA's rich business history (Fortune 500 companies in Pittsburgh); Breaking the Glass Ceiling (famous Women CEOs); Hail to the Chief (U.S. Presidents and their contributions to business and economy); Famous World Leaders in News; From Which Country is this Company; To Which Corporation Does this Brand Belong; Never Give Up (famous business leaders who failed initially); Name Origin of businesses; Wall Street Front Page (identify the recent event); and Charades/Pantomime (Act out the name of the famous company). Some of the rounds included questions on well-known business book names, tag lines and logos of businesses, major global news, business etiquette practices around the world, and stock symbols of companies.
Elements of game shows such as Jeopardy!, Wheel of Fortune, and Millionaire (ask help from the high school teacher OR poll the audience) along with numerous audience questions were incorporated into the finals to make it interesting and entertaining. The final round involved Rapid Fire questioning and teams could wager at different levels based on their scores as well as that of the other teams.
The high schools that participated included Indiana, Kiski Area, Knoch, Marion Center, Purchase Line, Springdale, The Kiski School, and West Shamokin with many schools fielding multiple teams. The first place winner was from The Kiski School. Teams from Springdale, Indiana, and West Shamokin placed second, third, and fourth, respectively. The winning teams received IUP scholarships totaling $10,000.
In between the two stages, participating students and their teachers/counselors had the opportunity to listen to presentations by Eberly administrators and faculty about the college and its majors, tour the building, and network with each other. Eberly administrators met with the high school teachers to plan future outreach events with the schools.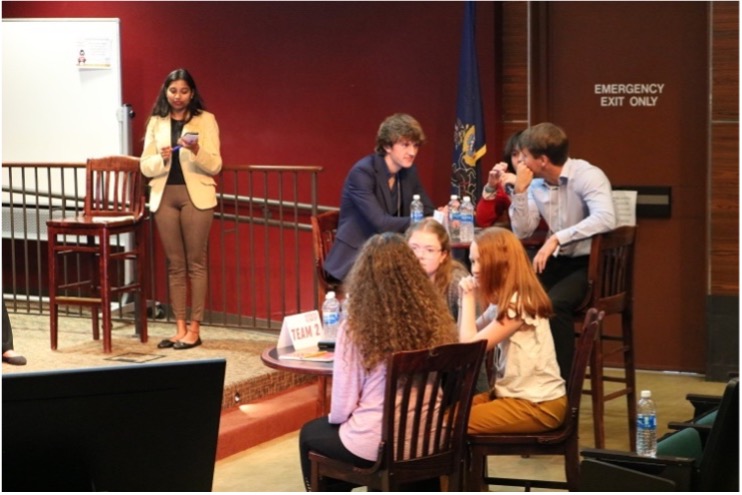 Prashanth Bharadwaj, the Interim Dean and the quiz master, said: "I had conducted this educational and fun event numerous times in Eberly in the last two decades. This year, we collectively decided to make it an Eberly branding event and focus on high school students. It was heartening that each of the students and teachers enjoyed the event and said they would be back next year. We look forward to making it a bigger event next year! Thanks to my Eberly colleagues and students for working tirelessly behind the scenes to make this event successful. The several hundreds of hours of preparation to execute it was well worth it!" 
Assistant Dean Amy Cook, who coordinated the technology and logistics for the event, said: "This was really a great opportunity for these students to experience the college atmosphere and connect with other students outside their high school.  Let's not forget, it was also a great opportunity to showcase the Eberly College of Business too."
Amy Dubetsky, Business Teacher from West Shamokin, who brought three teams from her school, said: "My students and I had a great time at the Biz Wiz competition!  What a fun way to test students' knowledge of current business topics. I love how the afternoon rounds included the audience, was light-hearted, and still tested their knowledge of a variety of business and economic concepts.  My students all enjoyed it and said they would love to come back and participate again.  Thank you for such a fun experience!"