On April 12, 2021, the Student Accounting Association held its final virtual Zoom meeting of the spring semester with guest speakers Tia Gamler '03, vice president of finance at Rotating Machinery Services, Inc. and Steve Bruckner '06, vice president of finance at CD Industrial, LLC. Gamler and Bruckner both completed bachelor of science degrees at IUP, majoring in accounting, and both are CPAs.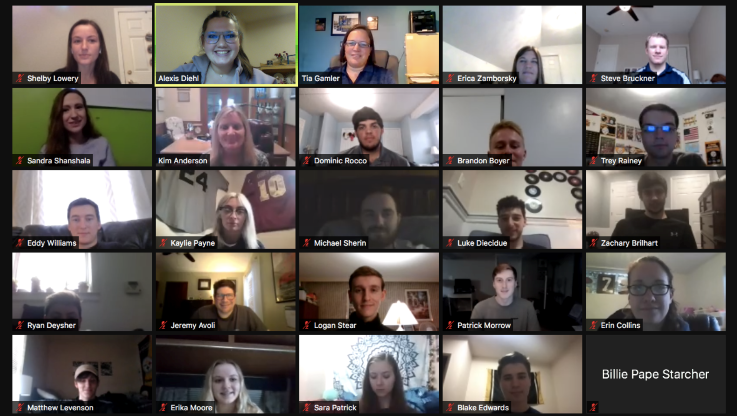 The SAA faculty advisor and professor in the Department of Accounting, Kim Anderson, had both Gamler and Bruckner in her Intermediate Accounting I course during the spring 2001 and spring 2005 semesters, respectively. "Tia and Steve were outstanding students both inside and outside the classroom," Anderson said. "Tia was on the women's soccer team, and Steve played on the hockey team. Hearing about the careers of actual alumni is a great way for our students to learn about the profession and to keep them engaged as accounting majors. It is also very fulfilling for me as a professor to see my former students succeed in their careers."

Gamler and Bruckner talked about the importance of networking, taking advantage of new opportunities, and how COVID could potentially change the workplace in the future. Following is a summary of the key points made during the meeting:
The importance of networking continues throughout your entire career. It is vital to establish strong relationships with colleagues because you never know when those colleagues might be in a position to help you with future career moves.
It is highly beneficial to seek out new opportunities and get involved in other departments to learn as much as possible about the company where you work. Being the one who always raises your hand and volunteers is looked upon highly and often leads to promotions within the company.
Gamler and Bruckner both shared that they are working remotely due to the pandemic. Gamler began her current position in March 2020 at the very beginning of the pandemic, which made the transition into her new position more challenging. Bruckner mentioned that his current employer is based in another state, and he will be permitted to continue working remotely from his Pittsburgh-area home after the pandemic ends. They both discussed how COVID will impact the business world in the future. Like Bruckner, some companies might allow their employees to live in one state and work in another.
Gamler and Bruckner shared several pieces of advice throughout, such as:

Do not make the mistake of being the first one to pack up to leave at the end of the workday.
Public accounting is a great place to begin your career in the accounting profession so that you can earn your CPA license which will qualify you for a variety of interesting jobs in industry.
Trust and respect must be earned when you move into a new position.
Make sure you agree with a company's overall mission when deciding whether to accept a position there.
Accounting is a very versatile major and will provide many career paths.
This was the final SAA meeting of the semester. All of the members of the Student Accounting Association would like to thank each and every one of our spring 2021 speakers who have shared their time and advice with us. The SAA president, Shelby Lowery, will email the list of speakers for fall 2021 early next semester.