Morgan Jarvie is a Finance major and an early admissions MBA student in the Eberly College of Business and Information Technology.
Morgan was born and raised in Shelocta, Pennsylvania. She graduated from a local high school and had many friends who attended IUP. "My friends always talked about how much they loved the university, and I couldn't wait to start taking classes at Eberly." Aside from these connections, the primary reason behind Morgan's decision to attend IUP was the educational opportunities offered on campus. "I knew I wanted to pursue my MBA, and Eberly offers early admissions into the program, allowing me to start taking graduate classes while earning my bachelor's degree in Finance. I couldn't pass up the opportunity!"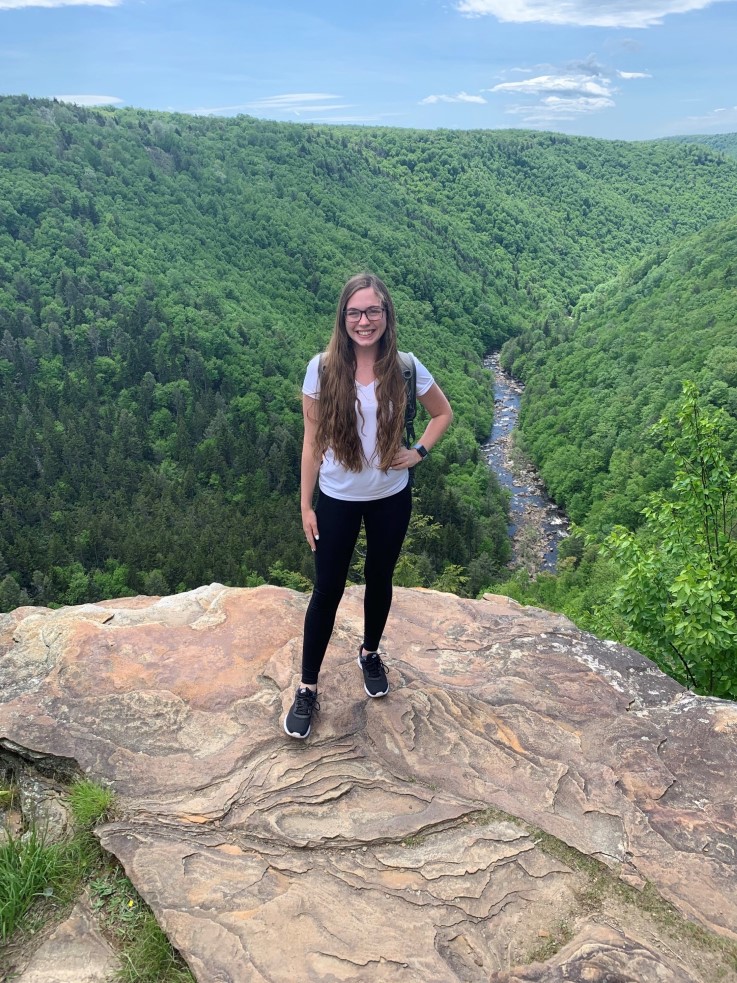 Morgan is an active member of the Student Finance Association and is currently the SFA College of Business Student Advisory Council representative. "My involvement in the SFA has allowed me to gain exposure into the business world and possible future careers. In addition, it has allowed me to meet other students in my major who share similar interests to mine." She also works on campus in Eberly Associate Dean's office, where she has been able to make connections with many of the staff and professors and work on projects that benefit the students and programs in the business school.
When asked about her core values and beliefs, she said, "My favorite quotes are success is achieved and maintained by those who try and keep trying' and be brave enough to be bad at something new.' I believe in trying new things and expanding my horizons, even though I may fail. Success is earned through hard work and dedication."
When she is not in class or studying, Morgan enjoys hiking, traveling, working out and spending time with friends and family. She likes listening to true crime podcasts and watching Netflix documentaries.
In the future, she plans on working in a large corporation as a financial advisor or financial analyst. "Eberly has prepared me for my career goals by offering relevant classes that allow me to improve my communication and computer skills." Morgan plans on pursing a degree in Finance after completing her MBA.
Eberly College of Business and Information Technology
About #EberlyAmazingStudents
The #EberlyAmazingStudents series features students who are involved in a variety of extra-curricular activities. Associate Dean Cyndy Strittmatter is overseeing the project. "We are proud of our students who balance their academics with extracurricular activities and recognize the commitment that it takes to excel at all levels. We look forward to sharing their accomplishments with the IUP community and beyond!"