Professional Outcomes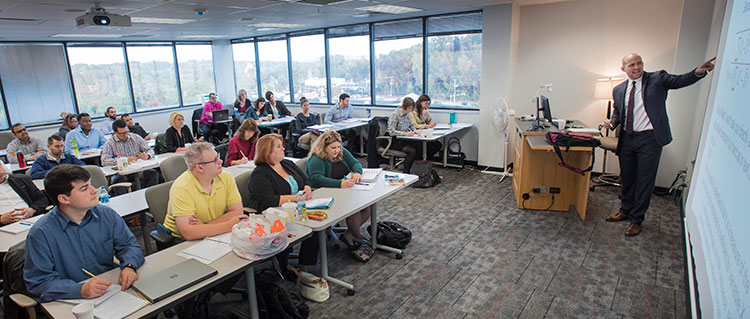 A PhD in Business can benefit your career in a wide range of ways. Traditionally, most students earn this degree to become tenure-track professors in business schools around the globe. However, a variety of industries have also begun to recognize the practical value of PhD graduates in senior leadership positions.
Student Learning Outcomes
Our classes are designed to help students accomplish a number of distinct learning outcomes. After graduating with a PhD in Business from IUP, you should have attained:
Proficiency in applying quantitative and qualitative research methods pertaining to business fields.
In-depth knowledge and understanding of research and applications in key areas of business, with a special focus on your area of specialization.
The ability to integrate and synthesize knowledge from different business areas with the help of pertinent research tools.
The ability to create and disseminate scholarly work in both academic and business settings.
Once you graduate with a PhD, you can apply these outcomes with either an academic or industry focus.
In addition, the program's applied nature helps aspiring faculty develop and build relevant curriculum for the next generation of business leaders. Graduates will be scholarly practitioners, able to execute the theories they teach and apply their research to real-world scenarios.
Economic Benefits for Aspiring Professors
The Association to Advance Collegiate Schools of Business International, the premier business accrediting body, has noted the need for well-qualified, doctoral-level faculty in business schools across the globe. Eberly College of Business and Information Technology, the AACSB-accredited home of IUP's Business PhD, designed our program in part to address this need.
According to the US Bureau of Labor Statistics data for May 2016, more than 60,000 business faculty teach at the college level in the United States. With an average salary of just over $100,000, they are among the most well-compensated professors in the United States.
Accelerating Your Business Career
Thanks to the applied curriculum and specialization options in our Business PhD, graduates are uniquely prepared for leadership roles in a variety of industries. Advancing into executive and research-focused positions or moving into a senior consulting role requires the in-depth theoretical and practical knowledge that this program can convey.
With the knowledge and experience gained in your PhD studies, you will have the power to transform your organization and industry. The research and classwork in our doctoral program connects directly with the tasks and challenges that today's business leaders face on an everyday basis.
The US Bureau of Labor Statistics estimates that professionals with a doctoral degree earn on average $15,000 more per year than their peers with a master's degree.
In the course of your PhD studies, you will gain access to and knowledge of the tools you need in business leadership today. As a result, you can accelerate your career, benefiting you and your organization for years to come.