Business, PhD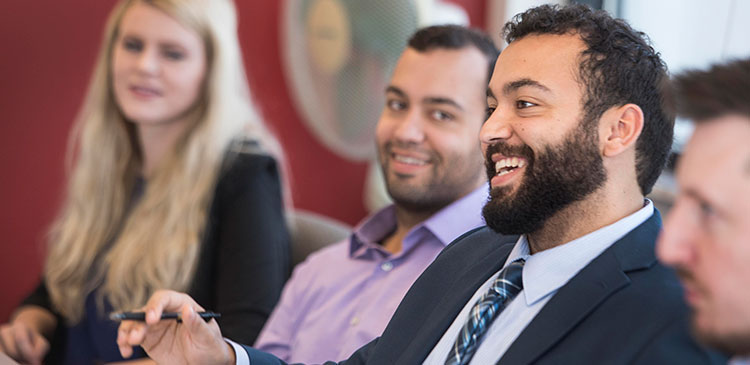 A Business PhD Program Designed for Pittsburgh Area Professionals
IUP's business doctorate is designed for working professionals who are looking to prepare for a business school professorship or advance to senior leadership positions. With weekend classes, it is the first part-time business PhD in the state of Pennsylvania.
In the IUP Business PhD program, you'll study in-depth concepts and apply your research under the guidance of experienced, expert faculty with a global perspective in the Eberly College of Business. Eberly College holds accreditation from the Association to Advance Collegiate Schools of Business—a distinction held by only 5 percent of business schools worldwide.
The IUP Business PhD at a Glance
The Business PhD program at IUP features:
Part-time format, weekend classes at Pittsburgh East
Specializations to earn your PhD in Finance, Accounting, Entrepreneurship, HR Management, International Business, Marketing, Management Information Systems, or Supply Chain Management
Excellent program value and return on investment
Four-year estimated completion time from entry to PhD degree
Cohort format that builds professional relationships
Classes that teach advanced quantitative and research skills with a global perspective in addition to academic knowledge
Why Do I Need a Business PhD?
In today's competitive world of business, earning a PhD is a smart career move.
A PhD is typically a requirement or a preferred credential for teaching positions at business schools, four-year colleges, and universities. It also can expand your expertise in a specialization, helping you advance or redirect your management career in industry or other sectors.
The US Bureau of Labor Relations reports that more than 60,000 professors teach at business schools today, with an average salary just above $100,000. Meanwhile, a number of senior leadership positions in a wide range of industries encourage and sometimes require a PhD.
Consulting services are in demand, as are senior analyst and executive positions that can benefit from the skills obtained during your doctoral studies.
Competitive Tuition and Excellent Return on Investment
Given the academic and industry need for PhD graduates, the potential return on your investment for earning this degree can be significant. IUP's competitive tuition combined with its quality education make it an excellent value choice for your business doctorate.
Students are charged on a per-credit basis. The $669.50 projected cost per credit for Pennsylvania residents during the 2021-22 academic year makes this program one of the most cost-effective Business PhD degrees in the state of Pennsylvania.
We also offer nearly a dozen 10-hour-per-week doctoral graduate assistantships (GAs) during the first year. The awards will be based on the overall strength of the applications. Candidates must apply for assistantship separately. For the first two semesters of the program, the tuition waiver will be $2,173 per semester with a cash stipend of $800. GA positions will also be available during the second year, and will be awarded on a competitive basis. GAs will work from a remote site with faculty and/or administrators of the Eberly College.
How Employers Can Benefit From IUP PhD Graduates
Students are not the only group benefiting from our business PhD program. Employers can draw significant rewards from senior leadership within their workforce who hold this doctoral degree. Some points to consider or share with your employer:
PhD students acquire tangible skills relevant in today's business environment
Weekend classes do not disrupt productivity
Our practical classes transfer to real-world applications
Specializations bring new insight on developments in a wide range of specific business subjects
Affordable tuition produces significant, long-term organizational return on investment
How to Apply
IUP accepts applications for the part-time business PhD program on a rolling basis with no application deadline. However, we recommend early applications to secure your seat before the next cohort is filled.
Visit our Application Requirements page for more information about the prerequisites you will need to apply for our PhD program. IUP's graduate admissions pages will walk you through the exact process to follow once you are ready to apply.
Helpful Information
For more information regarding our business PhD program, download the Business PhD Handbook.