The Management Services Group (MSG), an umbrella organization for the IUP Eberly College of Business and Information Technology's outreach programs, exemplifies IUP's commitment to its service mission.
Established in 1991, the MSG's objective is to make a significant contribution to the economic vitality of the region by providing consulting and business services to ongoing and start-up businesses, both profit and nonprofit.
The MSG utilizes the expertise of IUP faculty, staff, and students, who work in collaboration with area business executives, owners, managers, and entrepreneurs to help evaluate and achieve business objectives through sound planning and management. Since its inception, the MSG has assisted hundreds of organizations of all sizes by providing expertise in areas such as marketing, financial analysis, business planning, information technology, training, and government contracting.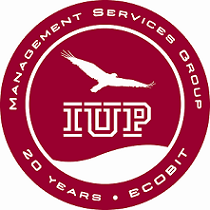 The MSG provides specialty business services through the following units:
Excellence in Entrepreneurial Leadership Center
Individuals from these units work in collaboration with regional entities concerned with business and economic development. The MSG works closely with the banking community, the Indiana County commissioners, the Indiana County Chamber of Commerce, the Indiana County Office of Planning and Development, the Center for Economic Operations, the Indiana County Development Corporation, Workforce Investment Boards, and local, county, and regional officials and consortia. Partnerships with these entities serve to enhance the ability of IUP's MSG to serve clients and understand the economic issues and priorities of the region.
A special feature of the MSG is its inclusion of undergraduate and graduate students who apply what they have learned in their academic studies to real world issues. Students actively participate, under the guidance of expert faculty, in analyzing company issues and establishing and developing business plans and solutions.
The IUP Management Services Group and the Eberly College of Business and Information Technology are committed to utilizing the academic enterprise as a means to energize the economy of the region.
Dr. Stephen Osborne, Codirector
Phone: 724-357-5760
Fax: 724-357-5473