Opportunities for Graduate Students in Biology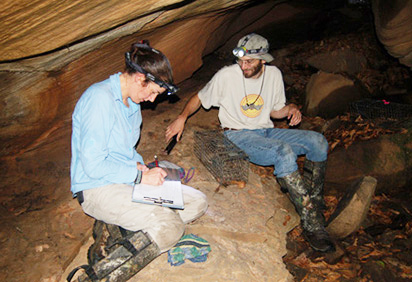 IUP Biology Club
As a member of the Biology Club, you'll have the opportunity to share your experience and knowledge by mentoring undergraduates
Beta Beta Beta (TriBeta) is a membership that will serve you throughout your academic and professional careers in biology.
The Ecological Society of America is an engaging group that provides field experiences in the area of ecology. You will join a versatile group of ecologists and other students who are dedicated to raising public awareness of ecological science.
The American Medical Student Association provides monthly meetings where students make presentations about their internship experiences. Guest speakers also enhance the meetings.
Pymatuning Laboratory of Ecology
Biology majors can expand their selection of course offerings by participating in a cooperative program with the University of Pittsburgh's field station at the Pymatuning Laboratory of Ecology, located in northwestern Pennsylvania.
Special Biology Summer Course to Africa
The Department of Biology at IUP offers both undergraduate and graduate courses in Southern Africa during the summer.
Osteopathic Medicine Early Acceptance Programs
IUP has "Early Acceptance" agreements with both Philadelphia College of Osteopathic Medicine and Lake Erie College of Osteopathic Medicine.
Medical College-IUP Physician Shortage Area Program
IUP has established a cooperative family medicine physician education program with Jefferson Medical College of Thomas Jefferson University in Philadelphia for the purpose of improving the distribution of physicians in Pennsylvania.
Awards
Several awards help support Biology students and their research efforts.