Biology, MS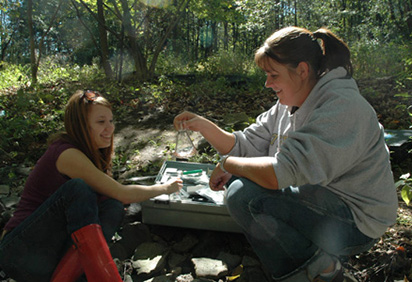 Biological Breakthroughs Guide Global Survival
Your biology skills have the power to affect global citizens throughout the world. The interaction and compatibility of living systems is the key to existence. A graduate degree enhances your occupational outlook and ability to improve the world as we know it.
The MS in Biology builds on your core knowledge and guides you in the direction of related medical fields, academics, government services, or industry.
The MS degree allows you to:
Pursue a thesis or a non-thesis path.
Collaborate with an international group of students and professors.
Develop unique field research for professional presentation.
MS in Biology, Accelerated Track
This program speeds you toward your goal of completing graduate studies. This track is open to qualified undergraduates at IUP with a strong interest in the biological science offered at IUP. If you have a 3.0 or better overall GPA and strong letters of recommendation, you can select a faculty mentor, identify a research project, and declare your intent to enter the program during your junior year. You will work toward both your BS and MS degree in your senior year. Gain your MS with approximately one year of post-baccalaureate study as opposed to the two years usually required in the traditional track.
With the MS/Accelerated Track degree, you:
Complete an original body of research described in a thesis under the direction of a thesis advisor and the guidance of a thesis advisory committee.
Prepare for technical jobs in industrial and academic settings.
Lay the groundwork for advanced, doctoral pursuits in first-rate graduate or professional schools.