ArtsPath Hosting Regional Poetry Out Loud Recitation Competition
Posted on 1/29/20 10:28 PM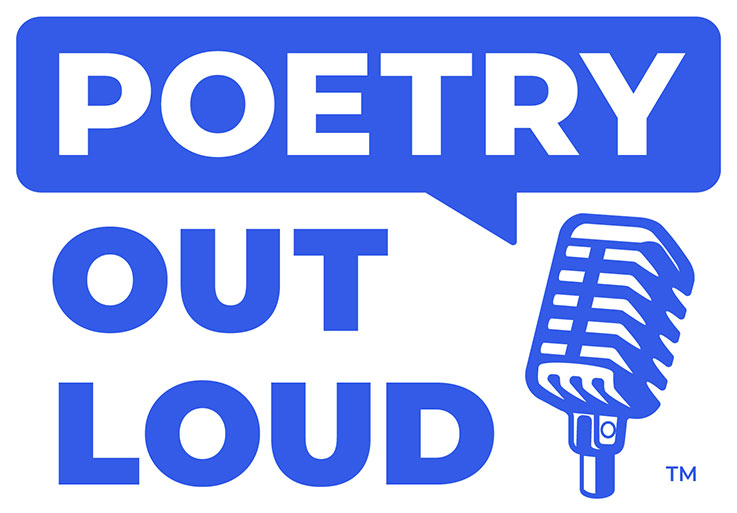 ArtsPath, the arts-in-education program of the College of Fine Arts and the Lively Arts at IUP, will host one of 14 regional Poetry Out Loud competitions held in Pennsylvania that will determine who will represent each region at the state POL competition on March 9, 2020, in Harrisburg.
The ArtsPath regional competition takes place at 6:30 p.m. this coming Monday, February 3, in the upper lobby of the IUP Performing Arts Center. The public is invited, and admission is free. Light refreshments will be served following the recitations when the winner will be announced.

Sponsored by the National Endowment for the Arts and the Poetry Foundation, Poetry Out Loud is a national recitation competition that begins at the classroom level at schools in every state and pyramids through school, regional, and state levels, ending with a national-level competition of state champions that is held in Washington, DC. It encourages high school-age students to learn about significant works of poetry through memorization and adjudicated performance.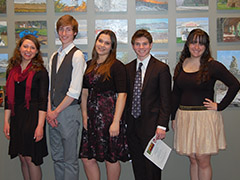 The champions representing their schools in the ArtsPath region this year are Ryan Pettes from the Kiski School; Daniel Kukula, Blairsville High School; Julia Wirth, DuBois Area High School; and Grace Wadding, Indiana Area High School.

Each will recite from memory three poems that satisfy the criteria of one being pre-20th century and one being 25 lines or less. Their recitations this year include poems by Nick Flynn, William Wordsworth, Stephen Dunn, Alex Dimitrov, Jamaal May, Stephen Crane, Alfred Lord Tennyson, Gerard Manley Hopkins, Sarah Lindsay, as well as several others.

Judges for this year's competition are:
Chauna Craig (Interpretation) is a professor of English at IUP who is also affiliated with Women's and Gender Studies and the Cook Honors College. Her specialty is creative writing, and she's published dozens of short stories, creative nonfiction essays, and poems. Her short story collection, The Widow's Guide to Edible Mushrooms, won the Next Generation Indie Book Award for short fiction in 2018.

KateGeiger(Interpretation) has been the director of the Indiana Free Library since 2005 and has enjoyed reading and writing poetry since she was an English major at IUP. She also earned a post-baccalaureate in library science and, following her time at IUP, was involved in legal research as a law librarian for 25 years in various settings, adding a legal assistant degree to hone those skills. In 2002, she completed a master's degree in library and information science at the University of Pittsburgh.

Kristen Koehler(Prompter) serves as the executive director of Lively Arts in the College of Fine Arts at Indiana University of Pennsylvania. In this position, along with her fundraising responsibilities, she is responsible for developing, marketing, and presenting engaging cultural opportunities for IUP students, faculty, and staff and for the greater Indiana regional audience under the banner of the Lively Arts. She also provides communications and marketing support for the departments of Art and Design, Music, and Theatre, Dance and Performance, as well as for the University Museum. Kristen earned her PhD in theater arts from Bowling Green State University.

Walt Peterson (Interpretation) is a writer and teacher who lives in Pittsburgh. He has three collections of poetry: Rebuilding the Porch, In the Waiting Room of the Speedy Muffler King, which won the Acorn-Rukeyser Prize for poetry, and Image/Song, a collaboration with the sculptor James Shipman, published by the Seton Hill Press. Peterson has combined his interest in vintage sports car racing and writing in prose and poetry in "Driving Pittsburgh," Moss Motoring, 2014, Issue 2.

Matthew Vetter (Interpretation) is an assistant professor of English at Indiana University of Pennsylvania and affiliate faculty in the Composition and Applied Linguistics PhD program. He earned his PhD in English from Ohio University in 2015. A scholar in writing, rhetoric, and digital humanities, his research explores how technologies shape writing and writing pedagogy. As a creative writer, Vetter has published poems inMidwest Quarterly, Louisville Review,and Journal of Kentucky Studies, among other venues. He is also the author of a chapbook of poems, Kentucky Lullaby(Finishing Line Press, 2018).You can see more of his digital portfolio.

Michael T. Williamson (Interpretation) earned a PhD in 1996 from Rutgers University. He is director of the MA in Literature and MA and Composition and Literature programs at Indiana University of Pennsylvania, where he teaches poetry and British literature, as well as Global Literature, in the graduate program in Literature and Criticism in the Cook Honors College. He has published essays on nineteenth-century British women poets, early twentieth-century Yiddish poetry, and the comic writing of P.G. Wodehouse. He is editor of Pennsylvania English, a multidisciplinary literary journal.

Elin Woods (Accuracy) is a reference librarian at Indiana University of Pennsylvania and is the social media coordinator for IUP Libraries. She is an IUP alumna holding a bachelor of arts in history and a master of science in library science from Clarion University. Her areas of interest include Appalachian history, storytelling, foodways, human geography, and pop culture in the classroom.

The evening will also feature guitar music by Liam Kleckner, a senior music education major from Catasauqua, Pennsylvania.

For more information, please contact Jeff Wacker at jwacker@iup.edu, or call the Lively Arts at 724-357-2787 (ARTS).
ArtsPath has been providing arts-in-education services since 2001 to over 3,000 students annually in Armstrong, Butler, Clarion, Indiana, and Jefferson counties. Poetry Out Loud is sponsored by the Pennsylvania Council on the Arts, a state agency under the Governor's Office. Its mission is to foster the excellence, diversity, and vitality of the arts in Pennsylvania and to broaden the availability and appreciation of those arts throughout the state.