Regional Poetry Recitation Competition
You're invited to join other high schools in Pennsylvania and across the country for Poetry Out Loud, the annual national recitation contest for students.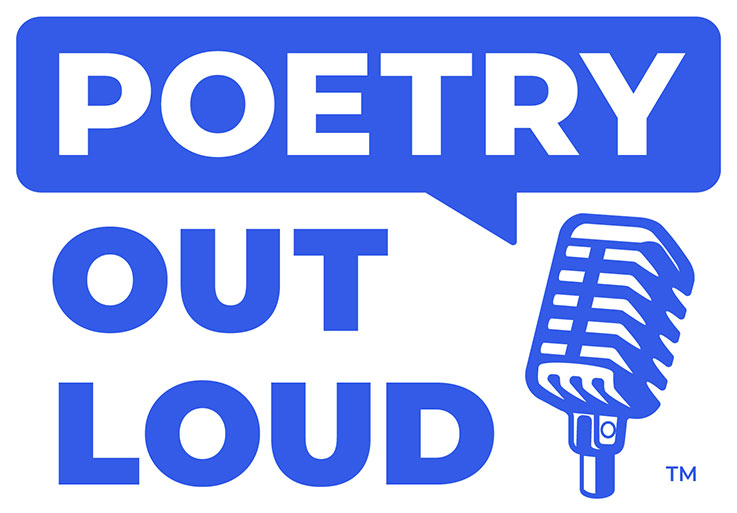 Poetry Out Loud (POL) is a completely free program that encourages students to learn about great poetry through memorization, performance, and competition. It is presented through the partnership of the National Endowment for the Arts and the Poetry Foundation.
The ArtsPath POL region comprises five counties: Armstrong, Butler, Clarion, Indiana, and Jefferson, as well as the DuBois Area School District.
While last years 2021 competition to determine a national champion was 100 percent virtual, the 2022 competition is planned to be in-person. However, all contests occurring prior to the national competition—classroom, school, regional, and state—will still have various options available to them, including:
In-Person: If an in-person competition is selected, please follow all federal, state, and local guidelines regarding COVID-19 protocols.
Video Submission: Students record their recitations and submit them electronically by their competition organizer's approved method (email, various file-sharing platforms, etc.).
Recording One-on-One: Students meet with the organizer individually through a video platform (such as Zoom or Skype) for their recitation to be recorded. The organizer then sends the recordings to the interpretation judges for critique and scoring.
Live Contest on Video Platform: Much like a Zoom or Skype meeting, all contestants and judges are on at the same time, and the competition is run much like it would be in person, with recitations and judging happening in real time, and judges submitting scores to the organizer after each recitation.
For more information on holding your virtual competition, including filming requirements, tips, reminders, accessibility, as well as guidance in ensuring you have permission from the poems rightsholder to stream the recitations - whether public or private - be sure to see the comprehensive Virtual Competitions Guide, or get the information as separate files from the POL website. For the POL Streaming-Copyright Permissions List, email ArtsPath at artspath-info@iup.edu.
Because Pennsylvania's state competition will mirror the national competition and be held in person, the ArtsPath regional competition will also be held as an in-person competition. Your high school's champion will attend the ArtsPath regional competition, held at 6:00 p.m. on Monday, Feb. 7, 2022, on the main Indiana campus in Gorell Recital Hall, second floor of Sutton Hall. PLEASE NOTE:  The start time is 30 minutes earlier than previous years!
Register your school by completing the 2022 Registration Form and returning it by Friday, January 14, 2022. For additional information on the ArtsPath regional or Pennsylvania state contests, download a teacher's email packet.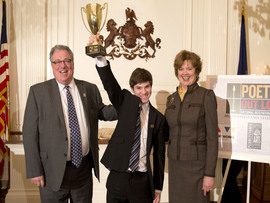 Winner David "Dj" Gress, pictured here with Philip Horn, former executive director of the Pennsylvania Council on the Arts, and Susan Corbett, the former executive director of Pittsburgh Arts and former First Lady, was the 2012-13 ArtsPath regional winner. From the Kiski School in Saltsburg, Gress also won at the state level and went on to represent Pennsylvania in the Washington, DC national finals.
For more information on Poetry Out Loud, visit the comprehensive POL website, call Jeff Wacker at 724-357-4565, or email us at artspath-info@iup.edu. You can also stay updated by following Poetry Out Loud on the following:
National Endowment for the Arts
Poetry Foundation
Poetry Out Loud
About Poetry Out Loud
Standards: POL satisfies more than half of the English Language Arts from the National Council of Teachers of English Standards, as well as at least three Anchor Assessments per the PA Common Core ELA Standards: Speaking and Listening (SL 9-10, SL 12-11), Reading (FL 9-10, RL 11-12), and Language (L9-10, L 11-12).
The teachers' guide suggests ways to customize the program to meet your schedule constraints.
Teachers use the comprehensive POL website, which includes all materials, including all support materials, poems, teachers' guide, media guides, videos, and more.
Free, standards-based curriculum materials are available for schools, teachers, and students.
Getting Your School Involved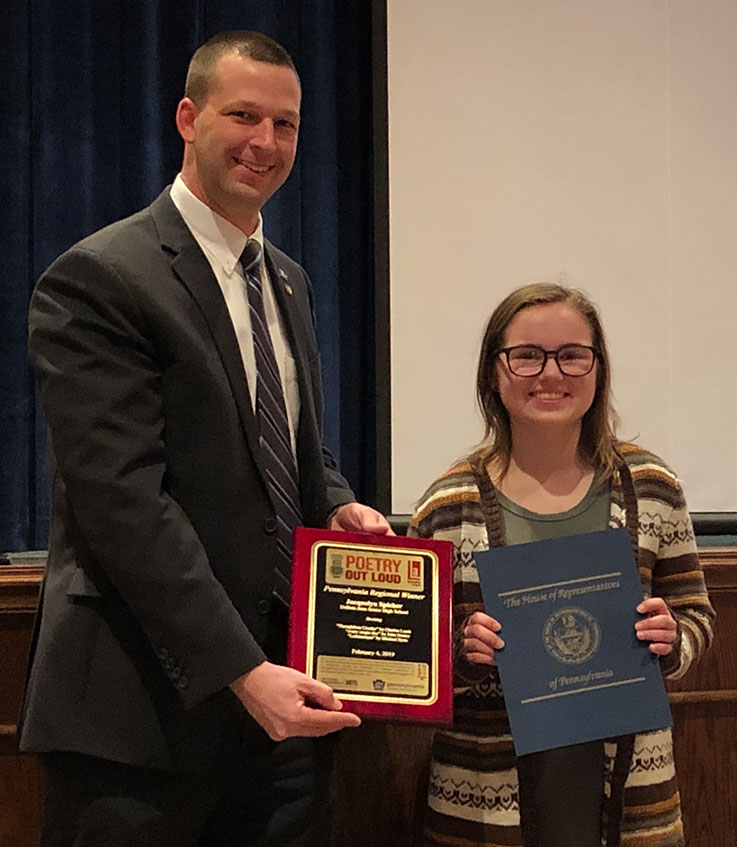 Individual or groups of teachers, a school club, or the entire school may participate. Teachers can determine the extent of their participation. For example, they may...
Incorporate POL into a unit of study, perhaps culminating in recitations by each student in front of the class;
Offer the program as an extra credit project or after-school program's project; or
Use some or all of the lesson plans offered online or in the free teacher's guide.
Whatever you plan, the end result should be one winner from your school who will participate in the ArtsPath regional competition.
What Must Students Do?
Choose poems from the hundreds of eligible poems at the POL website to memorize and recite for a class and then a school competition.
Recitations may not include properties, costumes, or music.
Some gestures and minimal movement may, however, be appropriate to a given poem. Be sure to study the recitation guidelines found online or in the Teacher's Guide.
What Must Teachers Do?
Your School's Winner
Each school's winner will participate in the ArtsPath regional competition by:
selecting and memorizing three different poems,
attending the ArtsPath regional competition on the IUP main campus.
The ArtsPath regional winner will be awarded an expense-paid trip to Harrisburg to compete with 13 other regional champions in the state finals on March 7, and the right to represent Pennsylvania in the national final.
The state winner will receive $200 and compete in person on April 25-27, 2022 in Washington D.C. The winner's school will receive a $500 stipend to purchase poetry books. A runner-up in each state will receive $100, with $200 for the school to purchase poetry books.
NEW: POL Mobile App
Developed by the Poetry Foundation, this free POL app gives students the ability to easily find, save, and practice poems for the competition on their phones or tablets. It is available for download at both the App Store for iOS and Google Play for Android.
Having POL Website Issues?
The National Endowment for the Arts is aware that some users of the POL website are having difficulty with their browser not loading the site's stylesheets. If you're having this issue, please try the following potential solutions. As always, ensure you're using the most recent version of your browser.
A hard refresh of the page (pressing CTRL+F5, or holding down shift while reloading the page).
Opening the page in an incognito window (pressing control + shift + N, or select "New Incognito Window" from the file menu in Chrome).
Double-check that there aren't any extensions or plug-ins installed that might affect how pages display.
Open the page in a different browser.
If you continue to have issues, please email poetryoutloud@arts.gov.
Additional Questions?
For more information on running a Poetry Out Loud in the ArtsPath service region of Armstrong, Butler, Clarion, Indiana, and Jefferson counties, call Jeff Wacker at 724-357-4565 or email us at either jwacker@iup.edu or artspath-info@iup.edu.