The IUP Alumni Association Board of Directors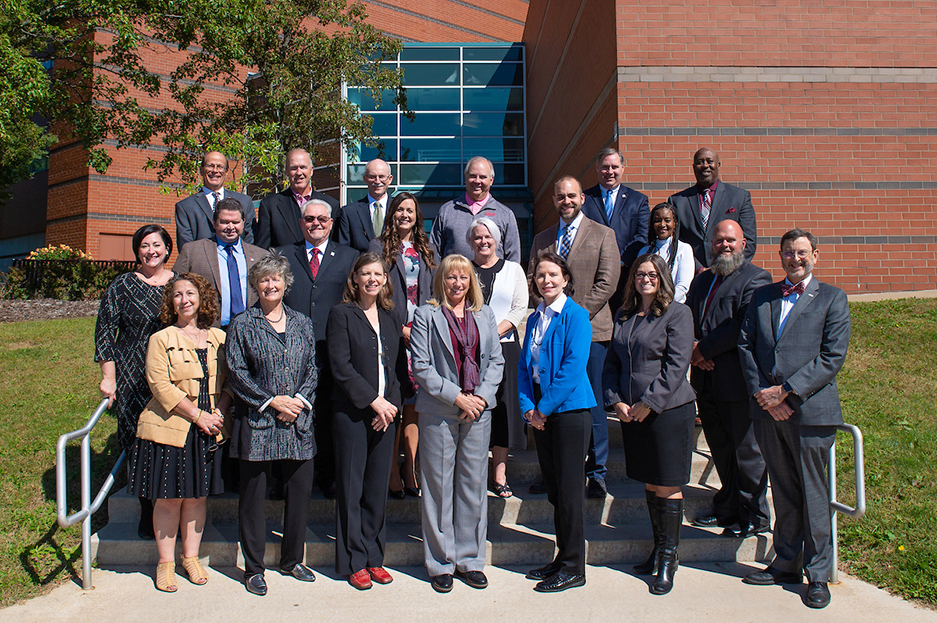 Pictured are the 2021–22 IUP Alumni Association Board of Directors. Front Row 1:  Khatmeh Osseiran-Hanna, Lisa Schlosser '86, Brenda Peterman '87,  Leslie Miller Purser '80, Kathie Kuvinka Basehore, '71, Tonya Anthony Hsiung '00, M'03, Michael Driscoll. Middle Row: Jennifer Dunsmore '98, Mark Hutzell '97, Michael Bodolosky '72, M'78, Heather Camp Reed M'13, Sandra Koeppl Barsotti '87, Joseph Kopko '03, M'12, Debra Evans Smith '81, Mike Moyer '04. Back Row: John Simpson '79, George Kelly '82, Michael Staub '80, William Shipley '75, John Ninosky '93, Kevin Bailey '86, M'90. Missing from photo: Ryan Miller '02
2021–22 IUP Alumni Association Board of Directors
The Alumni Association Board of Directors looks for opportunities and programs that will enable graduates of IUP to stay connected to their alma mater.
Know of an active alumnus or alumna who would make a great addition to the Alumni Association Board of Directors? See our Board of Directors Nomination Form.
Tonya Anthony Hsiung '00, M'03, President
A graduate of the Kopchick College of Natural Sciences and Mathematics, Tonya earned her bachelor of science degree in mathematics education in 2000. During her undergraduate years at IUP, Tonya worked in the Financial Aid Office and served as president of the IUP Ambassadors, which led her to stay at IUP and obtain her master's degree in student affairs in higher education. She now serves as the NASFAA U Program Manager and as an online instructor for the National Association of Student Financial Aid Administrators (NASFAA). She has previously held positions in financial aid at Franklin and Marshall College and Millersville University of Pennsylvania. She holds memberships in several student financial aid organizations and received a Distinguished Service Award from the Pennsylvania Association of Student Financial Aid Administrators in 2012.
Tonya has stayed involved with the university by assisting with reunion planning and mentoring students, and she has stayed involved in her region as well as attending a variety of campus activities.
She and her husband, Danny, are the parents of Alana and reside in Lancaster.
Leslie Miller Purser '80, Vice President
Leslie earned her bachelor of arts degree in studio art in 1980 and, upon graduation, was awarded her Army commission as a second lieutenant and was recognized as a Distinguished Military Graduate. After 37 years of service, she retired at the rank of major general. Her last assignment was as acting principal deputy assistant secretary of the Army for Manpower and Reserve Affairs. In 2018, Leslie received the 2018 Distinguished Alumni Award for her career achievements. She now lives in Dandridge, Tennessee, with her husband, Joseph. They have two children, Jennifer and Justin.
Brenda Peterman '87, Treasurer
Brenda graduated in 1987 with a bachelor of science in accounting. A four-year letterman, Brenda was an athletic scholarship recipient (Sept. '83 to May '87) on IUP's Division II Woman's Gymnastics Team, contributing to four PSAC team championships, three regional team championships, and qualifying for three national team competitions.
Brenda's professional career in commercial and investment banking spans three decades. Currently, the controller for Needham & Company, LLC, a full-service broker/dealer and investment bank located in New York City, Brenda has consistently been recognized for her efforts and achievements and was promoted to principal in December 2012. Prior to Needham, Brenda worked in multiple leadership roles for a De Novo bank in Reading, Pennsylvania, and for several boutique full-service broker/dealer and investment banking firms in the greater Philadelphia area.
Brenda and her husband, Stephen, are also entering the tenth year of research and development and will soon be launching their new Hybrid Wine Company, the proprietary and Nordic-inspired Valkyrie Crafted Libations, Inc., specializing in distinct and upscale fortified wines and classic mead-inspired offerings.
Brenda has been involved with IUP alumni activities, from participating and planning events in the greater Philadelphia area to participating in events in NYC. She is also an avid outdoors person. She has hiked, camped, and mountain biked many of our country's premier national parks and nature destinations, including Arches, Zion, Bryce Canyon, Yellowstone, the Tetons, Southern California's Catalina Island, and El Moro Canyon in Orange County.
She currently resides in Nutley, New Jersey, and can be found sharing her time between NJ, NYC, and Seneca Lake, New York.
Jerome Brown, II '97, Secretary
Jerome earned his BS in communications media in 1997. As a student, he was active with WIUP-TV and the Entertainment Network and was a peer tutor at the Writing Center. After earning a master of public administration degree from the University of Pittsburgh, he became a development associate at Pitt. Currently, he serves as a defense analyst with the US Government Accountability Office. He is involved with the Montgomery County Road Runners Club, Montgomery County Office of the Inspector General Advisory Board, Young Government Leaders, and Blacks in Government.
While in Pittsburgh, he assisted with planning IUP alumni activities and continued in the same capacity after moving to the Washington, DC area.
Jerome and his wife, Jill Dash, are the parents of Maya and Harper.
Directors
Kevin Bailey '86, M'90
Kevin Bailey received his bachelor of science degree in management information systems and a master of arts degree in student affairs in higher education from IUP. He received his doctorate in higher education and student affairs from Bowling Green (Ohio) State University. Bailey is the vice chancellor for student affairs at the University of North Carolina-Charlotte, where he is responsible for many aspects of student life at the 30,000-student university. He has also held administrative and teaching positions at the University of West Florida, Tulane University, Bowling Green State University, and Millersville University of Pennsylvania.
Bailey is a member of the dean's advancement council for the college of education and communications. He's a 2019 IUP Distinguished Alumni Award recipient and received other accolades from his alma mater, including the distinguished alumni scholar from the College of Education and Communications and the Ronald Lunardini Distinguished Alumni Award from the Department of Student Affairs in Higher Education.
As an undergraduate, he was a member of Alpha Phi Omega National Service Fraternity, the Residence Hall Association, the Co-Op Board of Directors, and senior class president.
Kathie Kuvinka Basehore '71
Kathie Basehore earned a bachelor of science degree in Education from IUP in 1971 and then a master of education degree from California University of Pennsylvania. She became a teacher in the Gateway School District and then a reading specialist in the Butler Area School District.
Over the years, Kathie pursued a career in human resources, holding positions as an executive training specialist, college recruiter, employment specialist, and employee relations counselor. Before her retirement, Kathie served as senior vice president at Huntington National Bank and later as the interim vice president of human resources at Columbus (Ohio) State Community College.
Kathie and her husband, Bob Basehore '71, live in Columbus, Ohio, and have been active supporters of IUP and are creating an endowed scholarship.
Michael Bodolosky '72, M'78
Mike earned a bachelor of science degree in music education in 1972 and a master of science degree in 1978. He currently is the Pasquerilla Performing Arts Center's executive director and serves as a music instructor at the University of Pittsburgh. He also serves as UPJ's band and jazz ensemble director and conductor. The retired Fine Arts Department chair and band director in the Richland School District, he received the Pennsylvania Music Educator Association's Citation of Excellence in Teaching in 2011, 2002, and 1987. He is listed numerous times in Who's Who Among American Teachers.
In 2014, Mike performed as a guest artist with the IUP Jazz Ensembles and the Alumni Jazz Band during the annual alumni jazz reunion. Throughout the weekend he taught and mentored students. He has participated in various reunion groups and consults with the faculty in the IUP College of Fine Arts.
He and his wife, Glenna, reside in Johnstown and are the parents of Zachary.
Marc Hutzell '97
Marc earned his bachelor of science degree in communications media from IUP in 1997. As a student, he was active with IUP-TV and The Entertainment Network. Currently, he is the director of information technology for KABOOM! KABOOM is a national nonprofit focused on getting kids outside by partnering with local communities to build safe and fun play spaces for underserved communities. Previously, he was the vCIO for IntermixIT and led the IT departments at the Appalachian Regional Commission and the German Marshall Fund of the US, an international nonprofit organization.
Marc is the lead mentor of the Maryland Mayfly Project, an organization that mentors young people in foster and adoptive care through fly fishing and conservation. Marc also sits on the board of the Mid-Atlantic Council of Trout Unlimited.
Marc has been involved with the IUP alumni engagement/marketing committee and is active in several alumni activities in his region.
Marc and his wife, Allison, live in the Washington, DC region and are the parents of Grayson and Boomer, the family dog. He and his family are active in climbing, cycling, fly fishing, and just about anything outdoors.
George Kelly '82
George is a  1982 business graduate and is the president and owner of ImageOne Uniforms. Prior to his current work, he was a regional sales manager for Administaff; a regional benefits specialist at Paychex; and a sales manager for Pittsburgh and Cleveland for Unifirst Corporation.
Since 2003, Kelly has been a member of the Entrepreneurs Association at John Carroll University; he is also a College Now mentor. Kelly is a sponsor for the Cleveland Baseball Federation and also has been a volunteer IUP Alumni Ambassador for the Cleveland area. He is a member of IUP's Gridiron Club and is active in football reunions and golf outings for IUP.
Raised in Industry, Kelly is the son of the late George Kelly and Delores Kelly. He and his wife, Lisa Kelly, are the parents of four children.
Joseph Kopko '03, M'12
Joe earned both his bachelor's and master's degrees in safety sciences. Currently an executive vice president for HUB International, he assists clients with creating a proactive risk management experience and managing their total population health. His awards include the National Safety Council's Top 40 Under 40 Rising Star of Safety. The IUP Alumni Association presented him with the Young Alumni Achievement Award in 2011. Joe is a professional member of the American Society of Safety Professionals and provides advisory counsel to the IUP student chapter of ASSP. He is also an active member of the Boy Scouts of America.
Joe lives in Pittsburgh with his wife, Elizabeth. They have two children, Carter and Andrew.
Ryan Miller '02
Ryan is a 2002 human resource management graduate and most recently served as an EVP/Market Leader/Managing Principal for NewMark. He has also worked for CBRE and NAI Global.
Miller holds memberships in the Economic Club of Washington, D.C.; and is the former chairman of the board and a member of the Associates Board of the Wolf Trap Foundation for the Performing Arts. He is a volunteer board member of Commercial Real Estate Brokerage Association of Washington, D.C., an organization of professionals advancing the real estate profession for its members through education, networking, and recognition.
In addition to his IUP degree, he completed the Program for Leadership Development at Harvard Business School in 2010.
At IUP, Miller was selected for the Alumni Ambassador Award; for the Bartolomucci Scholarship award, for membership in Phi Kappa Phi honor society, and was a provost scholar. He was a member and president of IUP's chapter of Sigma Chi fraternity and was a student worker in the Office of the President.
Son of Andy and Mary Jo Miller of Altoona, he is married to Krista Hughes Miller, a 2003 graduate of IUP.
Michael Moyer '04
Michael earned a bachelor of science degree in chemistry in 2004. He now serves as managing director of Energy for Environmental Service Laboratories as well as Environmental Land Surveying and Solutions. Michael works directly with Appalachian Basin Marcellus/Utica drilling companies in all phases of drilling, including engineering, surveying, permitting, selecting target analyses and appropriate analytical methods in predrilling programs, and assisting with emergency response. He was named one of the Pittsburgh region's 40 under 40 Fast Trackers in 2013 and has been named to the Pittsburgh Business Times' Who's Who in Energy annual list several times.
As a student, Michael was an active member of the IUP Ambassadors program, serving as president during his junior year. He has stayed involved with the university by speaking to classes, mentoring students, and attending a variety of campus activities. He is on the Audit and Board Development committees, and the IUP Alumni Association presented him with the Young Alumni Achievement Award in 2015.
Michael lives in the Clymer area with his wife, Billie Jo '04, and their two children, Christian and Carly.
Heather Camp Reed M'13
Executive director of Indiana Healthcare Foundation, Heather Camp Reed graduated from IUP's Public Affairs program. She is an active member of the Indiana community and holds board memberships on the local YMCA and the United Way of Indiana County and serves on the VNA Hospice Advisory Board. She is cofounder of Hopeful Hearts, an organization that provides support to grieving children and families.
She and her husband, Dave Reed '00, live in Indiana with their children, Joshua, Gracie, and Elliana.
Lisa Schlosser '86
Lisa Schlosser earned a bachelor of science degree in political science in 1986 and went on to obtain a master of science degree in administration from Central Michigan University. During her time at IUP, Schlosser was active in the ROTC program and served active duty upon graduation until 1992. A retired lieutenant colonel in the US Army Reserve, she is a city commissioner in Delaware.
Following her military career, she worked as vice president for business operations and incident response services at Global Integrity; as a senior manager for Ernst & Young, LLP; as chief information officer for the US Department of Housing and Urban Development; and in various roles with the US Department of Transportation. She completed her career as a senior executive with the federal government in Washington, DC.
Schlosser was recognized by IUP in 2013 with the Distinguished Alumni Award, and she received the 2012 John J. Franke Award from the American Council for Technology and Industry Advisory Council. She was a featured panelist at the American Council for Technology-Industry Advisory Council Executive Leadership Conference in 2011 and Fedscoop included her on its list of the 10 Most Influential Women in Federal IT.
Schlosser has remained active with IUP by serving as a featured speaker and panelist in various classes. She recently ended a three-year term as an elected official in Rehoboth Beach, Delaware, and currently teaches online managing technology and cybersecurity courses at two universities, while also serving on the Board of VETSports, a non-profit organization dedicated to helping veterans by sponsoring opportunities to participate in various athletic teams and competitions. She currently resides in Rehoboth Beach, Delaware.
Debra Evans-Smith '81
A special advisor in the Human Resources Branch of the Federal Bureau of Investigation, Debra currently manages the Director's Priority Initiative on Diversity and Inclusion. Previously, her 30-year FBI career has included serving as deputy assistant director and special agent in charge, giving her extensive experience in counterintelligence and criminal activity. During her student years, Debra studied in the Criminology Department. She currently resides in Woodbridge, Virginia, and has one son, Marcus Smith.
Chrystina Black Steffy '03
An energy industry analyst for the Office of Administrative Litigation at the Federal Regulatory Commission, Chrystina resides in Alexandria, Virginia, with her husband, Kenneth Steffy '03, and their daughter, Kathryn. In 2007, she earned the IUP Young Alumni Achievement Award. During her undergraduate years in the Economics Department, she served as president and initiate advisor of Phi Sigma Pi National Honor Fraternity.
Chrystina earned her master's degree in applied economics from Johns Hopkins University in 2010.
Ex-Officio
Jennifer Dunsmore '98
Assistant Vice President for Alumni and Constituent Engagement
Indiana University of Pennsylvania
Michael Driscoll
President
Indiana University of Pennsylvania
Khatmeh Osseiran-Hanna
Vice President for University Advancement
Indiana University of Pennsylvania
Steven Lomax    
President
Student Government Association
Indiana University of Pennsylvania
Jorge Tapia Becerril
President
IUP Ambassadors
Indiana University of Pennsylvania
All past presidents of the IUP Alumni Association