Alumni Fulmer '15 and Zbur '16, from KPMG, Speak to Student Accounting Association
Posted on 10/28/20 2:55 PM
On October 20, 2020, the Student Accounting Association hosted a Zoom meeting with guest speakers from KPMG's Pittsburgh office. The guest speakers, both senior audit associates with KPMG, included Alicia Fulmer, '15 CPA (BS, accounting and management) and Sarah Zbur '16, CPA (BS, accounting). KPMG is a one of the Big 4 international public accounting firms. Sarah Crownover, SAA president, led the meeting by asking Fulmer and Zbur a series of questions about KPMG and public accounting.
The SAA faculty advisor and professor in the department of accounting, Kim Anderson, had Zbur in two of her classes and served as Fulmer's academic advisor. "Both of these young women were outstanding students while at IUP. I'm not at all surprised by the success they've achieved thus far in their careers," said Anderson. "Working for a Big 4 accounting firm for even four years is extremely impressive. We are very fortunate to have them as guest speakers."
Fulmer said she decided to start her career at KPMG because the people were very welcoming and because of KPMG's open-door policy. Zbur said she knew when she was interviewing that she could see herself working for KPMG because there were a lot of opportunities for growth, and the people were very friendly.
Nearly all the professionals who work at KPMG have their CPA licenses. Fulmer said that in order to be promoted to manager at KPMG (which typically takes five to six years), you must be a CPA. Fulmer said there are many reasons why all accounting majors should take the CPA exam and obtain their licenses. Mainly, being a CPA opens up many doors for career growth in the accounting field. Accountants who have their CPA licenses are more likely to get hired at better firms and are more likely to be promoted faster to higher-ranking jobs.
Fulmer and Zbur said there is no typical day at KPMG, and they are constantly learning something new. Prior to the COVID-19 pandemic, Zbur said she often participated in many client meetings, and Fulmer said she often worked on administrative tasks. Currently, Fulmer and Zbur are working virtually and are attending video conferences online. Fulmer's department still keeps in touch with one another, and they have Friday morning coffee talks to catch up with each other.
While working at KPMG requires hard work. Fulmer and Zbur mentioned that there are also many opportunities to participate in fun events, such as Top Golf, the Pittsburgh Zoo, Pirates games, Gateway Clipper rides, cabin rentals, and axe throwing. There are also some internal events that the audit department does for fun, such as guessing the winner for The Bachelor. Fulmer and Zbur agreed that one of the best parts of working at KPMG is the friendships they have made with their coworkers.
KPMG offers summer leadership programs (called Inside Look), internships, and full-time jobs in audit, tax, and advisory. Their Inside Look program takes place over two days and serves as a way for students to see if they are interested in KPMG. Students who are interested in KPMG should complete Inside Look two summers before they graduate. Students who are interested in internships should complete them one year before they graduate.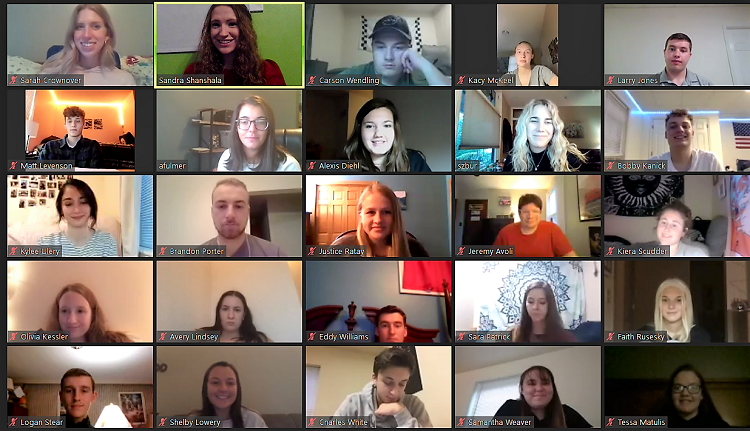 The next SAA meeting will take place on Thursday, November 12, at 5:00 p.m. with the following professionals: Vic Conrad '87 (BS, accounting), founder and independent financial advisor, Pinnacle Financial Strategies, LLC; Lenore Seifer, director of personal development, S.R. Snodgrass, PC; and Matthew McCullough '15 (BS, accounting), senior internal auditor at Georgetown University.