Student Accounting Association Makes Generous Food Pantry Donation
Posted on 12/3/19 9:25 PM
On November 21, 2019, the IUP Student Accounting Association community service chair, Andrew Konieczny, went grocery shopping, spending $478.41 on 304 nonperishable food items which were donated to the IUP Food Pantry and Help Center. The SAA faculty advisor, Kim Anderson, came up with the idea as a way for the SAA to give back to the university.
"I wanted the students to do the actual shopping and not just donate money. Providing money is a great help, but doing the actual work of shopping for over 300 items and delivering them directly to the food pantry makes the donation so much more meaningful," Anderson said.
Konieczny liked the idea and took on the responsibility of organizing the details. He obtained a list of the most-needed items from Daniece Wade, a fellow SAA member who volunteers at the food pantry. He enlisted the help of his two roommates, Nick Beblar and Cody Kasper. With Wade's list in hand and a budget of $500, the three students went shopping at the local Walmart.
"I got some weird looks at Walmart with a shopping cart full of cereal, oatmeal, and granola bars. Luckily the cashier was easy to work with despite having three carts full," Konieczny said.
Konieczny, Beblar, and Kasper needed two cars to hold all the groceries. After loading up the cars, Konieczny and Beblar delivered the groceries directly to the food pantry located in the Suites on Pratt. SAA president Matthew DeCesare and SAA senior vice president Kelly Kumetis met them there to help unload the cars and transport the items inside.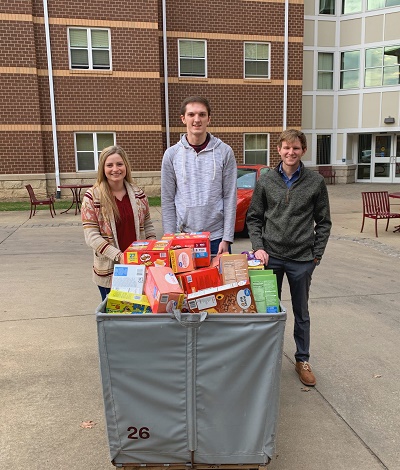 "The student volunteer there seemed very surprised by our donation, but also very grateful. I think this is something the SAA should consider doing every year going forward as part of their community service," Kumetis said.
DeCesare added, "Student hunger is something I knew nothing about before starting at IUP, but something I feel very strongly about after learning more. It felt really good knowing that the donated food would go directly toward helping out other IUP students."
The IUP Food Pantry and Help Center opened in September to address food insecurity and insufficiency faced by many students. Faculty, staff, students, student organizations, and alumni have made donations to the Food Pantry and Help Center, including Terry Serafini, a 1961 IUP alumnus, who provided significant support for the initiative and funding for student leaders working with the food pantry project.
IUP's Division of Student Affairs oversees the IUP Food Pantry and Help Center, and students from Each One Reach One, a program in the Frederick Douglass Institute, have served as volunteers, including offering three "pop-up" food pantry events in 2018. The center also distributes donated clothing and school supplies.