Student Accounting Association Holds Last Fall Semester Meeting
Posted on 11/20/19 8:42 PM
The Student Accounting Association held the final meeting for the fall 2019 semester on Thursday, November 14, in the Eberly Auditorium. The 2019 SAA president, Matthew DeCesare, announced the incoming 2020 SAA officers. Sarah Crownover will serve as president; April Murdick will serve as senior vice president, replacing Kelly Kumetis; Robert Kanick will serve as vice president, replacing Kaitlin Albright, and Larry Jones will serve as the vice president of finance, replacing Jordan Schofield. Kim Anderson will continue to serve as the SAA faculty advisor.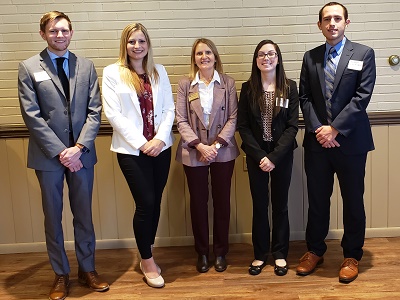 Following the introduction of the new officers, Maria Simon, account manager with Becker Professional Education, made a presentation to the students. Becker provides services and courses aimed at helping accounting graduates pass the certified public accountant examination. Simon shared with students the benefits of utilizing Becker to prepare for the CPA exam and the process of applying for the exam. Becker currently has over 2,900 partners that offer the courses to accountants preparing to obtain CPA certification.
The first step to applying for the CPA exam is to obtain the educational requirement. Most states allow people to sit for the exam with at least 120 college credits, with a specified number being accounting courses; but, in order to obtain the certification, an employee must complete 150 credits. Some states, however, require people to have 150 credits to sit for the exam. The best way to know for sure about what an individual states' requirements are is to reach out to Simon for clarification. Pennsylvania allows people to sit with 120 credits. 
The second step is to apply to sit for the exam, and the third step is to create a study plan with Becker. Becker has various study plans available to tailor to an individual's needs. The fourth step involves scheduling the exam. A time, location, and date must be selected. It is important to note that there are certain times throughout the year the CPA exam cannot be taken; these are referred to as blackout dates.
The final step is to complete the exam. When going to the test center, each person is scanned heavily similar to TSA scanning at airports. A passing score for the exam on a scale of 0–99 is 75. There are four sections: Financial, Audit, Regulation, and Business. The sections can be taken in any order. Once the first section is passed, the test taker has 18 months to complete the remaining three sections.
After passing the exam, an experience requirement must be met in order to finally obtain the CPA license, and continuing professional educations courses are required on order to maintain the license.