Accounting Alumni from S&T Bank Speak to Student Accounting Association
Posted on 4/12/19 2:26 PM
"It was incredible to hear about the banking industry from three very successful women who all took different paths to get to where they are and who all hold degrees from IUP. It showed me some of the different career choices that I'll have after I leave IUP."
This is what Student Accounting Association Senior Vice President Kelly Kumetis had to say about the April 2 SAA meeting where three IUP alumni from S&T Bank (located in Indiana, Pennsylvania) were the guest speakers: Jeanna Kutz '08, vice president and audit manager; Stephanie Graham M'13, assistant vice president and senior auditor; and Faith Mutunga '11, staff auditor.
Kutz began her career at S&T Bank in 2008, right after graduating from IUP with a major in accounting and a minor in English. She is certified public accountant, a certified financial services auditor, and an ACL certified data analyst intermediate. An ACDA intermediate is someone who has the capability to import, prepare, and analyze data; report findings; and write basic reports on the findings. Kutz currently leads the internal audit department's data analytics initiative.
Graham has a bachelor's degree in accounting from Robert Morris University and an MBA from IUP. She also has her CPA and is a certified internal auditor). She began her career with a regional external auditing firm and moved to internal audit at S&T in 2014.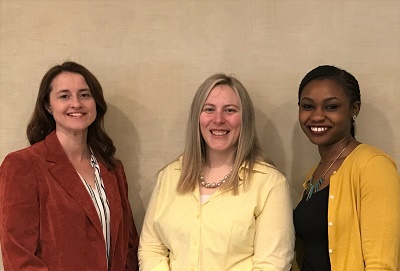 Jeanna Kutz '08, Stephanie Graham M'13, and Faith Mutunga '11
Mutunga holds a CPA license and is a certified anti-money laundering specialist. She graduated from IUP in 2011 with a major in finance and a minor in accounting and earned an MBA with a concentration in accounting from Strayer University. She has been with S&T since 2015, and she performs many audits of various areas throughout the bank, including the Bank Secrecy Act/Anti-Money Laundering audit.
The presentation for the evening focused on internal auditing. Within the field of accounting, and more specifically audit, there are a plethora of job opportunities to both new graduates and seasoned accountants. The speakers mentioned the differences between internal auditing and financial statement auditing. Internal auditing is very broad and includes evaluating the following: accuracy of financial statements, efficiency and effectiveness of operating processes, plans/progress related to accomplishing strategic objectives, and compliance with laws and policies.  Financial statement audits performed by external auditors have a specific focus regarding evaluating the accuracy of the financial statements.
According to SAA Field Trip Chair April Murdick, "The professionals from S&T informed us about what they do on a daily basis, and they also told us what internal auditors actually do and the different accreditations that an accounting student can get. It was very interesting."
Kutz spoke about data analytics and its importance. Data analytics is defined as "the process of examining data sets in order to draw conclusions about the information they contain, increasingly with the aid of specialized systems and software." Businesses are able to improve how they operate in various areas with data analytics. Marketing campaigns are optimized, customer service is perfected, and revenues are increased. This is why data analytics is crucial especially to accountants.
Internal auditors consult with businesses, offer advice, evaluate new policies, and look for ways to improve effectiveness and efficiency. There are important skills to have when acting as an internal auditor. Critical thinking, efficiency, and analytical skills are some of the most desirable and crucial qualities to have. Other skills that are always needed are strong communication skills, people skills, professionalism, a team-oriented mindset, and above-average writing skills. Accounting majors minoring in English is always a good idea, as young professionals entering the workforce seem to be lacking communication skills when arriving on the job.
"It's always great to see S&T come visit IUP to teach students about their business. S&T is a huge presence in Indiana, and we are lucky to have their employees take time to teach us about banking and internal auditing," according to senior accounting major Anthony Maticic.
The sixth and final SAA meeting of the semester will be on Tuesday, April 23, at 5:00 p.m. in the Eberly Auditorium. The guest speaker for the evening is Susan Oh, CFA, CPA, who graduated from IUP in 1990 with a major in accounting. She was included in Chief Investment Officer magazine, where she was included in the top 25 "up-and-coming stars of the asset owner world."