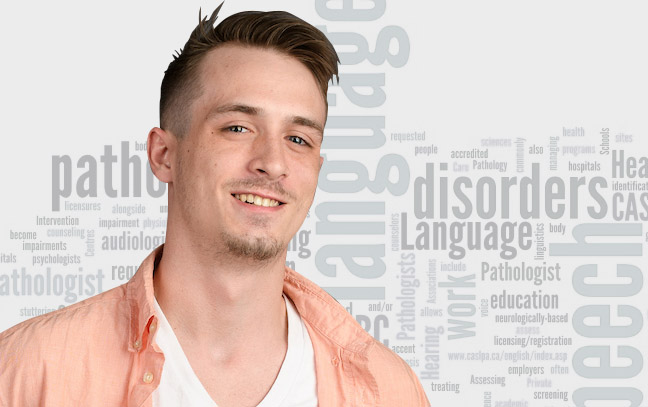 Help People of All Ages as a Speech-Language Pathologist
While speaking, listening, and swallowing come naturally for some people, others need assistance with these skills—that's where you can help. The clinical competencies you'll learn in the MS in Speech-Language Pathology program will prepare you for a career with plenty of options.
This master's program is clinically balanced. You'll learn assessment and treatment techniques to support the entire scope of practice:
Neonatal infants with swallowing difficulties
Preschool and school-aged children with speech and language issues
Adults with brain injuries or strokes
Geriatric patients needing end-of-life care
Why Earn a Master's in Speech-Language Pathology at IUP?
Your education will take place on campus and in clinical internships. You'll strengthen your skills in IUP's hospital simulation lab so you can be prepared for the medical side of the profession. Your training will provide you with the necessary skills for all practice settings:
Neonatal ICUs
Schools
Outpatient clinics
Inpatient hospitals
Skilled nursing facilities
During your first year, you'll have opportunities for state-of-the-art service delivery with burst session models (these are 10-minute intensive sessions) at local schools. In IUP's campus clinic, you'll learn individual and group therapy for:
Adult neurogenic disorders
Autism spectrum disorders
Pediatric communication disorders
During your second year, you can relocate to almost anywhere in the state or country to complete your two full-time internships.
Imagine Your Future
According to the US Bureau of Labor Statistics, employment for speech-language pathologists is projected to grow 21 percent from 2021 to 2031. This is much faster than the average for all occupations.
Not only is there a high demand for speech-language pathologists across the United States, but it's a career where you can choose where you'd like to work.
Approximately half of the graduates of IUP's MS in Speech-Language Pathology program are working in adult healthcare settings. The other half of graduates are working with pediatrics in either education or clinical settings.
It's consistently ranked in US News and World Report's top 100 Best Jobs.
Speech-language pathologists are in high demand in the following settings:
Early intervention programs
For-profit and nonprofit agencies that offer speech-language services
Hospital inpatient and outpatient facilities, including neonatal, pediatric, and adult intensive care units
National and international businesses and corporations (often to address accent modification)
Public and private school systems (including preschool education)
Private clinics and private practices
Rehabilitation centers, both pediatric and adult
Skilled nursing facilities and home health agencies
University clinics and clinical education programs
Career Benefits
A rewarding career helping people
Collaborative work with other healthcare and education professionals
Financial stability
Opportunities for career advancement and leadership
Work-life balance
Classes and Requirements
During your first three semesters, you'll learn through classroom instruction and clinical practica. Your classes will include cases and simulations so you are prepared to make evidence-based clinical decisions.
You'll also learn to adapt your services to meet the individual needs of clients with different backgrounds, languages, cultures, and goals. In your second year, you'll apply skills in two full-time internships most anywhere in the state or country.
You'll be trained in all facets of the profession so you meet the requirements for certification and licensure.
Full Academic Catalog Listing
The course catalog is the official reference for all our degree and course offerings. Check it out for a full listing of the classes available and requirements for this degree.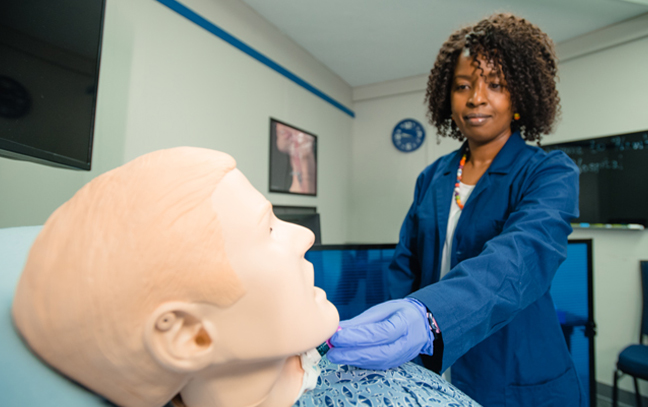 Program Accreditation and Credentials
The Master of Science (MS) education program in Speech-Language Pathology (residential) at Indiana University of Pennsylvania is accredited by the Council on Academic Accreditation in Audiology and Speech-Language Pathology of the American Speech-Language-Hearing Association, 2200 Research Boulevard, #310, Rockville, MD 20850, 800-498-2071 or 301-296-5700.
When you complete this program, you'll meet the academic and practicum requirements for :
A license to practice in the Commonwealth of Pennsylvania (with reciprocity in many other states; however, check requirements for state licensure elsewhere)
An education specialist certification through the Pennsylvania Department of Education to provide speech-language pathology services in the schools
The Certificate of Clinical Competence awarded by ASHA
48
Students enrolled in the program (approximately 24–28 per year).
80-100%
Students receive funding in the form of scholarships, assistantships, or federal work-study.
95%
Students have a greater than 95 percent on-time completion, PRAXIS pass rate, and employment within one year.
Watch: "Speech-Language Pathology at IUP"
Hear directly from alumni and faculty about what sets our program apart.
Watch: "Innovation in SLP Training"
IUP's MS in Speech-Language Pathology program has an innovative hospital simulation lab designed specifically for your SLP training purposes.
In this lab, you'll build on your knowledge, learning new skills while working with manikins and actors. These experiences improve your competence and confidence for working in the medical side of the profession.
The lab can be converted to a:
Intensive care unit
Neonatal intensive care unit
Radiology suite
Skilled nursing setting
Case-based experiences with the manikins and standardized patients allow for progressive clinical decision-making opportunities before your healthcare internships.
Balanced Expertise in Our Faculty
Our program faculty have balanced expertise in pediatric and adult disorders, and design coursework that integrates teaching on current evidence-based practices with cases and clinical simulations. Faculty bring clinical expertise from varied settings and disorder populations, and all are committed to student-centered education and the use of innovative teaching strategies. Our clinical faculty have advanced training in supervision and service delivery. They scaffold first-year clinical instruction to your emerging skill level and prepare you for your internships during the second year of the program.
Learn More about Our Faculty
Description of First-Year Clinical Experiences
You'll complete five clinical rotations during the first year of the program.
There are two treatment clinics under the supervision of our clinical faculty. One semester will include a mix of burst sessions (intensive, 10-minutes each)and individual and small group sessions in local school districts. This practicum gives you experience with high-volume and repeated opportunities to develop clinical instruction, feedback, and data-taking skills.
Another semester will include a varied caseload of pediatric speech and language, autism, and adult neurogenic communication disorders in IUP's campus clinic.
You'll also work in a diagnostic clinic so you can develop skills in diagnostic assessment and progress monitoring. In addition, all students gain experience performing screenings of speech, language, and hearing in the community. A hearing clinic rotation includes hearing screenings for children and adults in a variety of settings.
The final first-year clinical rotation is the medical simulation clinic that occurs in IUP's hospital simulation lab. You'll work in this clinic during the summer before your second-year internships, honing your skills with acute care patients. The focus is on disorders of swallowing, cognition, and motor speech.
Second-Year Internships (almost) Anywhere
You have the option to leave campus during the second year of the program to complete your full-time internships. You decide if you want to stay in Indiana, live at home, or live in another state. This is possible because the two courses you take during the second year are delivered through distance education (distance education fees apply). 
IUP's clinic director finds quality placements from a large network of schools, hospitals, rehabilitation, and outpatient clinic facilities. Your placement will be selected to match your career goals.
We have over 250 internship sites across Pennsylvania and a growing number of affiliation agreements with sites in other states (e.g., OH, NJ, VA, NC, SC, FL, CO, HI).
SLP Mission and Strategic Plan
The IUP Speech-Language Pathology program aspires to provide quality academic training that helps students synthesize and apply knowledge in a supportive environment. We regularly review our strategic plan and goals to ensure students can meet the demands of a changing education and healthcare profession.
Vision, Mission, Learning Outcomes, and Strategic Plan