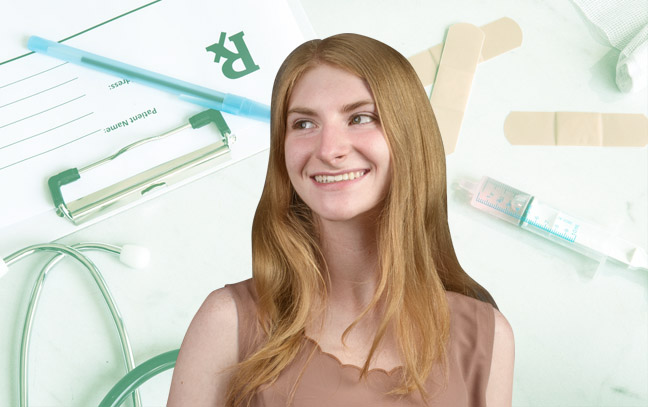 Advance Your Nursing Career
You want to move into a leadership role. Stabilize your schedule. Increase your salary. When you enroll in IUP's online MS in Nursing degree program, you'll work toward the next level of your nursing career—in the time frame that works for you.
IUP has been awarded a Nurse Faculty Loan Program grant that provides up to 85% loan forgiveness for master's and doctoral students who commit to work full-time for four years in nursing education.
Choose from comprehensive tracks that prepare you for:
Nursing Administration
Nursing Education
If you plan to earn your doctoral degree, IUP's Nursing MS program will give you the foundation you need to get there.
Why Earn a Master's in Nursing Degree at IUP?
You know that a master's degree is a serious investment of money and time. IUP's program offers generous financial support options, low tuition costs, and a self-paced online degree path.
Master of Science in Nursing Administration
The nursing administration track will prepare you for leadership roles in any health care setting. You'll advance your skills and knowledge in daily management, strategic change, and more.
Master of Science in Nursing Education
The nursing education track will prepare you not only for traditional education roles, but also for educating patients and guiding nursing staff development in a variety of academic and health care settings.
Both tracks under the Nursing MS degree at IUP are accredited by the Commission on Collegiate Nursing Education.
The Nursing Administration track in our MS in Nursing program prepares you to assume a leadership position in a variety of health-care settings, such as hospitals, long-term care facilities, and rehabilitation facilities.
The Nursing Education track provides you with the qualifications to teach the next generation of nurses. You can help them learn about new breakthroughs, technology, and improving the quality of care they can give in nursing.
Schedule
Flexible, days/nights/weekends; part-time seven-week courses
Imagine Your Future
With an MS in Nursing on your résumé, your career options expand significantly. Health care facilities are increasingly looking for staff members with advanced degrees to improve the care they provide to patients, residents, and the communities they serve.
In fact, hospitals looking to achieve Magnet status from the American Nurses Credentialing Center encourage their practicing nurses to earn master's degrees.
Choose the nursing administration track, and you'll be ready to progress into leadership roles in any health-care setting, including:
Hospitals
Nursing care facilities
Health care insurance companies
Home health organizations
The nursing education track will prepare you for traditional educational roles in nursing schools, colleges, and universities. You could also choose to teach patients or nursing staff within:
Doctors' offices
Health care insurance companies
Home health settings
Hospitals
Nursing care facilities
Classes and Requirements
When you complete your graduate nursing administration degree, you'll be prepared to:
Provide leadership that influences and contributes to the advancement of the nursing profession.
Combine your skills and scientific knowledge to grow into advanced nursing practice roles.
Use new knowledge to provide high-quality health care, initiate change, and improve the practice of nursing.
Assess the effectiveness of advanced nursing practice initiatives.
If you choose to focus your graduate studies on nursing education, you'll develop the academic and clinical foundation you need to:
Provide leadership that influences and contributes to advancing the nursing profession.
Combine your skills and scientific knowledge into specialized nurse education roles.
Use new knowledge to provide education to patients and aspiring and current nurses.
Assess the effectiveness of nurse education initiatives and provide strategic recommendations.
A Flexible Schedule to Meet Your Needs
You may be juggling a full-time job, childcare, parent care, and self-care. IUP's MS in Nursing program is designed for busy, ambitious learners like you.
You'll find flexibility in every aspect of the curriculum:
Online coursework is offered along with hands-on practicum experiences.
Your professors and advisor will make every effort to ensure you can complete your practicum at the clinical site you prefer.
Take courses during all semesters, including summer.
Complete a dual track degree—nursing administration and nursing education—by adding just two extra semesters, which is less than one year.
Want to complete your MS in Nursing requirements as quickly as possible? You can finish either the master's in nursing administration or the master's in nursing education in just six semesters (two years).
Full Academic Catalog Listing
The course catalog is the official reference for all our degree and course offerings. Check it out for a full listing of the classes available and requirements for this degree.
Graduate Nursing Student Handbook
You'll find most everything you need to know in the Graduate Nursing Student Handbook.
Faculty and staff information
Organizations to join
Facilities to use and enjoy
Be sure to review the pages explaining policies on professional behavior and clinical requirements.
What You'll Need for Admission
To be considered for admission in the nursing administration or nursing education track within the IUP MS in Nursing program, you will need to meet these requirements:
Have successfully completed an accredited nursing program.
Hold current licensure as a registered nurse.
Have earned a bachelor's degree (not necessarily in nursing).

If your degree was completed within the past five years, you must have earned a minimum 3.0 GPA (on a 4.0 scale).
If your degree is older than five years, the minimum GPA is 2.6 (on a 4.0 scale).

Have evidence of coursework completed in statistics and research.
For International Student Admissions
International students need to meet these requirements:
Have earned a TOEFL score of 540 or above, or IELTS score of 6 or above.
Hold a current nursing license from your home country.
If you do not have evidence of coursework in statistics and research, you can take an undergraduate course in these subjects at a university or a community college.
If you have taken graduate courses at other institutions, you may transfer up to 12 credits to count toward your IUP degree if:

You took the courses within the past five years.
You earned at least a B.

We recommend that you have completed a minimum of one year of clinical practice before joining our graduate nursing degree program.
Your Application Process
If you're ready to apply, we're ready to help. Follow these steps to get started.
Complete your IUP Admissions Profile online. Once you've created your profile, you'll be able to start your application.
Complete and submit your application.
Pay the $50 nonrefundable application fee.
You'll need to send additional documents. When you submit your application form and payment, we will request the additional items we need from you to complete the application process.

Note: We do not require GRE scores.
Send official transcripts from all colleges and universities you have attended, even if you did not obtain a degree.
Send a copy of your current RN license.
Send a signed and dated statement of your career and academic goals.
Send two letters of recommendation:

One from your direct supervisor
One from a professor, mentor, or colleague
Practicum Requirements
Hands-on experience is an important part of your graduate nursing education. IUP has partnered with a wide variety of health care facilities so that you gain this clinical experience.
You are responsible for:
Transportation to and from clinical experiences.
Rental fees related to clinical experiences.
Any fees for meeting clinical facility requirements.
Requirements for Students at Clinical Facilities
As a student in IUP's master of science in nursing program, you must meet certain requirements before starting your clinical experiences. Some of these requirements might include:
Criminal background checks
Drug testing
Immunization records
Proof of health insurance
Proof of immunity
Proof of liability insurance
Vaccinations
Specific facilities may list additional requirements. You are responsible for making sure you have met all the requirements before the clinical experience begins.
Pre-accreditation Candidacy from NLN CNEA Comments
The Indiana University of Pennsylvania, Master's Degree in Nursing program (delivered via distance education), is pursuing pre-accreditation candidacy status from the National League for Nursing Commission for Nursing Education Accreditation (NLN CNEA), located at 2600 Virginia Avenue, NW, 8th Floor, Washington, DC 20037; phone 202-909-2487.
Interested parties are invited to submit third-party comments in writing directly to NLN CNEA (cneaaccreditation@nln.org) no later than April 26, 2023.
Nurse Faculty Loan Program
IUP has been awarded a Nurse Faculty Loan Program grant by the Health Resources and Services Administration. The NFLP grant provides up to 85 percent of program funding to students who make a four-year commitment to serve as a full-time nursing educator at any accredited school of nursing or as a clinical educator at an accredited health facility. The program is not dependent on the student's financial status. Eligibility requirements include at least a 3.0 grade point average and at least part-time student status.
Please reach out to the program coordinator with questions about the grant.