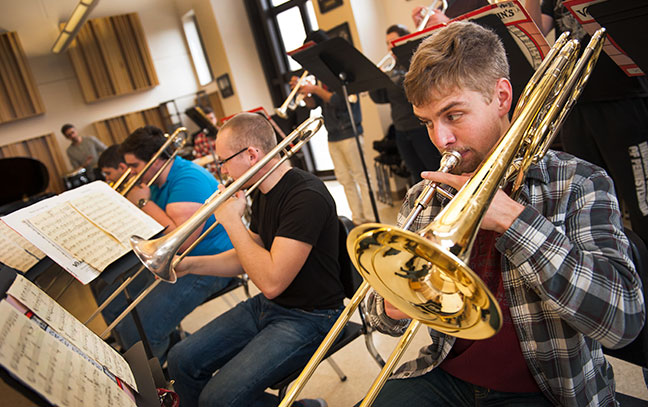 Enhance Your Skills to Set Sights on Your Music Career Goals
You have dreams of one day performing in Carnegie Hall. But in today's music world, it takes more than practice, practice, practice.
IUP's 31-credit Master's in Music Performance Program is designed to enhance your musicianship, technique, and knowledge of a variety of musical styles, with the goal of preparing you for a career in the performing arts or additional study at the doctoral level.
When you enter the program, you choose a principal performing area from the following:
Brass Performance
Choral Conducting
Organ Performance
Percussion Performance
Piano Performance
String Performance
Vocal Performance
Wind Conducting
Woodwind Performance
Your program culminates in a recital in your principal performing area, as well as an optional thesis in relevant literature that includes history, analysis, performance practice, and teaching strategies.
As an IUP Master's in Music Performance Program student you will:
Enhance your individual musicianship, technique, and knowledge of a variety of musical styles.
Participate in major performance ensembles.
Present a recital with an optional thesis.
Study with full-time faculty specialists in their performance area.
Take advantage of one of the best music libraries in Pennsylvania.
Imagine Your Future
IUP provides remarkable performing and learning opportunities. We offer a rich, engaging environment where you will expand your expertise throughout your graduate studies in music.
Students who complete the MA in Music Performance will: 
Experiment with the methods and scholarship of music history and theory in order to enrich the interpretive process.
Perform benchmark compositions at a professional level. They will present a public recital of at least one hour in length.
Explore the repertoire of their instrument, including new compositions. They will construct compelling concert programs.
Collaborate with their peers by organizing, leading, or performing regularly with small and large ensembles.
Demonstrate the musical maturity and intellectual independence necessary for study at the doctoral level.
Classes and Requirements
This degree focuses on private lessons and ensemble performance. The degree culminates in a recital, and students may choose an optional thesis as well.
Full Academic Catalog Listing
The course catalog is the official reference for all our degree and course offerings. Check it out for a full listing of the classes available and requirements for this degree.
Our Faculty
The Music Department at IUP offers a faculty of 26 full-time and seven part-time professors. They are all scholars and active musicians, who perform on the national and international stage. Unlike many other schools with adjunct professors who come in only on days when they teach, our individual instrument professors are on campus full time, interacting with their students, encouraging them to reach their full potential.
We have professors who specialize in brass, keyboard, percussion, strings, voice, and woodwinds. We have nationally and internationally recognized ensemble directors and composers. And we have scholars who bring a wealth of knowledge to lead you through music education, history, theory, and composition.
But most importantly, our faculty is dedicated to teaching and mentoring their students. All music majors are advised by a faculty member in their performance area.
Learn More about the Music Faculty