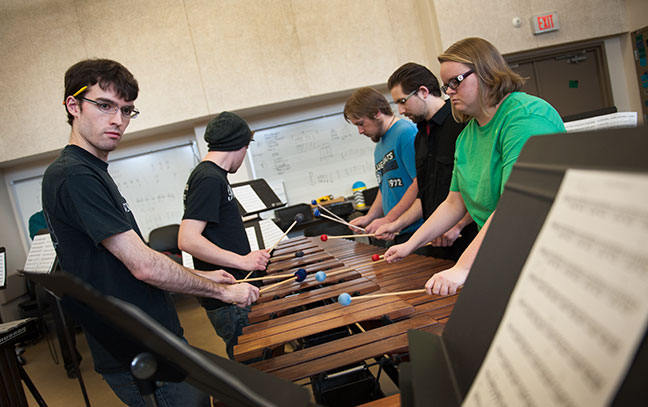 Reach New Heights in Teaching and Performance
You're a working K-12 music teacher looking to take your career to the next level. IUP's 30-credit Master of Arts in Music Education program is an online and summer-intensive program designed to get you there.
The program can be completed in two years while taking a manageable five credits per term. During the fall and winter semesters, you'll take classes online, and during two summers you attend intensive sessions.
As a Master of Arts in Music Education student you will:
Explore the option of auditioning for one of IUP's ensembles.
Focus on the periods of music history that most interest you.
Improve your skills as an administrator of music programs at your school.
Take advantage of one of the best music libraries in Pennsylvania.
Take courses in music pedagogy, education learning theory, research, and performance.
Qualify for PDE Level II Certification for teaching music K-12.
Imagine Your Future
You come to IUP pursuing your master's level degree with specific goals in mind. We embrace your enthusiasm and commitment and prepare you to take your music to the next level of professional excellence. With an MA in Music Education, you will be prepared for:
PDE Level II Certification for teaching music K-12
A doctoral degree in music education
Classes and Requirements
The MA in Music Education consists of 30 required credits over six semesters so that working professionals can complete the degree in two years while taking a manageable five credits per term.
The program is designed to enhance your skills as a music teacher through personal feedback from our faculty. During the school year, classes are offered exclusively online. During the summer, a two-week intensive term presents courses best taught in the face-to-face environment at IUP, such as conducting and bibliography.
Full Academic Catalog Listing
The course catalog is the official reference for all our degree and course offerings. Check it out for a full listing of the classes available and requirements for this degree.
Intensive Summer Session
Jump-start your master's degree, earn continuing education hours, or recharge your teaching batteries at IUP's summer intensive session! Held on the IUP campus, you can earn up to five hours of graduate credit in just 10 days of coursework.
Students can complete the MA in Music Education with our online and summer program, designed for working teachers. Non-degree-seeking students can apply for a single course, for credit towards their Level II certification, or as a special (non-degree) student; see here for details on non-degree programs. Tuition and fees are approximately $650 per credit for Pennsylvania residents.
For more information, please contact Matt Baumer, graduate coordinator, at mbaumer@iup.edu, or visit the IUP Summer Sessions website.
Summer Intensive Term Course Offerings (June 20–July 1)
MUSC 620: Foundations of Music Education (3cr)
Dr. Laura Ferguson
Study of historical, philosophical, and social foundation of music education, including educational thought and implications for school music programs.
MUSC 540, Summer Music Workshop: Developing Ensemble Repertoire (1cr)
Dr. Zach Cheever
Examines the process of repertoire selection for developing wind and percussion ensembles. Topics include navigating the many options available through publisher websites, composer pages, catalogs, and more; evaluating the musical quality of this repertoire; and defining the purpose a piece serves in the curriculum.
MUSC 542, Summer Music Workshop: Introduction to Jazz Choir Pedagogy (1cr)
Dr. Laura Ferguson
This course will cover the basics of Jazz Choir pedagogy. Topics will include vocal technique for jazz choir, microphone singing technique and technical set up, voicing for ii/V7/I and 12 bar blues, improvisation techniques, and scat singing.
Student Opportunities
Many options make strong résumés
You'll have plenty of opportunities to fill out your college experience and your résumé. Choose from more than a dozen ensembles and four student organizations. Perhaps attend or perform at a conference. There are off-campus performances and groups that travel overseas.
We offer a Community Music School and give students the chance to talk with our guest artists. Our students have also been invited to perform with celebrities on stage through the Lively Arts.
Our ensembles are legendary
Check out our ensembles. Instrumental groups include Marching Band ("The Legend"), Symphony Band, Wind Ensemble, and Symphony Orchestra. Jazz groups include Jazz Band and Jazz Ensemble. Vocal groups are Chorus, Chorale, Chamber Singers, and Music Theater. Area groups include Percussion Ensemble and Brass Ensemble.
There are also additional groups such as the Trombone Choir and Clarinet Choir.
Music student organizations
We have active student chapters of Phi Mu Alpha, an all-male music fraternity; Sigma Alpha Iota, an all-female music sorority; and Delta Omicron, a co-ed, professional fraternity. All three groups participate in service activities for the Music Department.
You can also join our student chapter of the Pennsylvania Collegiate Music Educators Association.
Attend conferences, travel to performances
Our students have opportunities to attend conferences.
The organ studio recently attended a conference in Michigan, and the University Chorale performed at the Pennsylvania convention for the American Choral Directors Association, where one of our students, Tate Dewalt, took second place in a state-wide student conducting competition.
The IUP Marching Band, aka The Legend, performs across the state at football games, exhibitions, and parades.
Opportunities to perform overseas have taken our trumpet students and some vocalists to Italy.
String Project and Community Music School Give You Experience
If you are planning a career in music education, you may want to help with the String Project, which gives children the chance to learn to play a string instrument and perform in a concert. We also have a new Community Music School that coordinates requests for college students to teach music lessons and conducts youth choral groups.
Meet and perform with international stars
Guest artists are brought to campus regularly, not just to perform but to hold master classes with students. You'll talk with them and have the chance to ask questions. When Bernadette Peters performed in Fisher Auditorium through the Lively Arts, students were invited to fill out her band for the performance.
Campus and community opportunities
Students here find other opportunities available to them as well, such as playing music for the Footlight Players summer youth theater program, or working part-time at the campus's office for ArtsPath, which is a regional arts-in-education program in partnership with the Pennsylvania Council on the Arts. For those who want more opportunities to sing, there is a Voices of Joy choir on campus, along with choirs at nearby churches.
Our ensembles and smaller groups sometimes perform in the community. Within walking distance of campus, there are also small venues such as an art shop and a local restaurant where students perform.
Our Faculty
The Music Department at IUP offers a faculty of 26 full-time and seven part-time professors. They are all scholars and active musicians, who perform on the national and international stage. Unlike many other schools with adjunct professors who come in only on days when they teach, our individual instrument professors are on campus full time, interacting with their students, encouraging them to reach their full potential.
We have professors who specialize in brass, keyboard, percussion, strings, voice, and woodwinds. We have nationally and internationally recognized ensemble directors and composers. And we have scholars who bring a wealth of knowledge to lead you through music education, history, theory, and composition.
But most importantly, our faculty is dedicated to teaching and mentoring their students. All music majors are advised by a faculty member in their performance area.
Learn More about the Music Faculty
Learning Outcomes
Content Knowledge
You'll demonstrate comprehensive knowledge of music education history and philosophy.
Disciplinary Skills
You'll develop and apply advanced pedagogical techniques that are appropriate to your current instructional setting, and you'll evaluate your own teaching, as well as that of your colleagues, according to the principles of action research.
Work Capacities
You'll experiment with innovative music and educational technologies that have the potential to enhance student outcomes. And you'll propose and implement curricular revisions that derive from the scholarship of curriculum design.