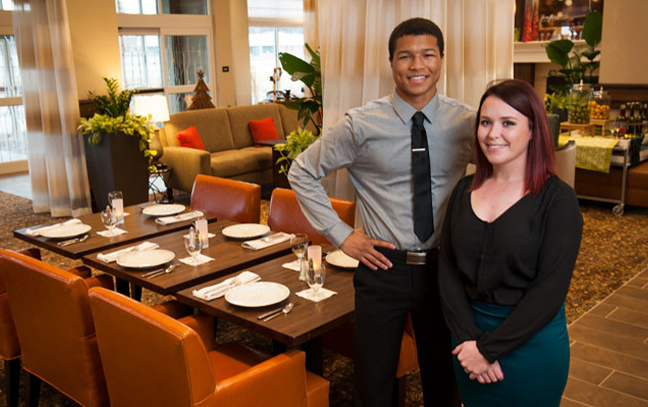 Enjoy a Fulfilling Career in the Hospitality Industry
You can build a rewarding career in the world of hotels, restaurants, tourism, and special events. The hospitality industry is full of opportunity and welcomes your creativity and enthusiasm. In IUP's Hotel, Restaurant, Tourism, and Event Management BS, you'll focus on building leadership skills and enhancing technical skills. You'll have fun learning how to work in a chef-taught restaurant/lab as you prepare to pursue exciting career options all over the world.
Imagine Your Future
Hospitality is an industry with professional stability built in—companies need skilled people like you in boom times and in slow seasons. It relies on local, regional, national, and international professionally trained managers regularly joining the workforce.
The industry offers competitive salaries, bonuses, and benefits. Hard work and performance pay off with promotions and more responsibility. IUP graduates see starting salaries of roughly $48,000, excluding benefits and bonuses.
Career Opportunities in Hospitality
Your degree in hospitality from IUP will help you find a management-level job in a host of businesses, including: 
Beverage operations
Catering
Clubs
Contract food services
Corporate support centers
Cruise lines
Gaming operations
Hotels
Resorts
Restaurants
Sales and other travel-related venues
Service-related careers (banking, health care, insurance, real estate, and more)
Special events
Supply chain and logistics management
Theme parks
Tourism
Classes and Requirements
The bachelor of science in Hotel, Restaurant, Tourism, and Event Management at IUP gives you practical, hands-on experience. You practice what we teach. We show you how to do it, and then you do it. Your education will follow a project-based curriculum that reflects industry-based tasks. You're required to complete two professional work experiences that will give you valuable on-the-job training and set you up for a career in hotels, resorts, restaurants, event planning, travel, and so much more.
Work at Our Student-Run Restaurant
The Allenwood is a specialized learning environment where you'll gain practical experience in operations management, leadership, and customer service—all while running a real, live restaurant. Regardless of which industry you choose, at IUP you'll gain a deep understanding of food and how to work with a chef-led team, which will give you an edge in the job market.
Full Academic Catalog Listing
The course catalog is the official reference for all our degree and course offerings. Check it out for a full listing of the classes available and requirements for this degree.
Professional Student Organizations
Club Management Association of America (CMAA)
Organized in 2006 at IUP to provide mentoring, internship, and career opportunities, the CMAA is affiliated with the Pittsburgh CMAA chapter of the private club industry.
Eta Sigma Delta (ESD)
The IUP chapter of Eta Sigma Delta, the International Hospitality Management Honor Society, was established at IUP in 1990 to recognize the outstanding academic achievement, service, and demonstrated professionalism of hospitality and tourism students. In the fall of 2016, we established the Hospitality Ambassadors who, along with ESD and the International Hospitality Management Honor Society, partnered with the Indiana Regional Medical Center to create a volunteer program for hospitality students.
Meeting Professionals International (MPI)
Organized in 2015, the IUP chapter of Meeting Professionals International provides innovative and relevant education, networking opportunities, and business exchanges, and acts as a prominent voice for the promotion and growth of the industry. The IUP MPI chapter is affiliated with the Pittsburgh MPI chapter.
National Society of Minorities in Hospitality (NSMH)
Students organized the IUP chapter of the National Society of Minorities in Hospitality in 1992 to support minority students interested in pursuing a career in the hospitality industry.
Statler Hotel Association
Organized in 2022, the IUP Statler Hotel Association is designed for students pursuing careers in the lodging and hotel industry. Scholarships, networking, internships, and mentoring opportunities await. The Statler Hotel Association is affiliated with the Greater Pittsburgh Hotel Association and the Pennsylvania Restaurant and Lodging Association. Support is provided by the Statler Foundation.
Reference Websites for the Hospitality Industry
Program Facts
Multicultural Management in Hospitality has been looking at the effects of international migration since 1996, including the changing roles of minorities within the global and domestic hospitality industry.
IUP's hotel, restaurant, tourism, and event management program has been accredited continuously since 1994 by the Accreditation Commission for Programs in Hospitality Administration (ACPHA).
We offer international studies with partner programs that include the International College of Management in Sydney, Australia (ICMS), and SAI Florence in Italy.
Our Industry Advisory Board (IAB) and alumni provide updates on trends affecting curriculum, participate in the annual career fair, and mentor and hire students for internships and career employment.
Program Student Profile
69 percent of students who graduated in May/August 2021 were employed in the hospitality industry or a related field within 90 days after graduation.
19 percent of students who graduated in May/August 2021 began to continue their education within 90 days after graduation.
The student retention rate of freshmen to sophomores from 2019–2020 was 70 percent.
Complete Your Degree While Working in the Industry
IUP offers professional work experience equivalence for academic credit.
Mission, Vision, and Motto
Mission Statement
IUP's Hotel, Restaurant, Tourism, and Event Management program educates, mentors, and enhances innovative and professional skills for the next generation of hospitality management leaders.
Vision Statement
Our Hotel, Restaurant, Tourism, and Event Management program aspires to be the premier hospitality program in Pennsylvania. We intend to be recognized nationally and internationally, and to be the program of choice for students and hospitality industry employers.
Motto
Our students are genuinely interested in the hospitality industry. They are enthusiastic about what they learn, passionate about customer service, and dedicated to enriching their experiences here at IUP.
BS Program Named to the Top Ten
IUP's Hotel, Restaurant, Tourism, and Event Management BS program is recognized for its excellence in hospitality management education.
Ranked number nine of 50 on the list of "2021 Best Bachelor's Degree in Hospitality Management" in the US by Study.com.
Highest-ranked program in Pennsylvania by Study.com.
Scholarships
IUP Scholarships
You may be eligible to receive scholarships to help with your tuition. No application is needed for awards from IUP. These scholarships include:
Elizabeth LaVelle Scholarship
Laura Mateer Scholarship
Patricia Brown Simkins and Ronald E. Simkins Scholarship
Pennsylvania Broker's Association Scholarship
Scanian-Reilly Scholarship
William G. Gressley Memorial Scholarship
Industry-Specific Scholarships
You need to apply for industry-specific scholarships. Check each organization's website for details on how to apply.
Club Managers Association of America (CMAA) Pittsburgh Chapter Scholarships*
Greater Pittsburgh Hotel Association (GPHA) Scholarship
International Gold and Silver Plate Society Scholarship
National Restaurant Association (NRA) Scholarship
National Society of Minorities in Hospitality (NSMH) Scholarship
Meeting Professionals International (MPI) Pittsburgh Chapter Scholarships*
Pennsylvania Restaurant & Lodging Association (PRLA) Scholarships
SKAL Pittsburgh Scholarship
Statler Foundation Scholarship
*You need to be a member of this IUP student organization to be eligible to apply for a scholarship.
Minors
Hospitality Management Minor
A minor in Hospitality Management prepares students with fundamental knowledge in the management of hospitality operations. The focus of this minor is on hospitality industry-specific management skills in the areas of employee development, purchasing, managing, and critiquing food production systems pertinent to the hospitality industry.
Full Academic Catalog Listing
Hotel and Lodging Management Minor
The Hotel and Lodging Management minor prepares students with industry-specific skills required of today's hotel professional. Students will learn how to lead front office operations, housekeeping and facilities management, industry standard pricing strategies, revenue management, the role of a hotel sales department, and how to lead with a focus on service management.
Full Academic Catalog Listing
Restaurant and Food Service Management Minor
The Restaurant and Food Service Management minor prepares students with the skills to be a successful food service manager. This minor prepares students to manage and operate the Allenwood Restaurant by developing skills in food sanitation, food preparation skills, menu planning, front and back of the house operations, and responsible alcohol service.
Full Academic Catalog Listing
Special Event/Tourism Management Minor
The Special Event/Tourism Management minor introduces students to the planning, organizing, and controlling of special event functions and the social, cultural, environmental and economic processes linked to the tourism industry. This minor provides the option to select industry-specific courses that meet your individual career goals in areas of professional wedding planning, fund-raising, catering, festivals, destination management, international tourism, and event management.
Full Academic Catalog Listing