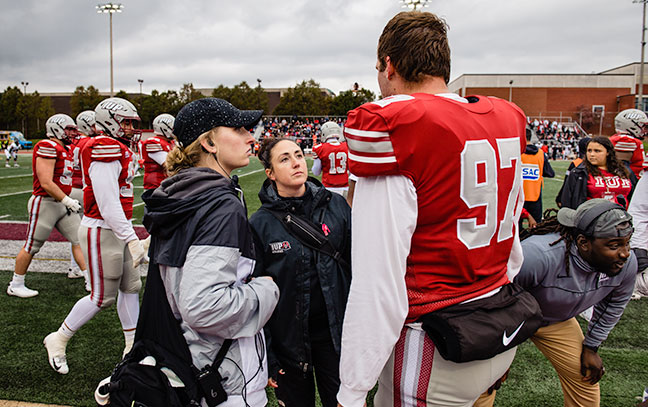 Help Athletes Stay in the Game and Excel
You're passionate about working in the world of sports and helping athletes reach their potential. Optimizing human performance is a science. You'll need to be an expert in the dynamics of physical activity and the psychology behind high achievement. IUP's Sport Studies MS will get you there.
Get a Competitive Edge with a Next-Level Education
The master in sport studies program will prepare you for numerous opportunities in the rapidly growing sports industry, including coaching and sport psychology. The program is flexible, so you can incorporate courses from multiple departments and design a curriculum that focuses on your specific academic and career goals.
Imagine Your Future
Do you see yourself helping athletes in a sports clinic? Or maybe you're looking for an on-the-field leadership role.
With a sport studies degree, you'll gain knowledge and skills that will open you to a wide variety of positions, including:
College and athletic departments
Commercial sports facilities
Community recreational organizations
Corporate health and wellness programs
Hospitality fitness facilities
Classes and Requirements
You can customize your sport science program. You have a choice of three sport science tracks that can teach you what you want to know. And you have the option to select a 36-credit thesis curriculum or 36-credit non-thesis curriculum.
What You'll Study
Your sport studies classes focus on:
Coaching management
Physical activity and aging
Sport leadership
Sport psychology
Take on an internship. An internship gives you the opportunity to work with sports professionals in your area and gain real-world experience.
Admissions Requirements
To be admitted into the Sport Studies MS program, you must have the following:
Bachelor's degree from a regionally accredited college or university.
Minimum undergraduate grade point average of 2.4 (on a 4.0 scale) if the bachelor's degree was earned more than five years ago.
Minimum undergraduate grade point average of 2.6 (on a 4.0 scale) if the bachelor's degree was earned five or fewer years ago.
For International Students
IUP's Department of Kinesiology, Health, and Sport Science welcomes applications for admission from students outside of the US.
International applicants are required to submit a minimum TOEFL score of 540 (paper-based), 207 (computer-based), and 76 (internet-based). GRE and GMAT scores are not required for admission into IUP's sport science master's program.
International graduate condition admission is also available.
Full Academic Catalog Listing
The course catalog is the official reference for all our degree and course offerings. Check it out for a full listing of the classes available and requirements for this degree.
Video Testimonials
IUP graduate assistant Whitney Jones talks about her GA experience with the James G. Mills Fitness Center, located on the IUP campus. She explains how she feels more prepared for her future through her GA experience. See her and other students' video testimonials.
Handbook for the Sports Management and Sport Studies MS
To learn more about IUP's sports management and sport studies master's degree programs, take a look at the program handbook.