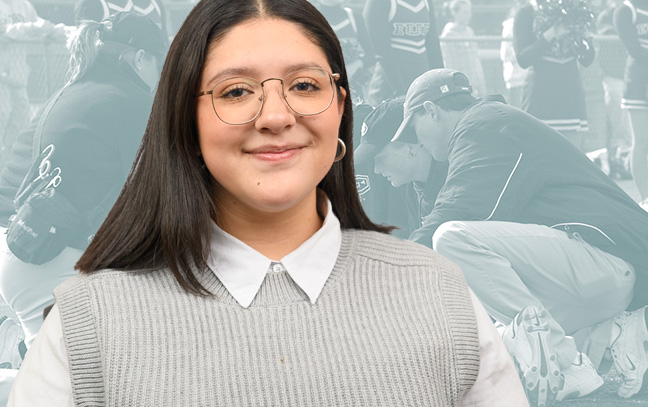 Become a Partner in Health for Peak Performance
You want to help others achieve their personal best. And you want to work in a field that incorporates both patient-centered health care and athletic performance. Give yourself a more competitive edge with an Athletic Training MS from IUP.
Certified athletic trainers are skilled health care professionals who play a vital role in treating a variety of patient groups. Through a balance of study both in the classroom and in clinical training settings, you'll learn and practice advanced techniques to help prevent and treat sports-related injuries.
You'll also prepare to take the Board of Certification (BOC) exam that ensures you're ready to enter the field and comply with state athletic training regulatory requirements. If you currently hold a BOC credential or are BOC eligible, IUP's athletic training program isn't for you.
Integrating Science and Practice
In IUP's medical-based MSAT curriculum, you'll develop the critical knowledge and skills you'll need to provide comprehensive client or patient care in five areas of clinical practice:
Clinical evaluation and diagnosis through physician collaboration
Immediate and emergency care
Organization and professional health and well-being
Prevention
Treatment and rehabilitation
You'll also examine the athletic trainer's role in the health care system, along with risk management, health care delivery mechanisms, insurance and reimbursement, documentation, patient privacy, and facility management.
See  Program Accreditation and Outcomes from CAATE, the Commission on Accreditation of Athletic Training Education.
Imagine Your Future
You see yourself helping others achieve their personal best. IUP's master in athletic training will prepare you for multiple career opportunities in many different occupational areas, including:
Hospital emergency departments
Industrial settings
Intercollegiate athletic settings
Law enforcement
Military environments
Occupational settings
Performing arts
Physician offices
Professional sports organizations
Secondary schools
Projected increase in jobs 2020–30
This is a much faster growth rate than average for all occupations.
Classes and Requirements
You'll work in a cohort, meaning you'll start in a group of athletic training students and work together through the program. Our faculty designed the Athletic Training MS program so that your classes and clinical courses are offered in a specific order. This way, you'll build your knowledge step-by-step.
On-site study will give you crucial hands-on experience. You'll immerse yourself in the field by completing four clinical rotations where you'll work with diverse patient populations in different settings.
Full Academic Catalog Listing
The course catalog is the official reference for all our degree and course offerings. Check it out for a full listing of the classes available and requirements for this degree.
Athletic Training Centralized Application System (ATCAS)
IUP subscribes to this centralized application service that helps prospective students apply to athletic training programs.
Offered by the Commission on Accreditation of Athletic Training Education (CAATE), this service lets you upload your application information and documents to a single location and then select the participating athletic training programs that interest you. Your application materials are then sent to the administrators of the programs you've chosen.
You can search for programs that participate in ATCAS on their centralized athletic training application site.
Not all athletic training programs subscribe to ATCAS. You may want to search for additional programs outside the ATCAS system that interest you and apply directly to them for admission.
Entrance Criteria
If you're interested in our master of science in athletic training degree, you must meet IUP's School of Graduate Studies and Research admission requirements and the following entrance criteria:
An undergraduate 3.0 grade point average and completion of the following prerequisite coursework with a grade of C or better:

Biology, with lab
Chemistry, with lab
Human anatomy, with lab
Human physiology, with lab
Exercise physiology
Kinesiology/biomechanics
Nutrition
Physics, with lab
Psychology
Statistics

A minimum of 40 hours of direct clinical observation under the guidance of a certified athletic trainer in a minimum of two different settings, including a letter of verification from each supervising certified athletic trainer.
A current Emergency Cardiac Care (ECC) certification from an acceptable provider that adheres to the most current international guidelines for cardiopulmonary resuscitation and emergency cardiac care.
Completion of an interview with IUP's program coordinator and faculty, as needed.
Additional details and required documentation, such as background clearances, tuberculin (TB) skin test results, and liability insurance, as described in IUP's Athletic Training Program Handbook.
Acceptance of Program Technical Standards.
Program Innovation, Real-World Success Elevate Each Class
The Kinesiology, Health, and Sport Science faculty members bring decades of real-world experience to the classroom. Prior to arriving at IUP, they coached athletic teams, operated fitness training centers, and learned first-hand the rigors of working with hospitals to rehabilitate injured athletes and cardiac patients.
Their excellent advisory assistance will help you choose a lasting career in coaching, fitness center management, corporate wellness, or other sports-industry sectors.
Our professors continue to expand their scholarly achievements by presenting research at regional and national events.
IUP professors have established innovative programs, such as the home school program and Special Needs Activity Program, which give you opportunities that enhance your résumé.
Guidance is a key ingredient our professors bring to your graduate program, helping you make the right choices so you can excel as you complete your degree.
Active participation in academic and professional circles allows our professors to build a network of potential internship sponsors.