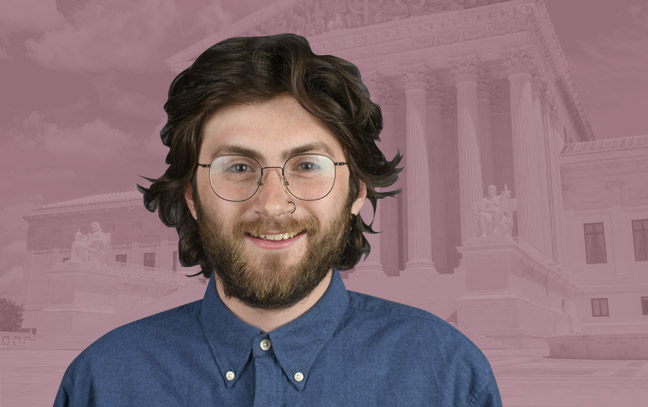 Impact the Future of Criminology with a Highly Respected PhD
You can impact the future of criminal justice with a PhD in Criminology from IUP. You'll gain the essential knowledge and skills to become a researcher and leader in your profession, as well as the means to influence the next generation of students as a university professor.
Why Pursue a Criminology PhD from IUP?
IUP's PhD in Criminology and Criminal Justice is the sixth-oldest doctoral program in the country and has awarded more than 150 PhDs. Alumni are either successfully teaching at other universities and colleges or applying their expertise at respected research institutes and agencies at the state and federal levels.
At IUP, you can take advantage of:
A broad curriculum focused on integrating theory, research, and policy.
An extensive professional network of alumni and research partners. Tap into the experience and connections provided by our network of more than 150,000 alumni worldwide.
Dedicated faculty members. Our professors will do more than teach. They'll serve as mentors, working alongside you on research projects and engaging you in one-on-one learning experiences.
Opportunities to gain teaching experience before you graduate.
The possibility for part-time completion.
Teaching is the primary focus of our PhD in Criminology program, and you'll have plenty of opportunities to practice your classroom skills as a teaching assistant.
Working with quantitative and qualitative research strategies, you may also have opportunities to serve as a research assistant or full-fledged researcher for government or private entities. Upon completing your degree, you could continue to work on special topics through post-doctoral research grants and jobs.
What You'll Learn
Unlike other programs that focus narrowly on training researchers, IUP's doctoral program gives you instruction in all aspects of scholarship, especially the link between research, scholarship, and teaching.
As a PhD in Criminology student, you'll:
Apply criminology and criminal justice theories and ethical and philosophical issues to your teaching and research
Become highly knowledgeable in criminal justice policy
Develop essential skills to help you balance the demands of teaching, research, and service commitments you'll encounter throughout your career
Master qualitative and quantitative strategies and methods in developing your skills as a researcher
Take full advantage of the possibility of teaching associate positions to sharpen your teaching skills in a university setting
Imagine Your Future
Earning a PhD shows the world you're not afraid of hard work, that you have the discipline and a personal commitment to shaping your profession. With a PhD in Criminology from IUP, your future will be one in which you influence students and future leaders, research some of today's most gripping issues, and drive reform from within the highest levels of criminal justice administration.
As a doctoral-prepared educator, you have a very bright future. In addition to the more than 400 open faculty positions in higher education throughout the United States, there is a similarly high demand for researchers and policymakers.
Classes and Requirements
The main purpose of the PhD in Criminology is to prepare you for a career in academics. At IUP, you'll receive a balanced and integrated approach to the study of justice systems, theory, research, and educational issues.
The main requirements for this doctoral program are:
Completing 42 credits of coursework (some students can transfer in coursework from their MA programs)
Meeting skill and specialization requirements
Passing qualifying exams
Finishing your dissertation
Full Academic Catalog Listing
The course catalog is the official reference for all our degree and course offerings. Check it out for a full listing of the classes available and requirements for this degree.
How IUP Supports Your Academic Success
As a doctoral student, you'll also get plenty of support throughout this challenging academic journey. We're committed to helping with your success at every stage throughout your progression toward dissertation publication, graduation, and beyond.
Research Opportunities
Because IUP is classified as a public doctoral/high research activity institution, you'll have opportunities to present your research at conferences, symposiums, and exhibits.
Resources
You'll be relieved to know that support is available at every stage of your doctoral program, including:
A range of resources that are free for IUP graduate students
Editing assistance from the Kathleen Jones White Writing Center
Help in data modeling and quantitative analysis through IUP's applied research lab.
Dig Deeper with Help from the Center for Criminology Research
The mission of the Center for Research in Criminology (CRC) is to:
Act as a resource center
Attract scholars for residency programs
Conduct, promote, and sponsor scholarly research
Establish relationships with other institutions/agencies
Provide technical assistance
Seek external funding
Serve as a clearinghouse for proposals and information
The CRC works with, and is supported by, the IUP Department of Criminology and the School of Graduate Studies and Research to nurture postgraduate research and maintain a supportive research environment for faculty members. The CRC also facilitates research contacts among faculty, state and local criminal justice officials, and funding agencies.
Write for the Criminal Justice Policy Review
The Criminal Justice Policy Review (CJPR), edited by IUP professor Jennifer Gossett, is a multidisciplinary, peer-reviewed journal committed to the study of criminal justice policy through quantitative, qualitative, and mixed-methodological approaches.
CJPR serves as a bridge between academics, policymakers, and practitioners by publishing sound research that addresses critical issues in crime and justice and examines the implementation and effectiveness of criminal justice policies, programs, and practices. This journal appeals to criminologists, sociologists, political scientists, and other scholars and professionals with an interest in policy and research.
CJPR is published quarterly and accepts articles, essays, research notes, and book reviews. Manuscripts appropriate for submission include:
Full-length articles that present the findings of original empirical research
In addition to its regular issues, CJPR also provides a forum for scheduled special issues on notable topics in crime and justice
Research notes, allowing authors to present early and preliminary results
Review essays that thoroughly review and critique the "state of current research" on a particular topic and discuss the associated policy implications, or those that address an emerging issue in the field and outline a proposed research agenda
Reviews of books on relevant topics in criminal justice
To have your material considered for publication, please submit manuscripts via Manuscript Central.
Get Help Funding Your Doctoral Journey
Graduate Assistantships
Graduate assistantships at IUP are selective and awarded to highly qualified master's and doctoral students. In addition to earning a stipend, you may receive a full or partial tuition waiver.
One such graduate assistantship includes the opportunity to serve as managing editor of our academic journal, Criminal Justice Policy Review. You'll get real-world experience while furthering your understanding of the publication process, which is essential in academia.
You can also become a research assistant in the Criminology Research Center, where you'll gain practical research experience. Internal funding for graduate student research includes:
Graduate Student Research Grant
Graduate Student Funding to Present Papers
Graduate Student Professional Development
Graduate Student Outstanding Research Award
Become a Teaching Associate
After completing the necessary coursework and qualifying exams, you'll have the opportunity to apply to become a teaching associate at IUP. Our program includes a supportive mentoring process to better prepare you for the classroom and a career in higher education, which is a natural next step for most doctoral students.  
A Leader in Research: IUP Research Institute
The Indiana University of Pennsylvania Research Institute is affiliated with IUP but is a separate, private, nonprofit corporation. Its mission is to advance the research agenda and educational objectives of IUP and partner institutions within the Pennsylvania State System of Higher Education and to promote greater collaboration across the entire state system.
The Institute's vision is to enhance the culture of research at IUP and partner institutions while being recognized as a leader in research administration.
CGSO: Your Program, Your People
Finding special-interest groups that nurture you throughout your education is essential for your academic success—and a great way to begin networking for your future.
At IUP, the Criminology Graduate Student Organization (CGSO) is committed to serving graduate students like you and supporting your success. The CGSO sponsors two "Brown Bag" luncheons featuring criminology faculty members discussing various topics each semester. Past luncheons have covered:
Academic job searches
Doing research with faculty
Professional development in academia
Web-based surveys
Involvement in the local community is vital to CGSO. Its "Bowling for Kids" event raises money for Big Hearts/Little Hands of Indiana County.