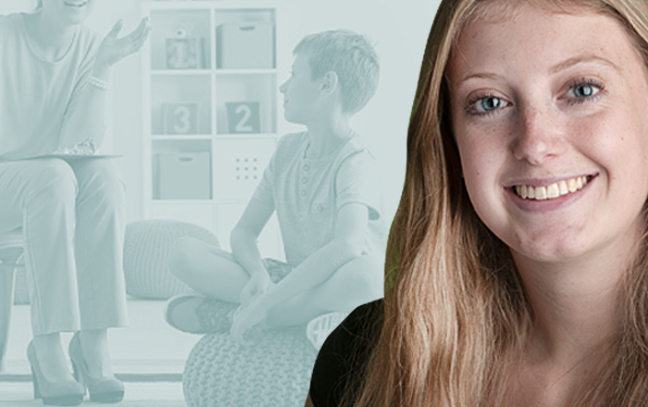 Counsel Students to Foster Academic, Career, and Social-Emotional Development
You understand that students at every age and in every grade need to learn more than academic content to grow as unique individuals. You have a deep desire to help students in all aspects of their personal development. IUP's CACREP-accredited, 60-credit, School Counseling MEd will prepare you to serve in this role and give students the guidance they need.
The program's coursework, field work, and real-world experiences will prepare you to counsel students in preK–12 school settings. You'll be ready to facilitate meaningful and productive conversations with them about:
Career awareness
Decision-making skills
Educational planning
Interpersonal communication
Personal development
Study skills
Upon completing the MEd program, you'll be well-prepared to work with diverse student populations in a wide range of settings. You'll know how to support students academically, socially, and emotionally. As they progress through school, you'll be able to help them consider various career possibilities and navigate the transition to young adulthood.
IUP's School Counseling master's program is accredited by the Council for Accreditation of Counseling and Related Educational Programs (CACREP) and the Council for the Accreditation of Educator Preparation (CAEP).
You can enroll in this CACREP-accredited, 60-credit, degree program at our campus in Indiana, Pennsylvania or at IUP's Pittsburgh East campus.
If you already have a master's degree in counseling or another very closely related discipline, you may be eligible for IUP's certification-only track. 
In addition, you are invited to apply for a graduate assistantship. A limited number of 10 or 20-hour-per-week departmental positions are awarded to degree-seeking graduate students within the department of counseling each year.
Graduate assistants work under the supervision of a faculty member and are provided a partial tuition reduction, as well as a stipend that is distributed throughout the graduate assistant contract period, which is typically fall and spring semesters.
If you have any questions about these graduate assistantships, email counselingdept-assistantships@iup.edu.
How You Will Learn
Our combination of course work and hands-on learning experiences will give you the knowledge and confidence to succeed as a school counselor. You'll work directly with students during:
Practicum experiences at both elementary and secondary schools
A 600-hour field experience under the supervision of a certified school counselor
The MEd program will academically prepare you for taking the Praxis School Counselor Specialty Exam and seeking preK-12 PA Commonwealth Certification through Pennsylvania's Department of Education (PDE) upon graduation. In addition, you will have the academic preparation necessary to take the National Counselor Exam and work toward PA state licensure, if you so desire.
Why Apply to the School Counseling MEd Program at IUP?
Quality school counselors are in high demand. After completing this program, you'll be well-equipped to help students strengthen their self-awareness and develop the life skills they'll need for all types of situations in both school and their personal lives.
You'll learn an approach to counseling that:
Helps students learn more effectively and efficiently
Involves collaboration with all key school and community stakeholders
Is flexible and developmental
Imagine Your Future
Schools need counselors at all grade levels, in both public and private settings. Employment projections currently forecast approximately 35,000 school counselor job openings each year through 2030. Given that level of demand, you'll be able to prioritize the type of school setting where you'd like to work.
There is an ongoing need for qualified school counseling professionals within the United States.
Career Opportunities for School Counselors
Pre-K counselor
Elementary school counselor
Middle school counselor
High school counselor
Post-graduate Options for Continued Education
Counselor education and supervision
Educational administration/leadership
School psychology
Related Occupations
Career counselor
Clinical mental health counselor
Principal
School social worker
Teacher
Classes and Requirements
The School Counseling MEd program is designed to maximize your personal and professional growth. In addition to providing course instruction, the program's caring faculty will provide mentorship, advisement, and support. You'll benefit from and enjoy the community-oriented and family-based culture of the department.
As part of your course requirements, you will learn how to work with:
Diverse student populations
English language learners
Students with disabilities
Your elective coursework will reflect your own professional interests and allow you to develop specialized expertise.
During your practicum and field experiences, you'll counsel both elementary and secondary students, both individually and in group settings. Through this hands-on experience, you'll be well-prepared to work in a preK-12 setting and well-connected within the surrounding areas.
IUP's program is based on the American School Counselor Association (ASCA) National Model and prepares you to become certified as a school counselor in Pennsylvania. To learn more about the role of a school counselor, please visit the ASCA website.
Full Academic Catalog Listing
The course catalog is the official reference for all our degree and course offerings. Check it out for a full listing of the classes available and requirements for this degree.
Post-Master's Certification-Only Track (COUN-NDCRTN)
If you already have a master's degree in counseling or another very closely related discipline, you may be eligible for IUP's certification-only track. Fulfilling outstanding coursework requirements through this track and meeting all requirements set forth by the Pennsylvania Department of Education (PDE) will enable to you apply for certification as a school counselor in the state of PA.
Application Details
To explore your eligibility for the certification-only track, please follow these steps:
Contact the master's program coordinator, Dr. Brittany Pollard-Kosidowski (bpollard@iup.edu), to have your graduate transcript(s) evaluated. This will determine your eligibility for the certification-only track, and we'll be able to recommend the courses you need beyond those you've already earned.
Complete the full program application and meet the same admissions requirements as degree-seeking applicants.
If you do not meet the eligibility requirements for the certification-only track, you will be invited to apply for the full 60-credit School Counseling, MEd program. Course transfer options may be provided in accordance with the policies set forth by the IUP School of Graduate Studies and Research.
Full Academic Catalog Listing
The course catalog is the official reference for all our degree and course offerings. Check it out for a full listing of the classes available and requirements for this degree.
Get Involved beyond the Classroom
IUP's chapters of Chi Sigma Iota (CSI) and Counselors for Social Justice (CSJ) offer two great opportunities for students to connect with one another and engage with our surrounding communities outside of the classroom.
Chi Sigma Iota
Chi Sigma Iota is an international honor society that recognizes and promotes academic excellence and leadership within counseling and counselor education. Members are inducted annually and work together throughout the year to engage in meaningful service work, provide opportunities for professional development, and host social events so that students can unwind and have a little fun! Our chapter, Iota Upsilon Pi, is currently advised by professor Matthew Nice.
Counselors for Social Justice
Counselors for Social Justice, a division of the American Counseling Association, is another great way to get involved. Student members at IUP collaborate to identify and address issues of oppression, marginalization, and underrepresentation within the field of counseling, while simultaneously working to advocate for equity, justice, and systemic change at all levels of our shared profession.
Our chapter works to connect students across all of our tracks and both campuses by regularly hosting critical discussion groups and facilitating opportunities for interested students to engage in advocacy on behalf of and in collaboration with the communities we serve. Most recently, CSJ sponsored the organization of a Diversity, Equity, and Inclusion Resource Library available to all at Pittsburgh East. CSJ is currently co-advised by professors Sibyl West and Brittany Pollard-Kosidowski.
In addition to taking advantage of these opportunities, our master's students are regularly encouraged to participate in faculty scholarship and service efforts. We pride ourselves on serving as mentors outside the classroom and invite students to reach out!
Attend an Information Session
If you would like to learn more about our School Counseling program, our admissions process, and our departmental culture, we encourage you to attend one of our face-to-face or virtual program information sessions.