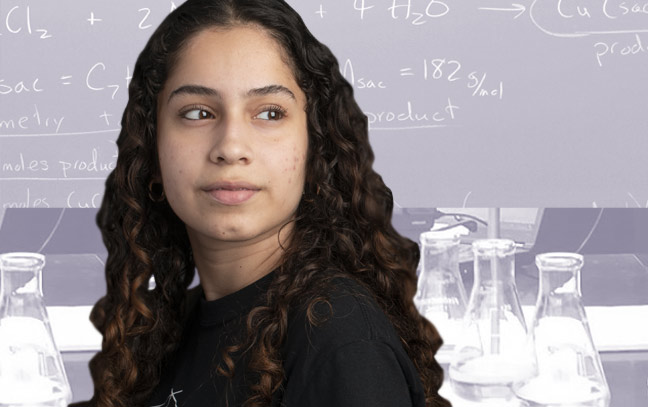 Understand Life with Chemistry
Does it interest you to learn how things interact with each other? Are you curious and like to solve problems? If you are, you might enjoy exploring all the different particles of chemistry in IUP's BS in Chemistry program.
Chemistry is called the central science because it is the link between all the physical sciences. It's used by biologists, doctors, nurses, pharmacists, environmental engineers, geoscientists, and food scientists.
Become a chemistry major at IUP, and you'll be prepared for a wide variety of career options.
Why Major in Chemistry at IUP?
IUP's caring and talented professors, small classes, and up-to-date labs create an environment where you can reach your highest potential.
Through your chemistry classes at IUP, you'll learn:
How and why things work the way they do
How to decompose materials
How to develop an understanding of matter and energy and their interactions
How to develop critical thinking skills
How to synthesize materials and understand how they work
How to work in the macroscopic world (what you can see) and think on the microscopic scale (what you cannot see with just your eyes)
Your BS in Chemistry will prepare you for a job after graduation. Or, you'll have the strong foundation you need to continue your education and enter medical, pharmacy, or law school.
Chemists make things that touch so many parts of your life:
Batteries
Cosmetics
Fabrics
Food
Fertilizers
Metal alloys
Paints
Perfumes
Pharmaceuticals
Plastics
It's impossible to live without chemistry. And, once you study chemistry, you'll understand the science behind everything in your daily life.
Imagine Your Future
Your chemistry knowledge has the power to give you meaningful employment right after you graduate. It's impossible to list everything you can do with your BS in Chemistry, but here are a few of the paths you can take:
Apply your knowledge to industries such as hydraulic fracturing by joining a quality control department.
Become employed at government agencies such as the National Institute of Standards or the Department of the Environment.
Pursue a career as a research chemist by advancing to graduate school.
Work for pharmaceutical, paint, food, metallurgy, or oil and gas companies.
You can also use your degree as a launchpad to PhD programs, medicine, pharmacy, law, and interdisciplinary sectors such as forensics, food science, and environmental analysis.
Industries Looking for You
With a Bachelor of Science degree in Chemistry, you'll have the choice of jobs in a wide range of fields. These include:
Agrochemistry
Analytical chemistry
Astrochemistry
Atmospheric chemistry
Biochemistry
Biotechnology
Ceramics industry
Chemical engineering (chemical engineer profile)
Chemical information specialist
Chemical research
Chemical sales
Chemical technology
Colloid science
Consulting
Consumer products
Environmental chemistry
Environmental law
Ethnobotany
Food chemistry
Forensic science
Geochemistry
Government agencies (local, state, federal)
Hazardous waste management
Inorganic chemistry
Laboratory chemist
Materials science
Medicine
Metallurgy
Military systems
Oceanography
Organic chemist
Paper industry
Patent law
Perfume chemistry
Petroleum and natural gas industry
Pharmaceutical industry
Physical chemistry
Plastics industry
Polymer industry
R&D management
Science writer
Secondary school teacher (with a BSEd in Chemistry)
Space exploration
Surface chemistry
Technical writing
Textile industry
Classes and Requirements
The classes for your BS in Chemistry degree emphasize laboratory courses, weekend field trips, summer field courses (required for majors), and faculty-led research projects. You'll have a chance to work with your professors on research projects, and then co-write presentation papers for publication.
To develop the foundational knowledge necessary for you to succeed as a chemistry student, you'll take courses in math, physics, and biology.
The degree is structured so first you learn general and organic chemistry. Once you have that solid foundation, you will take courses in other subjects such as:
Advanced organic chemistry (synthesis and analysis of carbon-based compounds)
Analytical chemistry (answers what and how much)
Biochemistry (biological applications of chemistry)
Inorganic chemistry (non-carbon based)
Physical chemistry (answers the why of chemistry)
Spectroscopic analysis (teaches what's the structure)
The courses are challenging. But by studying hard and having a lot of faculty support, you'll be prepared for the job market or for more advanced studies.
Teacher Certification Requirements
All students seeking teacher certification must meet the requirements of the Three-Step Process for Teacher Education.
Full Academic Catalog Listing
The course catalog is the official reference for all our degree and course offerings. Check it out for a full listing of the classes available and requirements for this degree.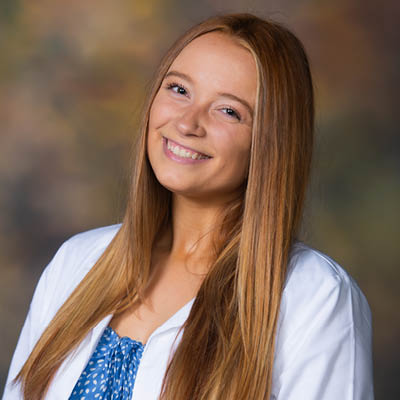 Alexis Roman '21, Chemistry
IUP gave me the opportunity to work closely with my peers, professors, and advisor, which contributed greatly to my success.
The IUP Difference
Big School Options
By deciding to study at IUP, you'll discover the best of a large university in a small-school environment. The facilities and options at IUP match those at Pennsylvania's largest campuses, yet you'll find the faculty and other students to be friendly and inviting. It's common for your faculty to work with you one-on-one to keep you focused on your goals.
Perform Labs and Research with Professors
You'll learn both in the classroom and in the research lab. By conducting cutting-edge research with professors, you'll be better prepared to meet the demands of your coursework and your future career.
Quality Guidance
Chemistry faculty members will be your advisors and mentors. By working directly with a faculty member when you are making academic decisions, you'll have the advice you need to make the best choices.
Pre-medical Track in Chemistry
With small class sizes and knowledgeable faculty, IUP is a perfect university to help you get started on your future career in medicine. Medical schools will almost always take a student from a small college with a high GPA over a student from an Ivy League school with a low GPA.
Prepare for Success in the Medical Field
This program prepares you for medical school by supplementing the chemistry curriculum with the following courses:
Biology
Humanities
Natural science
This program also gives you everything you need to satisfy the requirements for both medical and graduate schools.
You'll be encouraged to start doing research in your freshman year. This will enhance your problem-solving and laboratory skills. The thorough chemical training and applied chemistry knowledge will help you build confidence in solving problems in healthcare and many other career fields.
Grade Point Averages and MCAT Scores
The two most important factors to be accepted into medical school are a high-grade point average and a high MCAT score. While medical schools will allow you to apply as long as you have completed the necessary prerequisite courses, it is no secret that some majors are better at preparing you for the critical thinking skills needed for a high score on the MCAT.
If you study physical sciences, such as chemistry, biochemistry, and physics, you'll have the highest acceptance rate among other majors applying for medical school.
Student Achievements for Those Accepted to Medical Schools
Average 2021 Student Achievements for those Accepted to Medical Schools
Mean GPA
Average MCAT Score
Major
Acceptance Rate
All Applicants
Accepted
All Applicants
Accepted
Physical Sciences
47.7%
3.62
3.73
509
513
Math and Statistics
47.3%
3.62
3.72
510
515
Biological Sciences
40.6%
3.58
3.73
506
511
Specialized Health Sciences
36.7%
3.57
3.74
503
510
Pre-pharmacy Track in Chemistry
If you're thinking about becoming a pharmacist or working in the pharmaceutical industry, the pre-pharmacy program in chemistry will prepare you for both career paths. After completing this program, you can:
Go to a School of Pharmacy and earn a PharmD degree
Go to graduate school and study pharmaceutical science or chemistry
Both careers are exciting and well-paid, with excellent future potential.
Chemistry Education Certificate
Change a few of your classes, and you can graduate with both your BS in Chemistry and your Secondary Science Education certificate. This gives you the option of sharing your love of chemistry with high school students or working as a practicing chemist.
To earn your Secondary Science Education certificate, most advanced math and chemistry courses are replaced with education courses. You will then be certified to teach chemistry in Pennsylvania.
Science teachers are in high demand nationwide. Adding this certificate to your degree gives you other options for your future.
Chemistry Minor
Looking for a way to make yourself more marketable? Consider adding a Chemistry Minor to your degree. When you add this minor, it shows that you have a stronger understanding of scientific knowledge, processes, and critical thinking. These skills impress employers.
A Chemistry Minor makes a nice addition to these majors:
Biology
Business
Environmental science
Geology
Health sciences
One of the social sciences
Pre-medical
You might already have three of the five required courses as part of the requirements for your major. If you add two extra courses, you'll be able to market your lab science skills after graduation.
Full Academic Catalog Listing
The course catalog is the official reference for all our degree and course offerings. Check it out for a full listing of the classes available and requirements for this minor.
Chemistry Honors Certificate
Do you enjoy challenging yourself? Add the Honors Certificate in Chemistry and you'll take more advanced courses to complete your degree. You will also give a public presentation of your research.
By adding this certificate, you have the required courses for the guaranteed admission agreements IUP has with various PhD programs. (You must still meet the minimum GPAs for each school.)
Full Academic Catalog Listing
The course catalog is the official reference for all our degree and course offerings. Check it out for a full listing of the classes available and requirements for this certificate.
Student Groups
IUP encourages out-of-classroom experiences with other biochemistry and chemistry majors, allowing for teamwork and interaction that will add to your undergraduate experience. We are proud to offer several subject-specific groups where you can network with your peers.
American Chemical Society (ACS)
The American Chemical Society student affiliate is the professional organization for chemistry and biochemistry majors. They host professional meetings and hold tutoring sessions.
Alpha Chi Sigma (AXE)
Alpha Chi Sigma is a professional fraternity that encourages networking for connections after graduation. It holds professional advancement workshops for STEM majors. AXE graduates form the core of the alumni mentoring programs, such as Alumni Mentors Empowering Students (AMES).
American Medical Students Association (AMSA)
The American Medical Students Association brings in health care professionals to provide career tips, volunteer opportunities, and group study sessions.