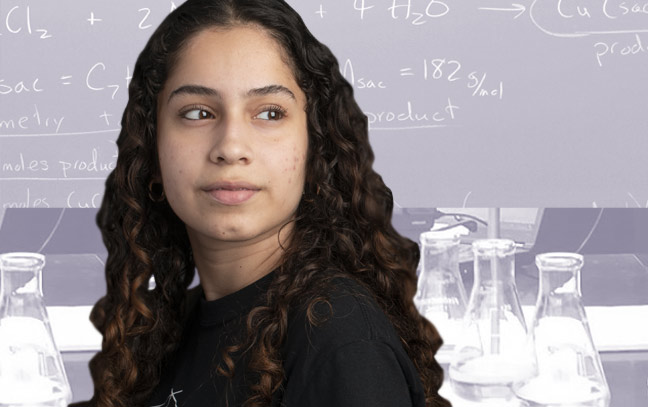 Prepare for a Successful Pharmacy Career
You're making a smart choice when you choose pharmacy. It's one of the most in-demand careers, paying $100,000+.
As a pharmacist, you'll help people of all ages by managing their medications, educating them about medical issues, giving immunizations, and providing health screenings to detect disease early. And you can opt for a variety of settings to work in, from hospitals to retail stores to working from home.
IUP's Pre-pharmacy BS is also a smart choice. Here, you'll get the educational foundation you need to enter and succeed in graduate school and earn your PharmD degree.
Why Major in Pre-pharmacy at IUP?
As a pre-pharmacy major at IUP, you'll be part of a community that's had outstanding success in helping students get accepted into pharmacy school.
You're ready to tackle the math, science, and other pre-pharmacy courses you need to keep moving forward. Every step of the way, you'll have expert support from your advisor and from a community of caring faculty.
More than 90 percent of IUP's pre-pharmacy majors with a GPA over 3.0 went on to outstanding professional schools, such as:
Auburn University (AL)
Duquesne University
Lake Erie College of Osteopathic Medicine
Ohio State University
Shenandoah University (VA)
Temple University
University of Charleston (WV)
University of Pittsburgh
West Virginia University
IUP's Formal Partnerships Benefit You
Our formal affiliation agreements with LECOM School of Pharmacy and Shenandoah School of Pharmacy are just two examples of IUP's partnerships that benefit your career goals. You know that you'll compete with many other ambitious students to get into a top graduate pharmacy program. If you apply as an IUP pre-pharmacy major to the graduate school at LECOM or Shenandoah University, our affiliation improves your chances of acceptance.
Imagine Your Future
Picture yourself as a pharmacist. You might see yourself working in a large retail pharmacy or behind the scenes in a hospital.
Don't stop there. You could also pursue a career in another interesting, rewarding career related to the pharmacy field, such as:
Informatics
Nuclear pharmacy
Pharmacutical Science
Medicinal Chemistry
Similar Occupations
Dentist
Optometrist
Chemist
Physician
Physician assistant
Biochemist
As the US population ages, demand for pharmacists will increase.
Classes and Requirements
The courses included in IUP's Pre-pharmacy BS program are based on the admission requirements of pharmacy schools in Pennsylvania and neighboring states. By the time you graduate, you'll have a solid foundation in chemistry, biology, math, and physics. You'll also learn fundamentals of economics and psychology, which will help you to become a more effective advocate for people facing illness or disease.
Your PharmD program might require pre-pharmacy students to complete additional courses in chemistry, ethics, public speaking, or other subjects. No matter what graduate school you choose, your adviser will make sure you're on track to meet the requirements for research or practical pharmacy experience. You can also choose a Ph.D. program in Pharmacutical Science or Medicinal Chemistry.
IUP's pre-pharmacy major includes:
Five to eight chemistry courses, with labs

Five biology courses, with labs
Two mathematics courses
Two physics courses, with labs
One economics course
One psychology course 
Full Academic Catalog Listing
The course catalog is the official reference for all our degree and course offerings. Check it out for a full listing of the classes available and requirements for this degree.
Accelerate Your Acceptance to Pharmacy School
Get a head start on graduate school—and your career. Enroll in one of IUP's accelerated programs for pre-pharmacy majors.
Pre-pharmacy 3+4 Program
Study at IUP for three years, then advance to an accredited school of pharmacy. After you complete your first year at pharmacy school, you'll earn a BS in Pre-pharmacy from IUP.
Pre-pharmacy 2+4 Program
The 2+4 program allows you to attend an accelerated program at IUP for two years, then attend a school of pharmacy to earn your PharmD degree. If you choose this program, you will not receive a bachelor of science degree from IUP.