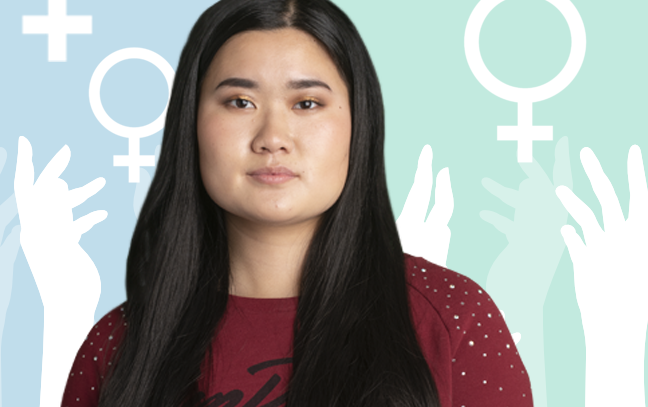 Examine How Gender Shapes Our Lives––Today and Tomorrow
You know gender, sexuality, and other identities shape culture and society in today's world, and you're curious to learn more. And with a minor in women's and gender studies, you'll engage in this complex study of the past, present, and future.
The women's and gender studies minor offers women-centered, gender-inclusive, and interdisciplinary knowledge, skills, and advocacy. You'll have the opportunity to take an interdisciplinary collection of courses, investigate theories and current events, increase your knowledge about the gendered nature of our lives, and envision what's to come.
Women's and gender studies courses welcome students from any constituency or background, gender, age, class, sexual orientation, ethnicity, race, ability, religion, culture, or nationality.
What Will You Learn?
IUP's strong curriculum is built on historical and contemporary ideas with an eye toward the future. You'll be encouraged to challenge traditional theories and research regarding women and gender through innovative and experimental classroom experiences and writing assignments.
Minoring in women's and gender studies is a truly interdisciplinary pursuit––you'll participate in a program with curriculum that is rigorous, in-depth, current, and broad in scope. You'll engage in courses that draw on theories and methodologies from a range of disciplines: anthropology, art, communications, criminology, dance, design, English language and literature, history, philosophy, political science, psychology, religious studies, sociology, and theater.
You'll have the opportunity to analyze the world with new and more inclusive knowledge. The program will train you to respect gender, sexual, and cultural diversity, equity, and inclusion on campus, in your communities, in the larger society, and in your profession.
Imagine Your Future
Add a women's and gender studies minor to any major, and you'll be more competitive in the job market, in applications to graduate schools, and in your career.
Industries Looking for You
A minor in women's and gender studies can contribute to success in many fields, including:
Academic research
Advocacy
Applied sociology
Art education
Business
Communications
Counseling
Creative writing
Criminal justice
Criminology
Dance
Design
Education
Engineering
English education
Fashion
Fashion merchandising
Graduate studies
Health
Higher education
History
K–12 education
Law
Nonprofit organizations
Performing arts
Politics
Psychology
Social work
Science
Teaching
Theater
Women's advocacy organizations
Women's shelters
Career Opportunities in Women's and Gender Studies
Strengthen any academic major and increase your opportunities in the job market with a women's and gender studies minor. The knowledge and awareness you gain of our world's gendered, sexualized, classed, and racialized social order will be valuable in a range of careers, from business and banking to social work and law:
Affirmative action officer
Business account analyst
Counselor
Creative writer
Crisis intervention specialist
Educator
Employees in nonprofit organizations
Family and youth service provider
Historian
Law enforcement officer
Legal advocate
Performing artist
Personnel specialist
Staff or advocate in women's shelters
Classes and Requirements
A minor in women's and gender studies consists of 18 credits with a rigorous and in-depth curriculum. You can look forward to coursework that is interdisciplinary, broad in scope, current, and informed by theory.
This minor supplements very well any primary major that you choose.
Declare a minor by filling out an iform on MyIUP.
What You'll Study
Intro to Women's and Gender Studies (WGS 200) is a required course.
Take five other electives from the minor in women's and gender studies course list.
Special topics courses that focus on women's studies and/or gender studies offered by individual departments can count toward minor electives (with approval of the director).
It's possible for up to three credits of an internship in your major to be credited toward the minor in women's and gender studies. Note that no more than two courses that count for your major can also count toward your minor.
Detailed Course List
View detailed course listings and descriptions from current and previous semesters.
Full Academic Catalog Listing
The course catalog is the official reference for all our degree and course offerings. Check it out for a full listing of the classes available and requirements for this degree.
Women's and Gender Studies Scholarships
The IUP Women's and Gender Studies Program, in conjunction with the American Association of University Women Indiana County (Pa.) Branch, offers a $500 scholarship award for undergraduates.
Interdisciplinary Faculty
The Women's and Gender Studies minor has 24 permanent interdisciplinary faculty from 6 colleges and 13 departments. We are extremely proud of our large team of faculty, who offer very rigorous and rich interdisciplinary courses.
Learn More about Our Interdisciplinary Faculty