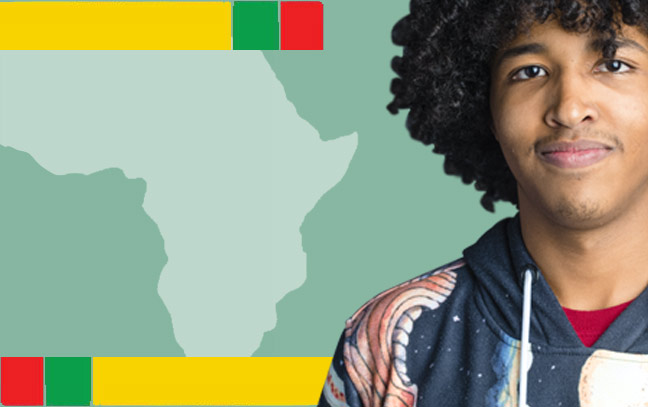 Expand Your Awareness
The Pan-African Studies Certificate will expand your awareness of the diverse cultures, contributions, and challenges of people of African descent on the African continent, in the United States, and beyond.
The certificate includes courses in fields such as history, anthropology, economics, sociology, geography, literature, and political science. You'll also explore how African-descended people continue to play a significant role globally, nationally, and locally.
The certificate can help you become more aware of and sensitive to people of different backgrounds and cultures. Cross-cultural awareness can make you more effective in your chosen profession.
Imagine Your Future
The Pan-African Studies Certificate can complement any major. It can launch you into graduate study or directly into a career in which you can use and expand your knowledge of people of African descent. The following are some common career directions for students who complete a Pan-African Studies Certificate.
Government agencies
US or international law
US or international business
Nonprofit and non-governmental organizations
Diplomacy
Social services
Communications
Health and medicine
Safety sciences
Science and technology
Education and academia
Classes and Requirements
The certificate includes courses that focus on people of African descent. These courses give you a solid understanding of the major contributions and challenges of these groups in African countries and in the United States.
The certificate also offers courses that include some content on African-descended people as well as content on people from other backgrounds. In those courses, you gain a broader view and learn to see parallels and differences among various groups.
Internships, study abroad opportunities, special topics courses, and student-created independent-study courses can help you meet the credit requirements.
Study Abroad, Internships, and Independent Study
In addition to taking courses, you can fulfill Pan-African Studies Certificate requirements by studying abroad, doing an internship, or completing an independent study.
You can participate in study abroad experiences related to Pan-African studies and to your own interests. You should work with the Office of International Education to participate in study abroad programs.
You can do an internship that combines Pan-African Studies with work experiences in your major field. A pair of faculty members will assist you in setting up an internship in which you earn credit for both Pan-African Studies and your major.
Are you interested in exploring an aspect of Pan-African Studies in depth? You can work with a faculty member to create an independent study course on a topic of your choice.
Student Opportunities
You can learn more about Africa and the African diaspora through events hosted by the Pan-African Studies program, in collaboration with other IUP offices, programs, and organizations.
Join the Pan African Student Association. Its annual Africa Night and other events promote the understanding of African history and culture while showcasing music, dance, and food.