Community Writing Center Opens its Doors with Free Tutoring for Greater Indiana Community
Posted on 2/14/22 10:06 AM
As part of IUP's mission of community service and serving the public good, the Jones White Writing Center is partnering with the Indiana Free Library to offer writing tutoring to our broader community. The first Community Writing Center will be held on Wednesday, February 23, from 6:00 to 8:00 p.m. at the Indiana Free Library.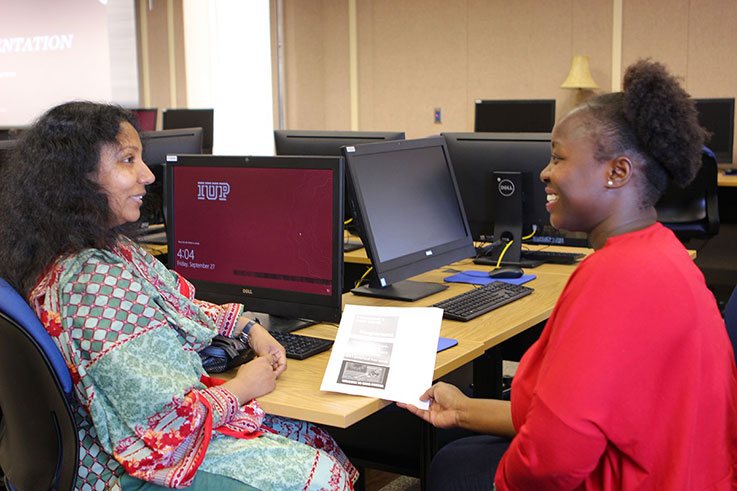 Volunteers from the Jones White Writing Center will offer tutoring twice this term as part of our community service initiative. This unique initiative is a part of a new partnership with the Jones White Writing Center and the Indiana Free Library.  Our goal with the Community Writing Center is to provide writing support and access to literacy instruction for the broader Indiana community.
The volunteer personnel for the Community Writing Center will be comprised of IUP students, staff, and faculty. Community members—both adults and children—are welcome to bring their writing for one-on-one tutoring and writing feedback.
Writing tutors can help community members with any stage of the writing process and with any piece of writing. Additionally, tutors can assist with idea generation and brainstorming, responding to drafts and supporting revision, and helping community members edit their work. Our writing support includes but is not limited to: 
Poetry, short stories, longer works, autobiography, idea generation
Job search documents, including résumé and cover letters
Scholarship and application essays for college
Personal writing projects
Community writing projects
Business plans and proposals
Homework and reading support for children
The Community Writing Center is a walk-in service. Please bring your writing with you when you come and we will work to make sure everyone who attends has a tutorial. Tutorials may last anywhere from 10 minutes to 45 minutes, depending on demand.           
Our Community Writing Center will take place at the Indiana Free Library on February 23 and April 18 from 6:00 to 8:00 p.m. All are welcome to join! Pending pandemic-related issues, we will also be offering refreshments. Please direct any questions regarding the Community Writing Center to w-center@iup.edu.