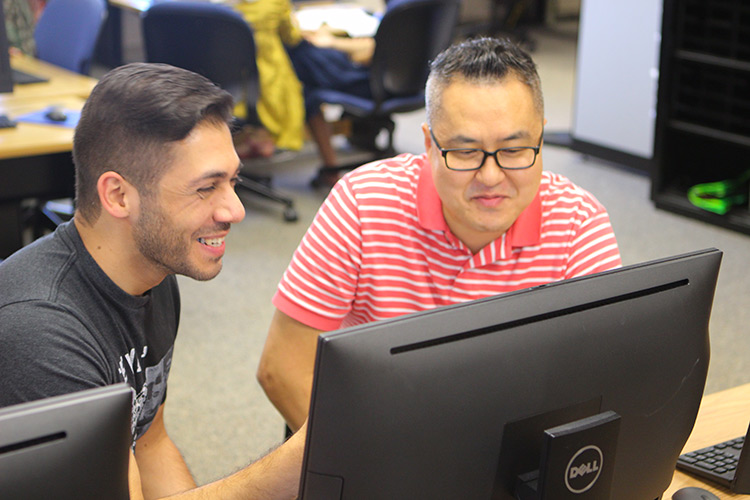 The Jones White Writing Center is excited to announce our Wednesday Workshop schedule for the fall 2021 semester! Our Wednesday Workshop series is open to the entire campus community and covers common writing topics.
Our workshops will be held on Wednesdays from 7:00 to 8:00 p.m. both face-to-face in the Writing Center Workshop Room (218 Eicher Hall) or online via Zoom. For questions regarding these workshops, please email us at w-center@iup.edu.
Résumé Writing Workshop
September 15, 7:00 p.m.
Level: Undergraduate/Graduate - Business Writing Series
This workshop introduces students to developing the content and designing an effective résumé. We explore effective résumé samples, how to frame experience to diverse audiences, and different content that goes in a résumé. Students also can learn new features in MS Word that will make their résumé distinctive. Students can get started on one during this workshop, or polish what they've already written.
Avoiding Plagiarism Workshop
September 22, 7:00 p.m.
Level: Advanced Undergraduate/Graduate
This workshop introduces undergraduate and graduate writers how to avoid plagiarism in their writing, including through papers written in coursework and at the honors thesis, MA thesis, or dissertation stage. The workshop will cover cultural expectations, reading and citation strategies, managing large numbers of sources, and self-citation. We will also discuss iThenticate, which is used by the graduate school for submission of a thesis or dissertation.
Cover Letter Workshop
September 28, 11:30 a.m.–12:30 p.m.
September 29, 7:00 p.m.
Level: Undergraduate/Graduate – Business Writing Series
This workshop introduces students to writing an effective cover letter. After reviewing models of successful cover letters, we'll discuss the purpose of the cover letter, how to tailor a cover letter to fit a specific job, how to highlight relevant experiences. Students will get a chance to draft a cover letter for intended positions.
American Academic Conventions for International Students
October 6, 7:00 p.m.
Level: Undergraduate/Graduate International Student or Multilingual Writer
This workshop offers international students and multilingual writers' insights and information about American academic conventions and strategies for successful writing in US institutions of higher education. The workshop will cover understanding writing assignments, rhetorical considerations of audience and organization, managing sources and source use, and common challenges that international and multilingual writers face.
Writing with Statistics: Data Visualization, Storytelling, and Persuasion
October 13, 7:00 p.m.
Level: Undergraduate/Graduate, Business Writing Series
Twenty-first century workplace contexts require effective communication skills, and in the digital age, these skills include how to use statistics and numbers to tell stories to potential customers or the public. This workshop explores the importance of data visualization, shares strategies and suggestions for how to effectively and ethically present statistical data in both written and visual formats, and how to use these effectively for informative and persuasive purposes.
Writing for Publication for Graduate Researchers
October 20, 7:00 p.m.
Level: Graduate
This workshop, geared towards students who are looking to publish, will provide a comprehensive overview to the publication process. The workshop will discuss finding and selecting a target journal, building an argument with data or texts, understanding the concept of contributions to the field, handling peer review, and the submission process. We'll also explore the difference between writing in coursework and writing for publication.
Words that Work: Strategic Language for Professional Communication
October 26, 11:30 a.m.–12:30 p.m.
October 27, 7:00 p.m.
A workshop based on the book Words that Work: It's Not What You Say, It's What People Hear by Frank Luntz. This workshop explores the principles of Words that Work including simplicity, brevity, credibility, novelty, and speaking in an aspirational tone and gives students a chance to practice each of the principles. The workshop concludes by exploring how the strategic choice of words can be an asset in professional communication.
Word Beyond the Basics
November 3, 7:00 p.m.
Level: Undergraduate/Graduate
Most people use only a fraction of the many useful features in MS Word. This workshop focuses on features that are easily overlooked or hard to find, such as renumbering pages, hanging indents, modifying internal margins, and inserting a table, chart, or table of contents. This workshop is particularly useful for graduate students who are preparing to format their thesis or dissertation.
Clarity and Conciseness in Business and Professional Writing
November 10, 7:00 p.m.
Level: Undergraduate/Graduate
This workshop explores the critical importance of clarity and conciseness in a variety of writing contexts (including in academic and professional settings). Specifically, the workshop introduces students to the paramedic method, a method that can be used at the sentence and paragraph level to make writing more direct, active, and precise. We'll also explore purpose and audience-driven strategies for clarity and conciseness that can be used to reduce wordiness and provide clarity.
How to Complete Your Thesis or Dissertation Successfully
November 17, 7:00 p.m.
Level: Graduate
Description: This workshop offers graduate students' strategies for successfully writing a thesis or dissertation, focusing in several areas: time management and handling feedback. The workshop offers research-supported strategies for time management, goal setting, and creating space for writing to help you successfully create time for writing. The workshop also covers how to manage feedback from your advisor and committee members and strategies for engaging in extensive revisions on your thesis or dissertation.