Scheduling for the Jones White Writing Center is now available on MyIUP. To schedule an appointment with one of our tutors, students can go to the Academic Support and Resources section of the Academics page on MyIUP.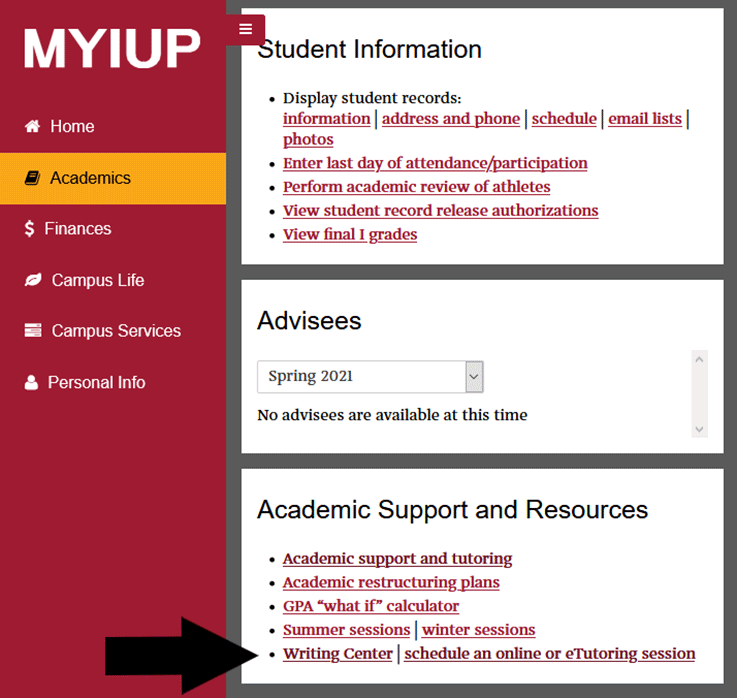 Appointments will be available for the spring 2021 semester beginning on Tuesday, January 19. All appointments will be offered online, with two formats to choose from:
Online, or synchronous tutoring.

This is a live, face-to-face session with a tutor utilizing audio and video chat.
This type of online tutoring requires you to log in to WCOnline at the time of your appointment and join the meeting with your tutor by clicking on your appointment in the schedule.

eTutoring, or asynchronous tutoring.

This is a form of online tutoring which occurs without direct contact with your tutor.
eTutoring sessions require you to log in to WCOnline before the start of your appointment time and upload your document. You can upload by clicking on your appointment in the schedule and selecting to edit. You are also able to upload your document at the time you make your appointment if you are finished working on it. eTutoring is offered this semester as a way for students without high-speed internet access to still have writing support.

We recommend that all students who are able to use our Online Tutoring option do so.
All appointments are 45 minutes long and must be scheduled at least two hours in advance.

The Writing Center can be contacted at w-center@iup.edu.