​Minor in Professional Teamwork and Leadership

Unique Minor—Available Only at IUP
We're the first in the country to offer a professional teamwork and leadership minor, but we didn't create it so we would stand out. We created it so you would.
Other job candidates might claim they have teamwork and leadership skills.
You can prove it.
Start Early and Take Only a Few Extra Classes
Many classes you already need to take for your degree also count toward the minor. If you start the minor your freshman year and choose the right liberal studies (general education) classes, you might only need 2-4 additional classes.
Three Pathways—Designed to Increase Your Career Opportunities
We've designed our program with three professional pathways to make the material apply to your career.
Choose the path that's right for you:
1. Applications of Teamwork and Leadership
For most students—such as aspiring scientists, teachers, heath and human services professionals, and more
Apply what you learn about teams and leadership to your field and solve real-world problems in this hands-on, applied pathway of the minor. Of the three options, this applied format offers the most opportunities to practice skills.
2. Business Leadership Theory
For all business majors
In this case-study-based pathway, you'll explore theories, motivation of teams, corporate social responsibility, commercial sustainability, regional and global marketplaces, and corporate ethics—all from a team and leadership perspective.
3. Community and Civic Leadership Theory
For students interested in careers in civic and community settings
Learn team and leadership strategies in this case-study-based pathway, which covers motivating volunteers, building relationships with government agencies and community groups, planning and delivering services, and collaborating.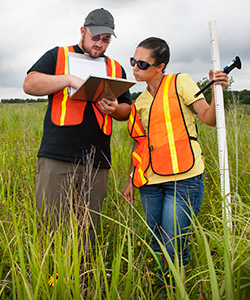 Apply Early to the Minor, Before Scheduling Classes
Take full advantage of the chance to count classes twice—for your degree and for the minor.
Students who are interested in the professional teamwork and leadership minor are advised to take SOC 161 (instead of SOC 151) and THTR 161 (instead of THTR 101 or another fine arts requirement) their first year at IUP.
New students should complete the PDF form to declare the minor and bring it to orientation for class scheduling.
Current IUP students who want to add the minor should declare the minor early with the appropriate form (PDF) to receive proper advising by the co-director of Team and Leadership Studies, Professor Justin Fair.
Skillful Team Players Create Positive Outcomes
Do you like group projects? Until now, you may never have experienced a project that required true teamwork. You don't know how great it can be. Real-world projects require different disciplines to communicate shared ideas, but that's just the beginning. There are many factors that lead to successful team projects.
Our professors help you navigate the difference between group work and teamwork. They'll teach you the underlying skills you'll need for successful communication. More importantly, they'll give you opportunities to learn when and how to apply them.
Courses Needed for the Minor
All three pathways require the following core courses. See the Undergraduate Catalog for course descriptions (PDF).
SOC 161: Foundations of Sociology: Social Relations in Groups and Organizations (3 credits)
THTR 161: Introduction to Theater: Interpersonal Practices (3 credits)
MGMT 310: Principles of Management or MGMT 461: Organizational Leadership Theory (3 credits)
Any 100-Level PHIL course (3 credits)
You'll cover the remaining 6-7 credits of the minor with requirements outlined by the pathway you choose.
1. Applications of Teamwork and Leadership
COMM 261: Teamwork and Communication Skills for College and Career
Any teamwork intensive course:  If possible, take an in-major, teamwork-intensive course or elective. Be sure the section chosen has the teamwork-intensive designation. (3-4 credits)
2. Business Leadership Theory
BCOM 321: Business and Interpersonal Communications (3 credits)
MGMT 311 Human Behavior in Organizations or MGMT 462: Applied Business Leadership Skills (3 credits)
3. Community and Civic Leadership Theory
COMM 261: Teamwork and Communication Skills for College and Career (3 credits)
PLSC370: The Practice of Public Administration or PSYC 390 Industrial-Organization Psychology (3 credits)
How Honors College Core Classes Fit the Minor
Honors College students can satisfy PHIL 122, THTR 161, and SOC 161 by taking the appropriate HRNC core courses. THTR 111 is a substitute for THTR 161.
Courses in the Minor that Also Count as Other Degree Requirements
Choose your classes carefully, and many classes required for the minor can also fill requirements for your degree—plan ahead and you can count classes twice! The chart below outlines how it works. If you're not sure how your schedule fits the minor, contact the co-director of Team and Leadership Studies, Professor Justin Fair, who can advise you.
| Course Number | Course name | Liberal Studies/Major Requirement |
| --- | --- | --- |
| THTR 161 | Introduction to Theater: Interpersonal Practices | Counts as a Fine Arts requirement |
| SOC 161 | Foundations of Sociology: Social Relations in Groups and Organizations | Counts as a Social Science requirement and as a Global Multicultural Awareness requirement |
| COMM 261 | Teamwork and Communication Skills for College and Career | Counts as an Elective in Oral Communication and Information Literacy |
| T-Course | Any one course approved as a Teamwork-Intensive section (T-Course) | Students are encouraged to take a teamwork-intensive course that is a required course or elective in their major. |