Urban, Early Education-Special Education, BSEd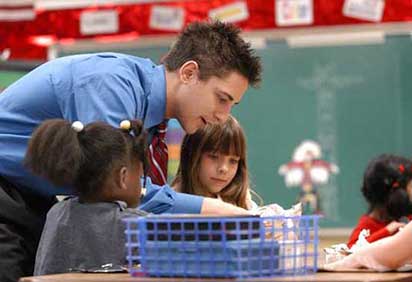 The Early Childhood–Special Education, Urban track, Bachelor of Education program prepares students for teaching in urban school districts, especially in low-income communities with high minority enrollments, where the need for highly qualified teachers is often great.
Coursework and field experiences emphasize the historical, economic, political, and sociocultural contexts of urban schools and seek to develop within future teachers the skills, knowledge base, and sensitivities for working with students whose backgrounds and life experiences often differ in significant ways from their own.
More future teachers are showing an interest in urban teaching, and more are finding meaningful and rewarding employment in city schools.
Why is a Focus on Urban Education Important?
To help meet the needs of urban students who often face challenges that differ from those faced by learners in suburban and rural schools.

Because all of our pre-service teachers need positive, structured experiences with diverse groups of learners in a variety of settings in order to prepare them for a rapidly diversifying society.

Because the vast majority of good jobs for highly qualified teachers are in urban areas.
The IUP Department of Professional Studies in Education has a strong presence in Pittsburgh and Philadelphia, serving the critical need for high-quality teachers in urban schools.
Courses and field experiences provide students in the urban track with the requisite knowledge, attitudes, and skills for addressing the educational challenges that are often unique to urban settings. Expanded opportunities for summer internships and tutoring work in partnership with particular city schools, most notably our Professional Development School partners in Pittsburgh.
There are two ways to pursue the Early Childhood–Special Education Urban Track:
Urban Track A
Sophomore Year Training and Summer Course
You'll undertake your initial set of education courses (known as Professional Sequence I) during the second semester of your sophomore year as part of a designated Urban Track Cohort. A course, Orientation to Teaching in Urban Centers, is added to this blocked set of courses that comprise the Professional Sequence I and is taught by a faculty member with experience in urban schools. You'll also be required to take an additional summer course, Field Experiences in Urban Centers, and perform student teaching in an urban school.
Urban Track B
A Yearlong Field Experience
You'll participate in the Professional Development School yearlong field experience—called the Professional Year—for your entire senior year and take a modified version of Professional Sequence II on site at a partner school during the first semester of the Professional Year. The second semester on-site corresponds to the student teaching semester in our traditional program.
Note: These students are required to participate in Professional Sequence I as a member of the Urban Track Cohort and are required to take Orientation to Teaching in Urban Centers and the Field Experience in Urban Centers.
Students who are unable to participate in the Professional Sequence I during their fourth semester (e.g., honors students who must take a required core course during that semester, students who did not complete all requirements for Teacher Certification, etc.) can still take Professional Sequence I in their fifth semester and still be eligible for full participation in Track A or B.
For Current Students
Students enrolled in the Special Education major may find the following information helpful.