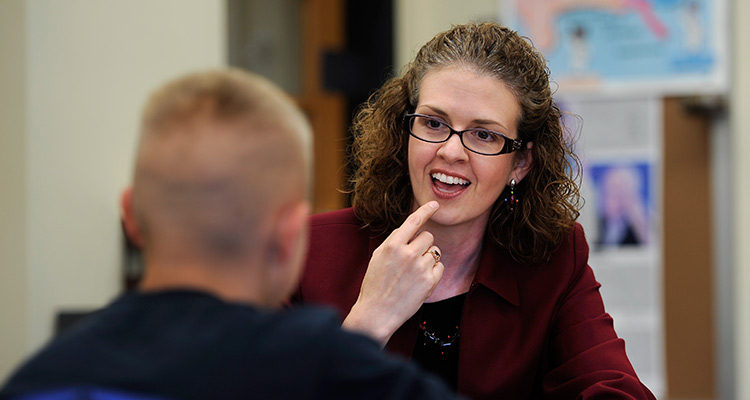 Realize Your Potential to Serve Those With Disabilities
A graduate degree in special education or speech-language pathology introduces you to a rich and rewarding world of serving people with disabilities. If your work with exceptional people is fulfilling and you want to enhance your career prospects and salary range, then your next step is your get your master's degree.
IUP's master's degrees in special education and speech-language pathology are developed to give you the credentials, confidence, and certifications you need to realize your full potential. Our special education master's degrees are also designed for the working professional with online and evening classes.
We also recognize that not everyone working with people with disabilities has the same goals. For this reason, the special education program offers a unique three-track program that provides you with options while you pursue your degree or certification.
If you hold another teaching certificate and want to get a special education certification along with an MEd in Special Education, then this is the path for you. You will develop a program of study based upon your past coursework, and you can select the thesis or non-thesis option.
If getting a teaching certification is not important to you, but working professionally with people with disabilities is, then pursue this master's degree. Consulting with your adviser, you will develop a program of study. This track also offers a thesis or non-thesis option.
If you are a secondary school teacher or an elementary/early childhood teacher and want a special education certification, but don't need a master's, then this is the track for you. This track has a minimum of 24 credit hours required, but you may need to complete additional courses depending on your prior education and experience. 
Clinically-oriented and designed to provide the basic training for all practice settings, this very selective cohort-style program will prepare you for a successful career in speech-language pathology. Only those with an undergraduate degree in speech-language pathology and audiology can apply for this master's degree. If you don't have an undergraduate degree in communication sciences and disorders, contact us about the process to apply to take the prerequisites through the Office of Continuing Education.
Certificate in Autism Spectrum Disorder
Graduate students holding Pennsylvania Department of Education (PDE) certification can complete the following 12 credits of coursework in order to receive a Certificate related to working with students with Autism Spectrum Disorder. Completion of these courses also provides students eligibility for the PDE Endorsement Certificate in Autism Spectrum Disorder. All courses are offered via distance education. Incorporated within the four courses are 80 hours of field observation. (Not an option at this time.)
The IUP Difference
The IUP Speech, Language, and Hearing Clinic. This clinic provides diagnostic and treatment services for people with speech, language, and hearing disabilities. Located in the heart of our main campus, the clinic provides closely supervised practical experience for graduate and senior undergraduate students, giving them the opportunity to complete their required hours of supervised clinical experience so they can complete their degrees in Speech-Language Pathology at IUP.
The IUP Faculty. All of our faculty members have worked in the field; in public schools, in mental health programs, and with agencies. They bring their experience and scholarship to the classrooms. There are no teaching assistants in the department. Most classes are taught by full-time professors.
Speech-Language Practicum. We have a large network of school, hospital, rehabilitation, and community agency placements, allowing our students to tailor their clinical experiences during their practicum to their anticipated career path, to an extent.