Special Education, Certificate Only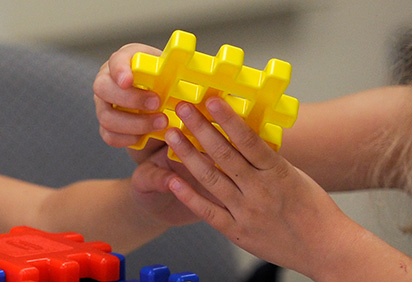 Enhance Your Teaching Career with Special Education Certification
If you are an educator looking to expand your areas of teaching expertise, the Special Education Certificate of Recognition (COR) is perfect for you. The Special Education COR is an 18-credit program specifically designed for those who already have initial teaching certifications in such areas as early childhood education, English education, or art education.
In addition to offering this course in a flexible, hybrid format, both in-class and online, IUP also offers two other tracks: the MEd in Special Education with the Special Education certificate, or the MEd in Special Education without certification.
In this program you will:
Earn the Special Education Certification without completing the MEd degree.
Take coursework related to characteristics of students with disabilities, effective instructional practice, and assessment.
Focus on either pre-K-8th grade level or 7th-12th grade. Those who focus in pre-K-8th grade will take a course on multidisciplinary collaborations, and those who choose 7th-12th grade will take a course on transition services.
Complete a practicum experience during the summer.
If you currently hold teaching certifications and are seeking additional certification in special education, you will develop a program of study based upon your coursework.
Course List
This certificate (24 credits) is designed for the sole purpose of obtaining a special education certificate, thus excluding the degree in the same field.
Students who enter this program with secondary teacher certification or with teacher certification in an area other than elementary education will be required to complete additional coursework in teaching methods, child development, and any other area of deficiency noted by graduate program faculty.
Each of the 500-level courses (dual-level offerings) requires field experience, the total of which is designed to approximate the student teaching field experience designated by Pennsylvania Department of Education requirements.
The required courses for this 24-credit program include the following:
EDEX 525: Methods and Curriculum - Mild to Moderate Disabilities (3 credits)
EDEX 535: Methods and Curriculum - Severe Cognitive Disabilities (3 credits)
EDEX 558: Transition Assessment and Planning for Youth with Disabilities (3 Credits)
EDEX 569: Education of Persons with Emotional or Behavioral Disorders, Brain Injury, or Learning Disabilities (3 credits)
EDEX 578: Education of Persons with Mental Retardation, Development Disabilities, Physical or Multiple Disabilities (3 credits)
EDEX 752: Assessment of Persons with Disabilities (3 credits)
EDEX 785 : Practicum and Internship (Severe-Profound Disabilities) (3 credits)
EDEX 786: Practicum and Internship (Mild) (3 credits)