The Social Equity and Title IX Office invites members of the IUP community to reflect on the history and politics of Afghanistan to better understand current events. A panel discussion will be held on Thursday, October 7, 2021, from 6:00 to 7:30 p.m. in Leonard Hall (HSS) room 225 or via Zoom.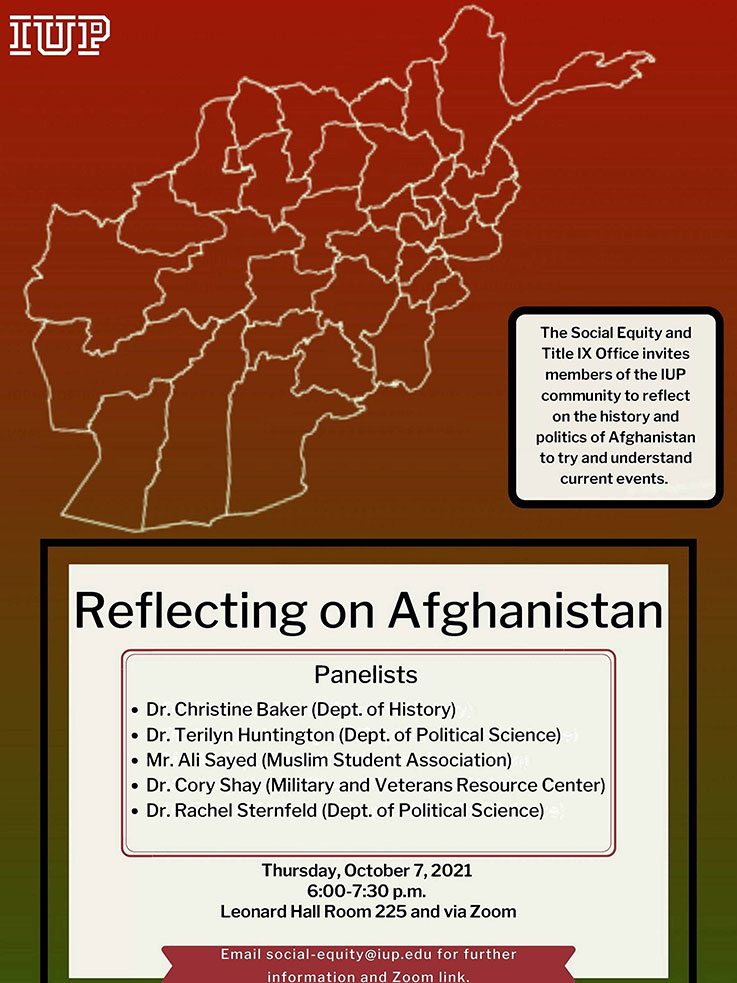 Introduction and other remarks will be made by Michael Driscoll, president, and Elise Glenn, chief Diversity and Inclusion officer/Title IX coordinator. The panelists and topics they will discuss are as follows:
Christine Baker, Department of History: Afghanistan historical background from the 1970s to the 2000s 

Terilyn Huntington, Department of Political Science: Afghanistan's political institutions and constitution

Ali Sayed, Muslim Student Association and IUP doctoral candidate: Perspective of a former candidate for the Afghan Parliament

Cory Shay, Military and Veterans Resource Center: Impact of the War on Afghanistan on veterans, with comparisons to Vietnam

Rachel Sternfeld, Department of Political Science: Afghanistan from the 2000s to the present, with a focus on politics and the Taliban
This program is intended as an educational presentation and discussion on Afghanistan. Its topics have touched many members of the IUP community, in ways some may not even realize.
For further information, please email social-equity@iup.edu. Zoom link: https://iupvideo.zoom.us/j/92509326912