Safety Sciences, PhD
Safety Science, PhD at a Glance
Location: Online/hybrid
Schedule: Synchronous Zoom in fall/spring and face-to-face two-week summer classes
Credits: 54
Start terms: Summer every other year (2021, 2023)
How to apply: Please apply online
Tuition rates: See the Student Billing Office
For more information: Jan Wachter, ScD, CIH, CSP; jan.wachter@iup.edu; 724-357-3275
Teach the Future Leaders in Safety Sciences
IUP's PhD in Safety Sciences gives you a chance to build your applied research skills while focusing on the safety problems that exist in the workplace today—without having to leave your job. It's a way to transition from management to professor, from business to academia, and teach the next generation of safety sciences specialists. It's an opportunity to be a part of a cohort of colleagues who will become an integral part of your network of professionals.
Upon completing your doctorate program, you will be able to:
Identify, recognize, evaluate, and control complex safety, health, and environmental hazards in the workplace.

Conduct and publish independent research in the safety, health, and environmental field.

Apply appropriate quantitative and qualitative research methods to safety, health, and environmental problems, management systems, policy, and law.

Demonstrate an advanced knowledge level of safety, health, and environmental management techniques.

Effectively develop, implement, and evaluate a safety education curriculum
PhD in Safety Sciences
The online PhD in Safety Sciences is designed for those who currently hold full-time positions.

54-credit distance education and summer workshop program, including the dissertation, can be completed in three to seven years.

You are required to complete 24 credits through distance education courses and 18 credits through six one-week summer workshop courses, which are offered on the IUP campus over three summers.

Students will complete 12 credit hours of dissertation.

You will be required to arrange a written comprehensive exam with your major advisor.

You will complete an oral defense of your dissertation proposal before the dissertation committee.

Once you complete your written dissertation, you must then complete an oral defense of your dissertation.
The PhD in Safety Sciences is based on a cohort model in which a group of students is admitted into the degree program and progresses through an established series of courses.
Cohort V, beginning July 2021, is now filled. However, we are still reviewing and accepting applications, since it is anticipated that a portion of already accepted students will eventually not matriculate.
Newly accepted applicants will be placed on a Cohort V (July 2021) waitlist and/or be deferred to Cohort VI beginning July 2023.
There is also the possibility of deferred applicants taking some PhD in Safety Sciences courses as non-degree students in the next two years and transferring these credits to the program once they officially become degree-seeking students in Cohort VI (2023).
Example Course Sequence
 
Spring (Jan–May)
Summer (May, June, or July)
Fall (Aug–Dec)
2021
 
IUP Workshop
SAFE 803 – Epidemiological Analysis in Safety Sciences
SAFE 810 – Applied Research I: Experimental Design
Distance Ed
SAFE 806 – Advanced Topics in Environmental Health and Safety
SAFE 874 – Fire Design in Building Design 
2022
Distance Ed
SAFE 802 – Safety Management Systems
SAFE 811 – Applied Research II: Multivariate Analysis
IUP Workshop
SAFE 812 – Applied Research III: Tests and Measurements
SAFE 809 – Human Performance and Organizational Safety Theory
Distance Ed
SAFE 805 – Strategies in Risk Control
SAFE 873 – Disaster Preparedness
or 
SAFE 804 – Legal Aspects of Safety
2023
Distance Ed
SAFE 808 – Curriculum Evaluation in Safety Sciences
SAFE 814 – Advanced Topics in Ergonomics
IUP Workshop
SAFE 800 – Pedagogical Practices in Safety Education
SAFE 807 – Doctoral Colloquium in Safety Sciences
SAFE 995
2024
SAFE 995
SAFE 995
SAFE 995
Admission Criteria
It is expected that students entering the PhD program in safety sciences will already have completed a master's degree in safety sciences, occupational safety, industrial hygiene, or another closely related discipline. A highly qualified applicant may enter the doctoral degree program with a baccalaureate degree. Such students must meet IUP's Master of Science in Safety Sciences degree program admission requirements and complete IUP's Master of Science in Safety Sciences degree requirements en route to the PhD.
Students with a master's degree in safety or a closely related field seeking admission to the Doctor of Philosophy in Safety Sciences degree program must meet the following criteria:
Have earned a master's degree from a regionally accredited college or university

Must have a master's degree in safety sciences or a closely related field such as industrial hygiene, environmental health, public health, or ergonomics. Students not possessing a master's degree in safety sciences or a closely related field but those possessing a master's degree in a technical field such as industrial engineering may be admitted to the program provided they can demonstrate they meet competency areas in math, chemistry, physics, safety management, industrial hygiene, fire safety, and ergonomics. The competency areas can be met through prior coursework, certifications, work experience, or taking additional coursework. Applicants will also be required to demonstrate an ability to conduct independent research through a thesis, published research article, report reflecting critical thinking skills, etc.

Have a minimum graduate grade-point average of 3.0 (on a 4.0 scale)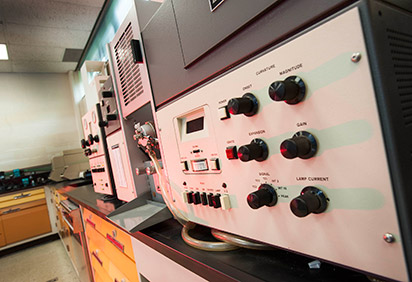 Additionally, the doctoral coordinator, after consulting with the department screening committee if required, will submit a recommendation regarding applicants to the School of Graduate Studies and Research. The following criteria are reviewed:
All official college transcripts
Three letters of recommendation
Statement of goals
Résumé
Example of written work; e.g., thesis, articles, reports, etc.
GRE scores
For this review, a "competitive applicant" would have these characteristics: 
Has at least five years of quality work experience in an occupational health and safety-related field
Holds relevant professional certifications, such as CSP, CIH, CHMM, or PE
Has generated a quality thesis as part of attaining their MS degree or peer-reviewed publications
Have GRE scores, on average, in the upper 50 percent in the three exam areas (analytical writing, verbal reasoning, and quantitative reasoning) or a GRE score in the upper 30 percent in any one of the three areas.
International students must also meet Graduate Admissions requirements for international students. These requirements include:
Submission of Test of English as a Foreign Language (TOEFL) scores for applicants from people whose native language is not English. The minimum TOEFL score for admission to the program is 540.
Submit a Foreign Student Financial Statement. International students must document their ability to assume full responsibility for the cost of graduate education per Graduate School requirements.
All international students admitted to this program will receive F-1 student visa immigration documents which will allow them to enter the US for on-campus workshops only. The remainder of the program will be completed outside the US. The Office of International Education will contact students once they are admitted to this program with more details.
Graduate Assistantships
A limited number of graduate assistantships, available within the department for qualified individuals, provide a stipend and tuition waiver. Interested students must complete an assistantship application, available from the IUP Graduate School, prior to March 1.
International Students
International students must meet graduate admissions requirements for international students, which include their Test of English as a Foreign Language (TOEFL) scores and a financial statement.
Computer Requirements
Students must have access to a computer with an Internet connection. It is recommended the computer have the minimum technical specifications. The majority of classes use Zoom, and the student must have a headset with microphone to participate.