Safety Sciences, MS
Our Master's Degree Advances You Toward Certification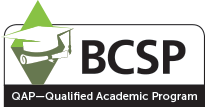 Our Safety Sciences master's degree meets the Board of Certified Safety Professionals standards as a Qualified Academic Program. As a QAP, graduates of the MS degree are awarded the Graduate Safety Practitioner designation from the BCSP. Graduates with this designation receive a waiver of the Safety Fundamentals Examination and the recognition they are proceeding toward the CSP safety certification.
Virtual Information Session
Tuesday, July 12
7:00-8:00 p.m.
You have one year from the date of graduation to apply for the GSP. Instructions on how to apply are available on the BCSP website.
Please Note: As a courtesy, the BCSP is permitting those who graduated from the MS program beginning August 2015 to apply for the GSP until January 1, 2020.
Lead Your Company's Efforts for a Safer Workplace
Whether you currently work in the safety department of a company or want to pursue a career in safety sciences, we have the master's program for you. If you apply with no prior safety sciences background or education, there are a number of requirements you'll need to complete deficiency coursework in college algebra, chemistry and physics as well as a 30-hour OSHA card in either general industry or construction.
Upon completing the MS degree you will have:
Expanded your technical and managerial knowledge and skills of the safety, health, and environmental field.
Acquired advanced research and communication skills.
Enhanced your leadership skills.
Developed an understanding of your professional and ethical responsibilities within the field.
100% Online Program
The 36-credit degree can be completed on a full-time basis in as few as three semesters (fall, spring, and summer), or on a part-time basis in six semesters.
Students may begin in any semester. If you're identified with deficiency areas in the undergraduate preparation, you'll be required to take additional coursework as part of your program of study.
Distance education courses have a required weekly chat room session, scheduled from 5:30 p.m. to 7:00 p.m. eastern standard time.
We are now accepting applications for all terms (summer, fall, or spring).
Courses Offered in Summer
SAFE 660: Applied Industrial Hygiene
SAFE 647: Applied Ergonomics
SAFE 701: Environmental Impact Analysis and Documentation
SAFE Elective: Varies

SAFE 603: Human Relations in Safety; SAFE 562: Radiological Health; or SAFE 542: Current Issues in Safety
Courses Offered in Fall
SAFE 644: Preventing Unsafe Acts
SAFE 774: Fire Safety in Building Design
SAFE 605: Application of Safety Engineering Principles
SAFE Elective: SAFE 623, Advanced Safety Administration
Courses Offered in Winter
SAFE 541: Accident Investigation
Courses Offered in Spring
SAFE 602/791: Research Methods in Management / Capstone Project in Safety Sciences
SAFE 610: Safety Health and Environmental Administration
SAFE Elective: SAFE 543, Construction
SAFE Elective: SAFE 773, Disaster Preparedness
Admission Criteria
In addition to meeting the School of Graduate Studies and Research admission requirements, the MS in Safety Sciences program requires a baccalaureate degree in safety sciences or other closely related field from a regionally accredited academic institution and/or a professional certification (e.g., CSP, CIH, PE, or ASP designation).
If the applicant does not hold a baccalaureate degree in safety sciences or other closely related field and/or does not hold a professional certification, the student will be required to eliminate the following deficiencies: college algebra, college chemistry with lab, college physics with lab, and a 30-hr OSHA card in either general industry or construction. The deficiencies can be completed while enrolled in the program. More information on admissions requirements is available from the Safety Sciences Department.
The following criteria are also required and reviewed:
All official college transcripts
Two letters of recommendation
Statement of goals
Résumé
Graduate Handbook signature page
International students must also meet Graduate Admissions requirements for international students. These requirements include:
Submission of Test of English as a Foreign Language (TOEFL) scores for applicants from people whose native language is not English. The minimum TOEFL score for admission to the program is 540.
Submit a Foreign Student Financial Statement. International students must document their ability to assume full responsibility for the cost of graduate education per Graduate School requirements.
Please see application instructions.
International Students
Due to the online format, international students admitted to this program are not eligible for a student visa. International students must meet all requirements for international graduate students.
Computer Requirements
Students must have access to a computer with an internet connection. It is recommended the computer have the minimum technical specifications as outlined by IUP Distance Education. The majority of classes use "Blackboard Collaborate," and the student must have a headset with microphone to participate.
Questions? Contact the MS in Safety Sciences Program Coordinator
Dr. Wanda Minnick, CSP
122 Johnson Hall
Indiana, PA 15705
wanda.minnick@iup.edu
724-357-3276