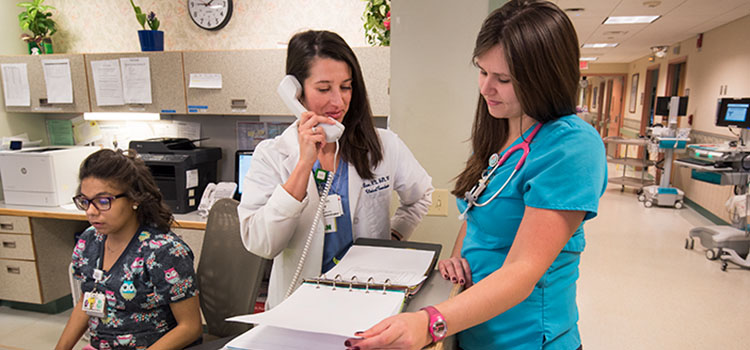 Nursing MS at a Glance
Location: Online
Length: As little as two years or up to five years
Credits: 36
Schedule: Part-time, seven-week online courses
Admission: Open enrollment allows you to apply any time for a start in fall or spring
Coordinator: Dr. Pamela O'Harra, p.s.oharra@iup.edu
Prepare for Leadership Roles in Nursing
Increase your salary. Move into a leadership role. Stabilize your schedule. Advance your career on your schedule, thanks to our online MS degree in Nursing.
Depending on which track you choose, this program prepares you for a role as a nurse educator or administrator. It can also serve as a foundation for doctoral studies. Each track allows you to leverage the benefits of our Master of Science in nursing:
Increased average starting salary from $42,000 to $62,000, according to the US Bureau of Labor Statistics.

A more stable schedule, available to both educators and administrators.

A master's degree at your own pace, thanks to our online degree path options.

An opportunity to advance in your career by taking on leadership roles.

A high-value degree thanks to financial support options and low tuition costs, particularly compared with other regional research universities.

Improved credibility through accreditation. The master's degree program in nursing at Indiana University of Pennsylvania is accredited by the Commission on Collegiate Nursing Education(http://www.ccneaccreditation.org).

The option to combine both tracks for only 48 credits, or an additional certification in Simulation and Technology for only 12 additional credits.
If you want to lead, the Nursing Administration track in our MS in Nursing program is your perfect fit. It prepares you to assume a leadership position in a variety of healthcare settings such as hospitals, long-term care facilities, and rehabilitation facilities.
While your colleagues provide bedside care, you'll be a member of a leadership team that plans, organizes, and implements programs within a rapidly changing healthcare system.
The Nursing Education track provides you the qualifications to teach the next generation of nurses. You can help them learn about new breakthroughs and technology in the field, and improving the quality of care they can give.
As a graduate of the education track, your role may also include educating patients. You may find yourself guiding nursing staff development in a variety of academic and healthcare settings. Finally, you will be well-prepared for PhD studies in nurse education.
Career Outlook for MS in Nursing Graduates
With an MS in Nursing on your resume, your career options expand significantly. Healthcare facilities are increasingly looking for staff members with advanced degrees to improve their care. In fact, hospitals looking to achieve Magnet status from the American Nurses Credentialing Center encourage their practicing nurses to earn master's degrees.
That's why, according to the US Bureau of Labor Statistics, demand for nurses with advanced skills will increase 20 percent by 2026, which is much faster than the national average. That demand explains the 47 percent average salary increase from $42,000 to $62,000 as a result of your master's degree.