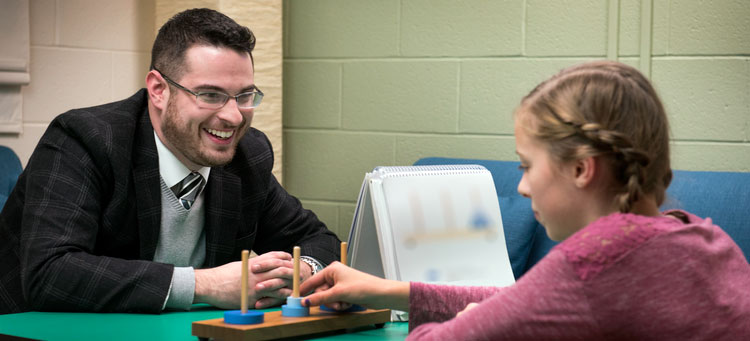 Earn Your PhD in School Psychology
Our PhD program in School Psychology is designed to prepare you for a fulfilling career in the field. Enter with a bachelor's degree, and earn your doctorate in as little as five years of full-time study.
Work as a lead school psychologist in a school district. Advance to supervisory positions in school psychology or pupil services. Become a faculty member in a school psychology degree program.
In our comprehensive program, based in Western Pennsylvania, you can streamline your studies to earn:
an MEd in Educational Psychology,
and a PhD in School Psychology.
We accept applications year-round, but applications before January 15 are encouraged to ensure a seat in the program for the following fall semester.
School Psychology PhD: Perfect Transition

"I chose the PhD program at IUP because it offers a perfect transition from the certification program to develop school psychology knowledge and skills in a supportive and enriching environment, as well as fostering relationships and mentorships with the faculty."

Dana Elmquist, MEd, Graduate Assistant, Child Study Center, Indiana University of Pennsylvania
Benefits of IUP's School Psychology PhD
In this program, you'll prepare for the continually changing research and the evolving role of school psychologists nationally and in Pennsylvania. In the process, you can take advantage of a number of career benefits:
Qualify to become a school psychologist, a field expected to grow 19 percent by 2024 according to the US Bureau of Labor Statistics.
Satisfy the educational needs for individual states, which are increasingly requiring doctoral degrees for their school psychologists.
Advance to supervisory positions, or prepare to teach the next generation of school psychologists.
Earn Your PhD After Entering With a Bachelor's Degree
Our doctoral degree in School Psychology is ideal for psychology students looking to expand their horizons beyond the clinical realm. You can enter as soon as you earn your bachelor's degree, and earn your PhD with as little as five years of full-time study.
By the time you hold your doctoral degree in hand, you will have all of the qualifications needed for a long and fruitful career in the field.
Our PhD in School Psychology offers a streamlined course sequence that helps you complete your classwork, internship, and dissertation in as little as five years. Learn about the classes required for graduation in the PhD in School Psychology curriculum.
Contact Us
Are you interested in learning more about IUP's School Psychology PhD? Contact our program coordinator:
Courtney McLaughlin, Associate Professor
Room 246, Stouffer Hall
E-mail: cmc@iup.edu
Phone: 724-357-2299