Five graduates of Indiana University of Pennsylvania from Indiana, Allegheny, and Cambria counties have been selected for the 2023 IUP Young Alumni Achievement Award.
This award was created to recognize recent IUP graduates identified as being outstanding in their professions. IUP has more than 150,000 alumni all over the globe.
IUP graduates of less than 15 years are eligible for this award. Recipients are selected by the deans of their colleges. When award recipients return to campus for the award ceremony, they are hosted by members of IUP Ambassadors, the student-alumni group, and make presentations to IUP classes in their fields.
Recipients were honored at an awards ceremony on November 5 and did classroom visits on November 6.
This year's recipients are:
From the College of Arts and Humanities, Richard P. Bielawa III, of Pittsburgh, a 2015 philosophy graduate. Bielawa is deputy attorney general in the appeals and grand jury section in Pennsylvania's Office of Attorney General. He is originally from Beaver.
From the College of Education and Communications, Lindsay M. Ward, of Pittsburgh, a 2008 communications media major and political science minor graduate. Ward is the morning news anchor for KDKA-TV. She is originally from Penn Run.
From the College of Health and Human Services, Phillip W. Schnarrs, of Austin, Texas, a 2007 bachelor's degree in general studies and a 2009 master's degree in sociology. Schnarrs is an associate professor and associate chair for research in the Department of Population Health at the University of Texas at Austin, Dell Medical School. He is originally from South Park, Allegheny County.
From the Eberly College of Business, Corey L. Crocco, of Johnstown, a 2010 hospitality administration and management graduate. He is the co-owner of Flair of Country Catering and Event Planning, LLC, the Willow Wedding and Event Venue, and management partner of the Fifth Local Eatery. He is originally from Johnstown.
From the John J. and Char Kopchick College of Natural Sciences and Mathematics, Lindsay Elise Matolyak, of Pittsburgh, a 2012 chemistry graduate. Matolyak is a senior research chemist at PPG Industries, Inc. She is originally from Johnstown.
Richard Bielawa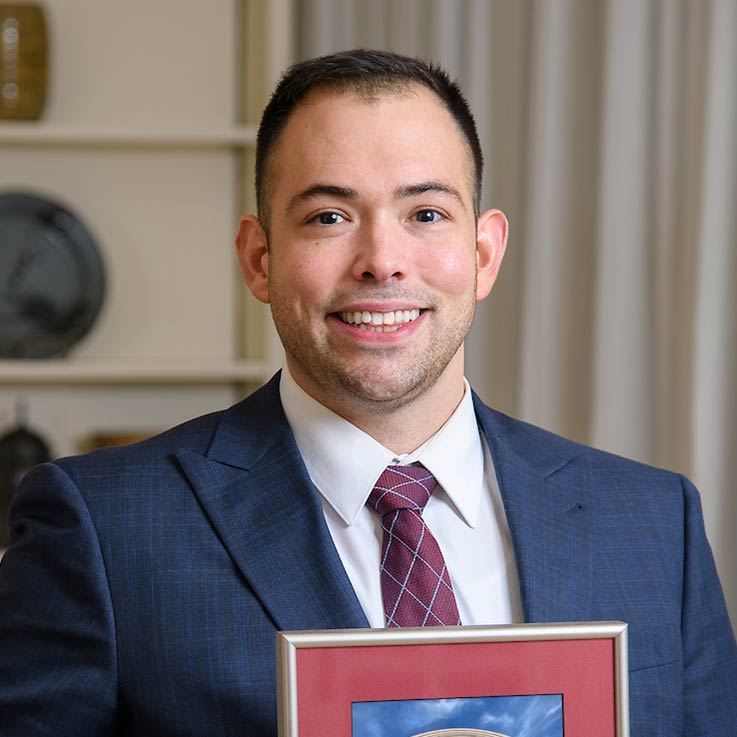 After being accepted to every law school he applied to, Bielawa selected Duquesne University School of Law, where he was offered the Dean's Scholarship for Excellence, a full tuition scholarship, and graduated first in his class in 2019.
At Duquesne, he earned six CALI Awards, which recognize the highest final scores in each law school class at many law schools. He was selected to serve for two years as a research assistant to Professor Jane Moriarty and as a judicial intern at the Pennsylvania Supreme Court for Justice David Wecht. He also served as a research assistant to the renowned forensic pathologist, Cyril Wecht.
He began his legal career soon after law school as a chief law clerk under President Judge D. Gregory Geary and Judge Daniel Rullo in the Somerset County Court of Common Pleas. He soon returned to the Pennsylvania Supreme Court as a Judicial Law Clerk for Justice Wecht.
In 2022, Bielawa served as assistant counsel in the Pennsylvania Governor's Office of General Counsel, advising the Pennsylvania Department of Environmental Protection. He recently moved into the role of Deputy Attorney General in the Appeals and Grand Jury Section in Pennsylvania's Office of Attorney General. During his career thus far, he has had the opportunity to work on several high-profile cases that have set important legal precedents within the state of Pennsylvania.
He was a member of the IUP Philosophy Club at IUP and was a formal logic tutor. He is the son of Annamarie Bielawa and Richard P. Bielawa, Jr. and is a 2011 graduate of Beaver Area High School.
Lindsay Ward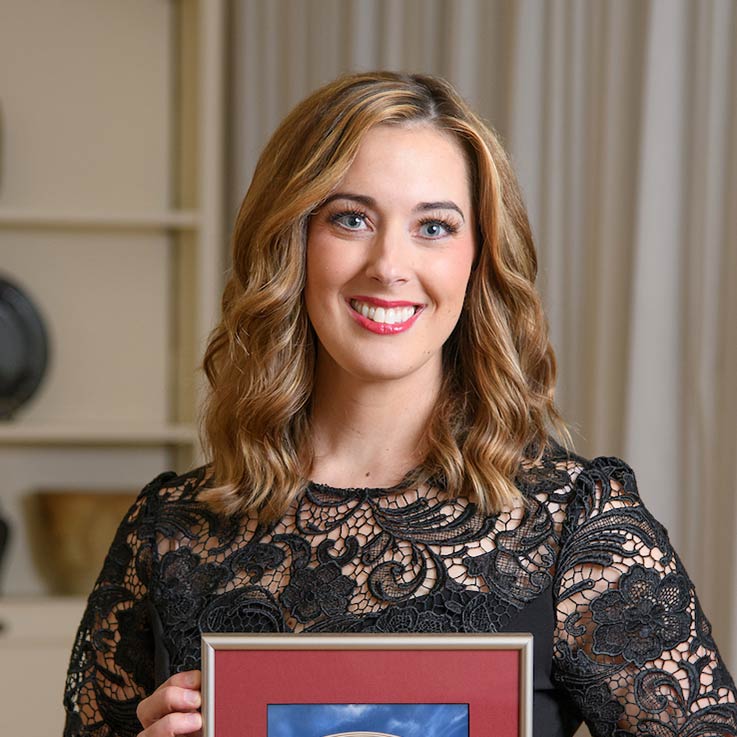 Ward began her career as a news anchor and reporter at WLNN in North Carolina, creating content for various broadcasts and promoting the station's newly launched website through story posts. After a year, she moved to WVVA as a morning and noon news anchor and reporter in Bluefield, WV, where she led the launch of several popular on-air and online series, eventually becoming the number one solo morning news anchor, competing against two other stations.
Beginning in 2011, she was on air for six years as a morning and noon news anchor and reporter at Johnstown's WJAC-TV. While at WJAC, she managed a team of reporters and producers, reviewing scripts, social media posts, and on-air deliveries; and providing final feedback before live broadcasts.
In 2018, Ward left WJAC and worked as a freelance reporter for Cox Media Group's WPXI in Pittsburgh. A year later, and looking to grow, she landed at KDKA-TV, a CBS affiliate in Pittsburgh, as a morning reporter
For two years, she provided viewers with overnight news and information live on the scene. During those years, Ward started filling in on the anchor desk. These opportunities led her to eventually become the noon anchor and then the morning anchor at KDKA+, formally known as CW. In September 2022, she was promoted to main morning anchor at KDKA, working as an anchor for two and a half hours of newscast each morning and writing stories and reports, producing social media content, and participating in events.
Her skills as a reporter and anchor have earned her a first-place Keystone Media Award for a feature story and multiple Emmy nominations for both her anchoring and reporting.
Ward remains connected to her alma mater, volunteering time as a panelist for the Career and Professional Development Center, and she has been profiled in an IUP video as a featured alumna.
When arriving at IUP as a first-year student, Ward became involved right away with IUP-TV's news broadcast, where she remained through her senior year. She was a member of the National Broadcasting Society and was an IUP majorette. She and her husband, Antony Nanni, are the parents of two children. She is the daughter of Barbara and Les Ward and is a 2004 graduate of Penns Manor Area School District.
Phillip Schnarrs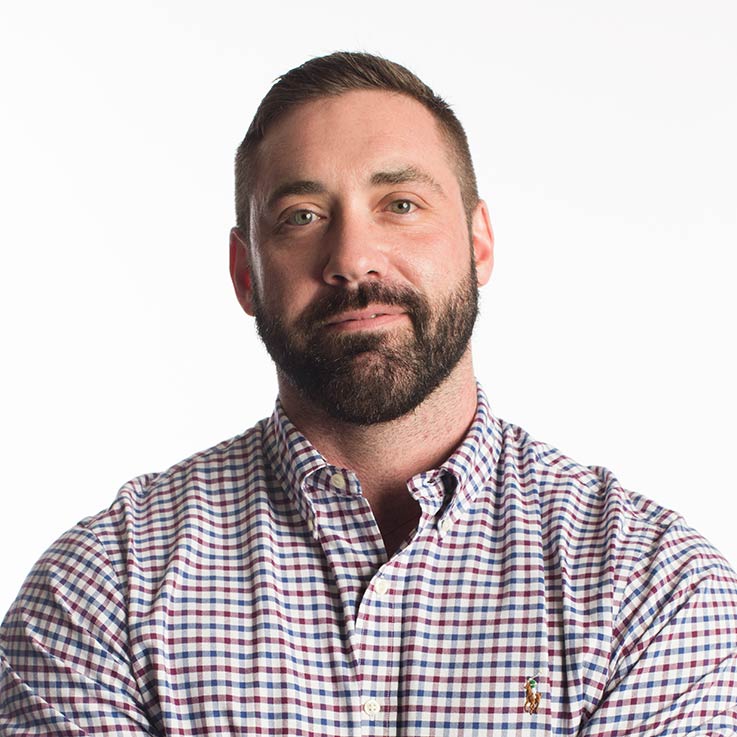 As a graduate student at IUP, Schnarrs received the IUP Presidential LGBT Commission Distinguished Service Award, as well as the John S. Rock Exceptional Leadership and Services Award, presented by the African American Cultural Center. Since then, he has received 11 additional honors and awards for his work in public health.
In 2012, he earned a PhD in health behavior at the Indiana University School of Public Health at Bloomington, which included a pre-doctoral fellowship with Fenway Institute—a center for research, training, and policy development in LGBTQ+ health, affiliated with Harvard University. 
Throughout his career, Schnarrs has held various positions within the health and wellness field, including research consultant on a number of projects, project coordinator for the Center for Sexual Health Promotion at Indiana University in Bloomington, and assistant professor at the University of Texas at San Antionio in the department of kinesiology, health, and nutrition.
In his current position, he is the director for a newly formed center for LGBTQ+ Health Research at UT Austin that, among other goals, aims to bridge public health, social science, and humanities research in this space. He also directs the Texas People-Centered Research, Intervention Design, and Evaluation in Health Collaborative, or the PRIDE in Health Collaborative. Currently funded by the Patient-Centered Outcomes Research Institute, the collaborative brings together more than 14 academic institutions in Texas, Arkansas, and Oklahoma, with a membership of more than 40 research and 100 community partners to build capacity for LGBTQ+ research across US Public Health Region 6.
Schnarrs' research is broadly focused on LGBTQ+ health, and much of his time is dedicated to understanding how exposure to especially unique forms of adversity, like childhood abuse and neglect, experienced early in life by LGBTQ+ people, impacts adult health and wellbeing. He recently received funding from the National Institute of Mental Health, in collaboration with colleagues at the Pride Study at Stanford University, to further develop his Sexual and Gender Minority Adverse Childhood Experiences Framework, and to examine the impact of these unique forms of childhood adversity on immune function in LGBTQ+ adults. 
Over the past decade, he has received nearly $20 million in research funding from the National Institutes of Health, Merck, Robert Wood Johnson Foundation, and the Patient-Centered Outcomes Research Institute. He has authored or co-authored more than 55 peer-reviewed publications, books, community reports, and policy briefs, and conducted almost 70 conference presentations.
He is currently a senior associate editor for the Annal of LGBTQ Public and Population Health, serves on the editorial board of Sexuality Research & Social Policy, and is an ad hoc reviewer for 15 other publications, such as the American Journal of Public Health and Psychology and New Media. He is also on the executive board for Texas Pride Impact Funds, serving as the chair of the grant action committee. This is the only statewide charitable community foundation in Texas supporting grassroots organizations that provide direct services to LGBTQ+ Texans in under-resourced communities through equitable grantmaking.
He is the son of two IUP graduates—Jeffrey Schnarrs, originally from Indiana, and Barbara Azzolina—and is a 2001 graduate of South Park High School.
Corey Crocco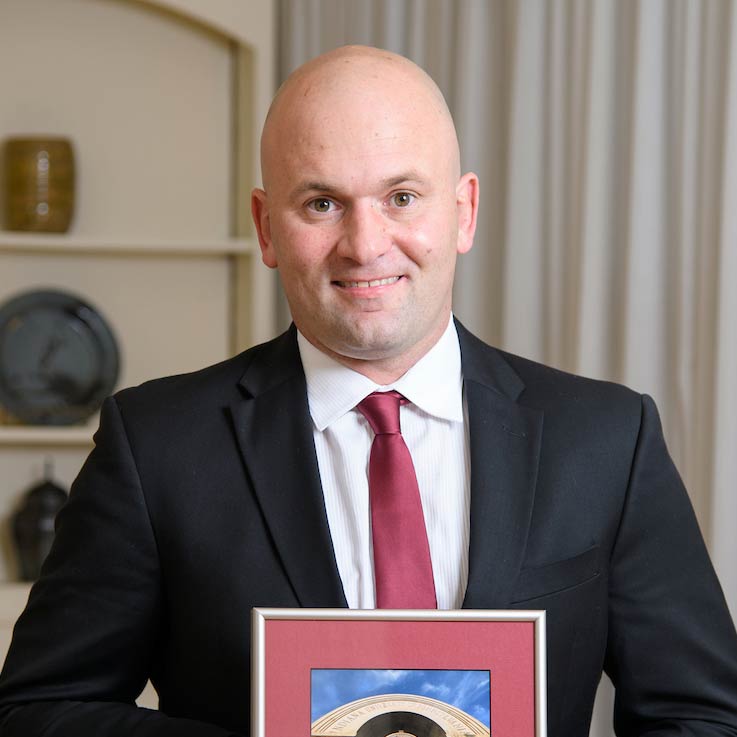 Crocco has worn many hats throughout his career. He has developed and runs a mobile catering business, managing all day-to-day activities, including business sales and development, staffing, vendor management, and serving as executive chef. Through the introduction of new events, services, and clients, Flair of Country Catering and Event Planning has increased its revenue to $1.4 million, becoming one of the most recognized catering companies in Johnstown, receiving Johnstown's Simply the Best Caterer award for six years straight, and Johnstown's Simply the Best Food Truck in the two years since the award was created.
Redefining a local Johnstown establishment by renaming it, creating a new atmosphere, and developing a new menu, Crocco increased the Fifth Local Eatery and Alehouse's revenue by 300 percent from the previous establishment.
In this past year, he built a modern event venue focused on hosting weddings, which is set to open in the spring of 2024.
He has remained connected to IUP, including hosting students for tours, bringing their food trucks to IUP to provide students with hands-on learning experiences in concept design, functionality of equipment, and understanding space relationships within a commercial food kitchen. Crocco visits classes, serves as a mentor, and has provided both paid internships and post-graduation jobs to students. He and his wife are the parents of two children. He is the son of Tamera Froehlich and Lamont Crocco and Kristen Crocco and is a 2006 graduate of Westmont Hilltop High School.
Lindsay Matolyak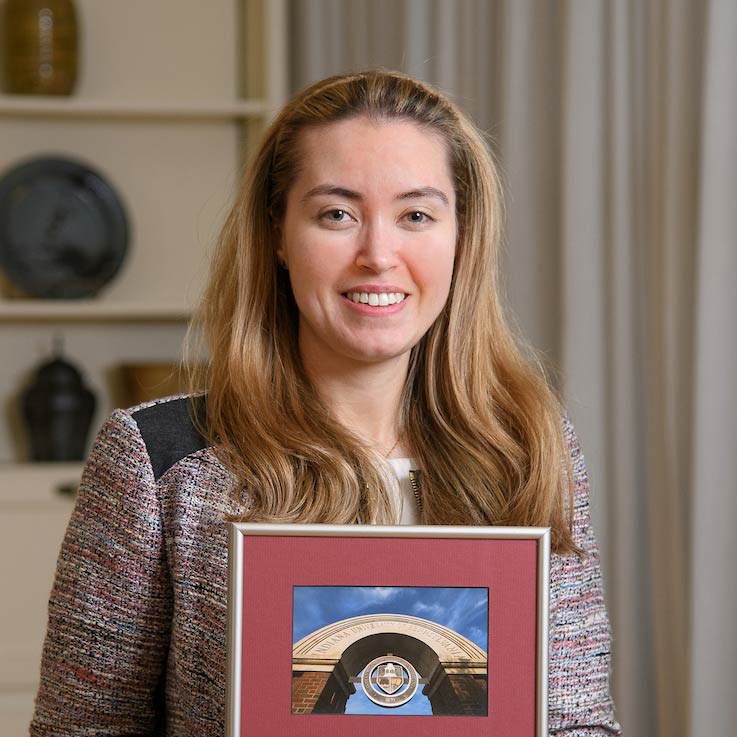 Following her IUP degree, Matolyak earned her PhD in 2018 from Case Western Reserve University in macromolecular science and engineering.
Her career in polymer science at PPG Industries began in 2017 as a research chemist in industrial coating formulations, then moving on in 2019 to senior research chemist in automotive coatings formulations. In 2022, Matolyak led the development of new sustainable basecoat technologies in automotive formulations as a research associate.
Currently the group leader of the compositional analysis lab, she leads a team of technicians, chemists, and PhD researchers focused on chromatography. As a leader in the material science and analytical team, she collaborates across global technical labs to achieve front-end innovation products as well as supporting end-use customers with existing technologies.
Throughout her career, she authored eight journal publications, has more than 50 citations, and one published patent application.
As a student at IUP, Matolyak was the chapter president of the American Chemical Society and a member of Alpha Chi Sigma, participated in department research, won academic achievement awards from the Chemistry Department annually, and won a position in a summer undergraduate research program at Virginia Tech.
She has stayed connected to IUP and the Chemistry Department by returning each year to campus for career talks, mentoring, and participation in the STEM Women's Symposium.
She has established a student mentorship program, Alumni Mentors Empowering Students (AMES), which connects alumni to current students to assist them with the transition from undergraduate student to grad school or industry.
She is the daughter of two IUP graduates, Joye Matolyak and Michael Matolyak, Jr., and is a 2008 graduate of Johnstown High School.