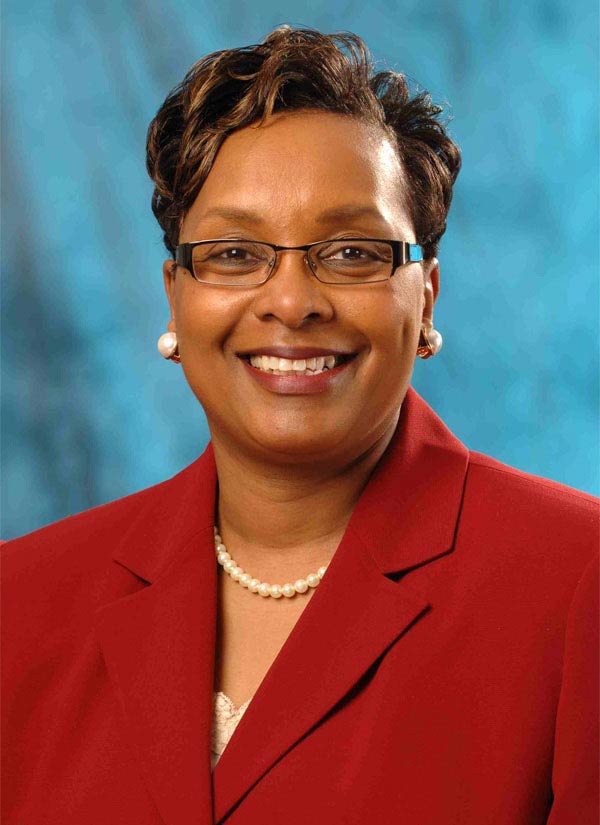 An Indiana University of Pennsylvania Distinguished Alumni Award recipient will be honored by the Pennsylvania State System of Higher Education for her longstanding contributions to diversity, equity, and inclusion efforts during the 2023 Diversity, Equity, and Inclusion Summit.
Charlene Mickens Dukes, a 1980 graduate of IUP and a 2008 Distinguished Alumni Award recipient, will be honored with the Pennsylvania State System of Higher Education Diversity, Equity, and Inclusion Keepers of the Flame Award on November 9.
Dukes is the first female president of Prince George's Community College, with the main campus in Largo, MD, and five degree and extension locations: Joint Base Andrews, University Town Center, Laurel College Center, and the skilled Trades Center. She was named to the position in 2007 and served in that role until her retirement from the presidency in 2020 and holds the title of president emerita. She recently served as interim president of Montgomery College. She was unanimously voted president of the Maryland State Board of Education after having served two terms as vice chair.
"IUP is proud to nominate Dr. Dukes, a nationally recognized leader in higher education and diversity, equity, and inclusion efforts, for this prestigious award," IUP Chief Diversity and Inclusion Officer and Title IX Coordinator Elise Glenn said.
"Dr. Dukes continues to be a trailblazer and fierce advocate for students who has remained engaged with IUP, including serving on the IUP Black Alumni Experience Committee where she and her colleagues work to provide educational opportunities and support for Black and Brown students.
"Dr. Dukes is truly student-focused and provides great leadership in developing opportunities for Black and Brown students informed by her experiences, professional skill, and deep awareness of the challenges students face today," Glenn said.
The Keepers of the Flame awards are given annually to members of the State System of Higher Education community who are dedicated to building and maintaining a diverse, equitable, and inclusive State System where everyone can thrive. Each university in the State System is invited to select a Keeper of the Flame.
The Washington Business Journal recognized Dukes in November 2022 with the Washington, DC region's signature lifetime business award, welcoming her into the Washington Business Hall of Fame and naming her among four of the region's Best in Business 2022.
In 2016, Dukes joined the CareFirst of Maryland Inc. Board of Directors and was elected chair of the CareFirst Inc. board in January 2022.
Dukes is the founder and principal of the Dukes Group LLC, specializing in executive coaching, board development, strategy, equity and inclusion, and advocacy.
She currently serves as chair of the board of the Meyer Foundation, vice chair of the CareFirst, Inc. Board of Directors, secretary of the Greater Washington Community Foundation, and member of the Board of Venture Philanthropy Partners.
Dukes is a mentor for the Aspen Rising Presidents Fellowship Program and a member of the Board of Visitors for the School of Education at the University of Pittsburgh. She was appointed in July 2020 by County Executive Angela Alsobrooks to serve as cochair of Prince George's Forward, a task force charged with the post-COVID transformation of Prince George's County, Maryland. More than 90 recommendations across the areas of health equity, education, human and social services, economic recovery, and continuity of government services were presented, accepted, and funded at a cost exceeding $50M.
As a senior administrator within the community college sector, she relied on both to serve nationally, regionally, and locally. In the mid-nineties, she began her national service as vice president, secretary, and editor of the monograph series for the National Council on Student Development, the organization representing student affairs professionals within the community college sector.
In this role, she was one of the four founders and lead faculty members for the Community College Student Development Leadership Institute, designed to provide professional growth opportunities for college personnel in student affairs. Concurrently, she was on the National Academy Board of the National Association of Student Personnel Administrators, the home for the field of student affairs across all sectors of higher education. She also accepted membership to the Community College Advisory Panel, established by the College Board to better serve the two-year sector.
Dukes was elected by her peers to a three-year term on the Board of Directors of the American Association of Community Colleges, the leadership and advocacy organization for the nation's more than 1,100 community colleges. Within two years, she became chair-elect, which led to her term as board chair in 2016. As chair, Dukes oversaw, in collaboration with the president and CEO, the development of the strategic plan and undertook a robust policy review. In the roles of chair-elect, chair, and immediate past chair, she joined the joint Executive Committee of AACC and the Association of Community College Trustees.
In 2016, she partnered with former Undersecretary of Higher Education and current executive director of College Promise, Martha Kanter, and congressional, state, and community college leaders to support a national approach to increase the number of states adopting "free community college" to eliminate the lack of monetary resources as the leading reason for the shortage of degree completion. It is this advocacy that led to the local and state announcements of the Prince George's County Promise Scholarship in 2017 and the Maryland Community College Promise Scholarship in 2018.
Dukes takes pride in serving in the roles of secretary and convener of the Presidents Round Table of Black Community College CEOs (chancellors, system presidents, and campus presidents) between 2009 and 2020. The President's Round Table includes the current 144 Black leaders in the nation's community colleges.
In 2007, then Governor Martin O'Malley appointed Dukes to the Maryland State Board of Education, the agency responsible for oversight of policies, regulations, and procedures impacting one million students enrolled in pre-K–12 education. Dukes was unanimously elected president of the board in 2012 and served in the role for three consecutive one-year terms.
Dukes, appointed by the late County Executive Wayne K. Curry, served on the Appointed Board of Education in Prince George's County from 2002 to 2006. She chaired the Personnel and Student Appeals committees, where her leadership resulted in policy and procedural changes in personnel matters and the student appeals processes to ensure timely attention, mitigation, and remediation.
During her presidency of PGCC, President Barack Obama recognized Prince George's Community College as a 2011 White House Champion of Change for innovative and transformative programming. Dukes co-led the vision for the first middle college high school in the state of Maryland, the Academy for Health Sciences—a collaboration with the Prince George's County Public Schools, the seventeenth-largest public system in the United States. The program's sole purpose is to provide low-income, historically underrepresented, and first-generation students the opportunity to begin their post-secondary experiences as early as the ninth grade. Six additional middle/early colleges were introduced, focusing on information technology, teacher education, health information management, hospitality management, business, and cybersecurity.
With presidential support and oversight, PGCC became the home of the National Cyberwatch Center, an advanced technology education site funded by the National Science Foundation, beginning in 2007 for total support approaching $20M. It was one of the first six community colleges to be designated a 2010–15 Center of Academic Excellence in Information Assurance at the two-year level by the Department of Homeland Security and the National Security Agency, and the designation continued from 2015 to the present.
A lifetime member of Delta Sigma Theta Sorority, Incorporated, Dukes serves on the national board of directors and maintains her local membership in the Prince George's County Alumnae Chapter. She is also a member of the Prince George's County (MD) Chapter of the Links, Incorporated.
Dukes joined Prince George's Community College as the vice president for student services in 1995, following a progressive ascension through the administrative ranks within the University of Pittsburgh at Johnstown and the Community College of Allegheny County in Pittsburgh.
In addition to her Distinguished Alumni Award from IUP, Dukes has been honored as an outstanding alumna by the African American Alumni Council of the University of Pittsburgh, where she earned both a master's and doctoral degree in administrative and policy studies.  
In 2009, she accepted the 1st Ladies Award given by Radio One and the My Sister's Keeper organization and the Luminary Award from the Prince George's County Black Chamber of Commerce.
In 2009 and 2010, Dukes was recognized for leadership in education by the Pi Upsilon Lambda chapter of Alpha Phi Alpha Fraternity, Inc. She was also recognized by the Washington Business Journal as one of the "2010 Women Who Mean Business," and in 2011 she was honored by the Mitchellville chapter of Kappa Alpha Psi Fraternity, Inc. and by the Washingtonian as one of the "100 Most Powerful Women" in the Washington, DC region.
Her IUP degree is in secondary education with an English concentration. She resides in Glenn Dale, MD, and is the parent of a son, Maurice Dukes.
DEI Summit Features IUP Students, Faculty, Staff, Administrators
The DEI Summit, "The Power of Community: Uniting to Amplify Voices and Foster Well-Being," is scheduled from November 8 to 10. It will be held in a hybrid format; in-person sessions will be held at Shippensburg University and virtual/hybrid sessions will be offered on Zoom.
The virtual sessions are free to State System employees, students, or members of State System leadership groups.
Two IUP faculty members will be part of a panel discussion on November 8 from 9:45 to 11:15 a.m.: "(Re)Envisioning PASSHE Women's Faculty Leadership Training: A Feminist Multicultural Approach." They are Maureen McHugh, psychology professor emerita and Distinguished University Professor, and Lingyan Yang, associate professor of English and director of the IUP's Women and Gender Studies program.
Megan McCue, assistant director of Advocacy and Outreach; Tedd Cogar, senior assessment coordinator and LGBTQIA Support; and Jeremy Risinger, assistant director of Student Success, will present "Crimson Scholars Circle: Creating Community and Improving Retention and Persistence for Black and Brown Students" on November 8 from 2:00 to 3:00 p.m.
Davis Kazako, an English major at IUP, will be part of the panel discussion on November 9 from 1:00 to 2:30 p.m. discussing "Amplifying Voices of Diverse Student Leaders." Kazako is president of the Pennsylvania chapter of the NAACP and is a former president of the IUP NAACP chapter.
Erin Conlin, associate professor of history; anthropology graduate student Elizabeth McCreary; and Christopher Schaney, associate professor in the Department of Geography, Geology, Environment, and Planning, will be part of a panel discussion on November 9 from 1:00 to 2:30 p.m., "Storytelling and Community Collaborations for Equitable and Inclusive Sustainability."