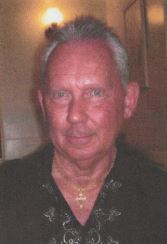 A long-time psychologist and crisis prevention instructor from Johnstown who passed away in March has created a special legacy at Indiana University of Pennsylvania.
The late Robert Flora, a 1978 graduate of IUP's psychology clinical mental health counseling master's program, left instructions revealed after his death to donate $200,000 from his estate to IUP for student scholarships.
Flora grew up in the Moxham District of Johnstown. He was an Army veteran of the Vietnam War, receiving an honorable discharge from the service. A graduate of Johnstown High School, he earned a bachelor of science degree from California University of Pennsylvania before completing his IUP master's degree and additional post-graduate work from the University of Pittsburgh. He then moved to Ebensburg.
The Robert T. Flora Memorial Scholarship will provide scholarship support to students enrolled full-time at IUP who are pursuing a degree in counseling or psychology. The first preference for scholarship recipients is students who graduated from Greater Johnstown Senior High School or Bishop McCort High School; if there are no candidates for the scholarship that fit this criteria, the scholarship will be open to students graduating from a high school within Cambria County.
Flora retired a decade ago from a nearly 30-year career as a staff psychologist with the Commonwealth of Pennsylvania, helping people with mental and physical disabilities as a crisis prevention instructor at the Ebensburg Center. He also chaired the Behavioral Management Committee at the center.
Prior to his work in psychology, he was employed at Bethlehem Steel's Gautier Plant and the car shops and taught high school at Somerset Junior-Senior High School.
"This was a surprise, as Bob never mentioned the donations," said Roberta (Bobbi) Shaffer, a long-time partner. "Bob was extremely private, and almost a mystery, but he wanted to help students to get a good education, especially because many families in the area face some financial challenges," she said.
"Bob always wanted to help people, and he knew he needed the master's degree to get the job that he wanted," she said.
In addition to IUP, Flora left donations to various organizations with the purpose of helping others and honoring his father, mother, and brother.
Shaffer said that Flora never mentioned the charities during his life except for the Conemaugh School of Nursing, where he had previously donated to honor his mother.
IUP continues to see incredible generosity and unwavering support for the university's student-centered success initiatives—including increasing IUP's affordability and value—and the university's commitment to making a significant, positive impact on health and wellness, especially in Pennsylvania's rural communities.