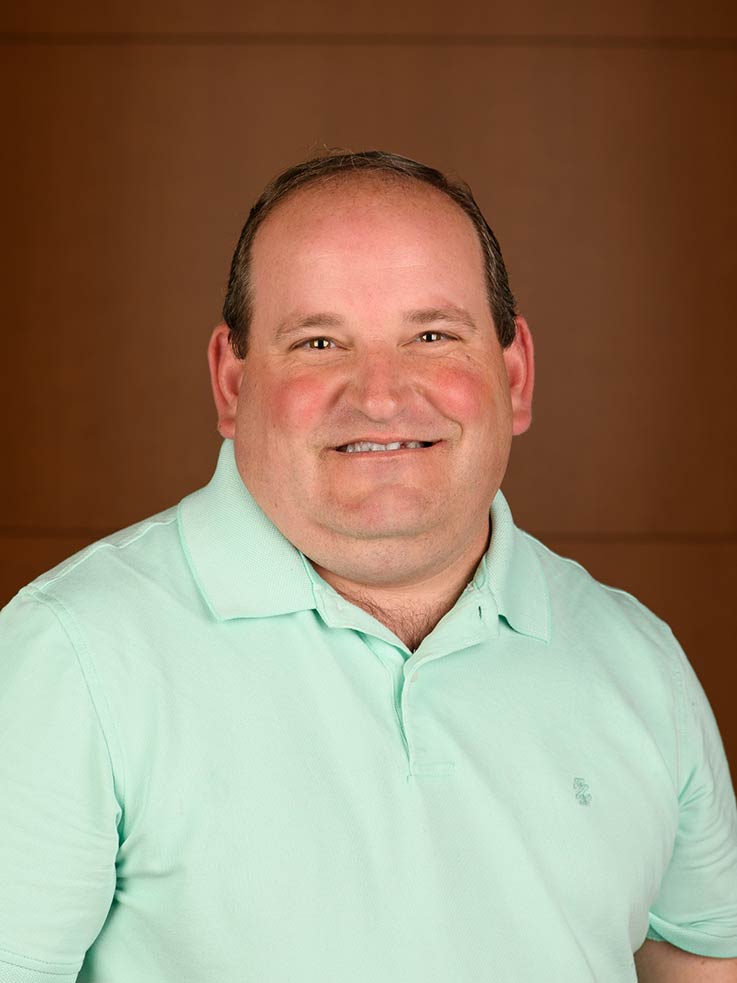 Cory Shay, director of Indiana University of Pennsylvania's Military and Veterans Resource Center, has been selected for the 2023 Veteran Champions of the Year in Higher Education list by Military Friendly.
This list honors champions who advocate for America's veterans in higher education.
Shay's honor will be published in the October issue of G.I. Jobs Magazine, a national print and digital publication that has been connecting service members, veterans, and their families to civilian career, education, and business ownership opportunities since 2001. 
"Dr. Shay is fully committed to serving IUP's veterans and military affiliated students and families in all possible ways," IUP Vice President for Student Affairs Tom Segar said. "It's very gratifying to see him recognized by this organization. His commitment reflects IUP's student-centered priorities, including providing the highest level of support to our veterans and military affiliated students and dependents," Segar said. "IUP is very proud of the Military and Veterans Resource Center and of Dr. Shay's work," he said.
Shay, a veteran of Operation Iraqi Freedom with experience in helping veterans transition from military to academic life, joined IUP as the director of the Center in May 2014. He came to IUP from the Community College of Allegheny County, where he served as coordinator of the Center of Excellence for Veteran Student Success.
At CCAC, Shay was selected for the President's Innovation Award as a result of his work as coordinator of the Center. He was a member of the Society for Instructional Technology in Teaching and Education and has published and presented a paper, "Educational Websites, the Time Saving, Money Saving, Environmental Solution to Education."
His military awards include the Global War on Terrorism Expeditionary Medal, the Iraqi Campaign Medal, the Army Achievement Medal, and the NCO Leadership Development Ribbon.
"What an amazing honor to be recognized as a Champion of the Year in Higher Education," Shay said. "This award not only reflects the work of the Military and Veterans Resource Center but the work of the entire university. 
"When I was hired back in 2014, I was told it was my job to stand in the room and say, 'We can do better for our veterans and military students.' Along the way, with support from faculty, staff, and IUP's leadership, we worked together to change policies, procedures, and institutional best practices for supporting veterans and military-affiliated students. IUP's national recognition as one of the best schools for veterans reflects that great work. It brings me great pleasure knowing that I have helped thousands of veterans and military-affiliated students attend and graduate from college," he said.
"What inspired me to more than a decade career of helping veterans was my interaction with the Veterans Office at Robert Morris University," Shay said. "Back in 2010, I returned to Pennsylvania to finish my master's degree. Funding was an issue, and Dr. Dan Roda there assisted me and educated me on benefits that I didn't know were available. That moment inspired me and made me want to help my fellow veterans. 
"What I never envisioned when I came to IUP is that one day, I would have the opportunity to be an advocate for veterans and military-affiliated students, not just at IUP, but in Indiana County, the region, in Pennsylvania, and across the State System of Higher Education. As chair of PASSHE Veterans Advisory Network, I have worked with passionate colleagues from the State System, have met with law makers, and testified in Harrisburg. Together we have brought about change for all veterans and military students across the entire State System of Higher Education."   
IUP opened its Military Resource Center in January 2014 under the leadership of IUP President Michael Driscoll. The Center was expanded in January 2016 to include the Veterans Affairs Benefits Office to allow IUP to consolidate services provided to veterans, military, and dependent students, including GI Bill benefits; the Center was renamed as the Military and Veterans Resource Center to reflect its expanded services.
IUP is a participant in the Yellow Ribbon program, a provision of the Post-9/11 Veterans Educational Assistance Act of 2008 that allows US colleges and universities to enter into an agreement with the Department of Veterans Affairs to fund tuition expenses that exceed the highest public in-state undergraduate tuition rate.
The MVRC includes a gathering space and conference room for students and an area for one-on-one counseling and assistance with completing required paperwork for receiving military benefits. The MVRC works collaboratively with IUP programs and services, serving as a one-stop information and referral site to help military-affiliated students transition to college life and achieve their academic goals.
The MVRC was established through funding from the President's Strategic Initiatives program at IUP.
In fall 2022, IUP enrolled more than 800 veterans or military-affiliated students (almost 10 percent of the student body). Since fall 2014, IUP has increased the enrollment of veterans and military-affiliated students by almost 70 percent.
IUP has one of the largest ROTC programs in the nation; IUP ROTC commissioned its 2,000th cadet in May 2015. IUP's ROTC program was selected for the 2014 MacArthur Award, given to the top program in the country, and has won the Governor's Trophy three times, which is presented to the most outstanding military science program at a Pennsylvania college or university.
IUP has graduated 12 generals, one Navy rear admiral, and one Navy vice admiral.
IUP is consistently selected by military publications for excellence. In 2022, IUP was selected by Victory Media for the 10th consecutive year for its list of Military Friendly Schools, which honors institutions the magazine's editors describe as delivering "the best experience for military students."
IUP also has consistently been named by Military Times magazine as one of the nation's "Best for Vets" institutions; in 2022, IUP was one of only four public universities in Pennsylvania selected for the honor. IUP is a Gold Award winner in the 2022–23 Military Friendly Top 10 Schools recognition. IUP was selected for the inaugural Pennsylvania National Guard Association's Guard Friendly School designation in 2019, one of only 30 chosen for the designation.