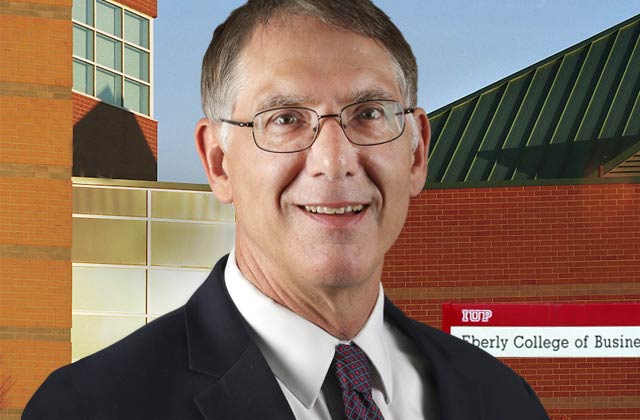 Following a national search, an experienced academic leader has been selected to serve as the dean of Indiana University of Pennsylvania's Eberly College of Business.
Stephen Ferris will begin his work at IUP on July 1.
Ferris comes to IUP from his position as dean of the Miller College of Business at Ball State University in Muncie, Ind.
"Dr. Ferris will be a great addition to IUP's administrative team," IUP Provost and Vice President for Academic Affairs Lara Luetkehans said. "He's a seasoned academic leader with a focus on student success and innovation in academic programming. I look forward to working with Dean Ferris and the faculty and staff of the Eberly College of Business as we continue our momentum forward toward becoming an exceptionally student-centered university and preparing the next generations of business professionals."
Provost Luetkehans offered her appreciation to the search committee and committee chair Steve Hovan, dean of the John J. and Char Kopchick College of Natural Sciences and Mathematics, and to the university community for its involvement in the search process.
"I also want to thank Dr. Prashanth Bharadwaj for his leadership as interim dean of the Eberly College," she said. "His passion for business and education, and especially for Eberly College students here and around the globe, has never wavered. We are very grateful for his service to IUP." Bharadwaj stepped into the interim role in January 2022 following the interim leadership of Geofrey Mills and the retirement of Robert Camp.
Bharadwaj will return to his role as dean's associate and faculty member in IUP's Department of Management.
Born in Kittanning, Ferris grew up in Natrona, where his father worked for Allegheny Ludlum Steel Corp.
Prior to his work at Ball State University, Ferris was dean of the college of business at the University of Colorado, Colorado Springs. He also worked at the University of Missouri–Columbia for 25 years, most recently as the interim dean of  the Trulaske College of Business there. He served as director of the Financial Research Institute and was the JH Rogers Chair of Money, Credit, and Banking. He also held administrative positions at Missouri as senior associate dean for research and graduate studies as well as chair, department of finance. He began his academic career as a finance professor at Virginia Polytechnic Institute and State University in Blacksburg, VA.
"I am excited about returning home to western Pennsylvania and becoming part of the IUP community," Ferris said. "I am eager to join President Driscoll and Provost Luetkehans in their vision of creating a transformational experience for our students while meeting the educational needs of the Commonwealth."
Ferris earned his PhD in finance, with a minor in macroeconomics and quantitative methods, and his MBA in finance from the University of Pittsburgh. He earned his bachelor's degree in mathematics and French from Duquesne University.
Ferris is also a retired commander, US Navy, with a specialty in logistics. During his military career he earned an MSS in strategic studies from the US Army War College, a diploma with distinction from the US Naval War College, and a diploma from the US Army Command and General Staff College.
In his work as dean and associate dean, Ferris created new student learning programs focused on leadership training, career mentoring, and student internships. He also developed new faculty assessment and mentoring policies while creating a strategic plan for college diversity and inclusive excellence initiatives. Ferris launched a program for offering noncredit and customized business solutions as part of his college's lifelong learning initiative. He also has experience in the creation of new academic curricula to meet student and employer needs, with an emphasis on the regional workforce development.  
Ferris has served in leadership roles for various academic associations, including terms as president of the Midwest Finance Association and Eastern Finance Association and as chair of the board of trustees for the Eastern Finance Association. He has been the editor of academic journals including the Journal of Multinational Financial Management and the Finance Review. He has published widely in the areas of international business, corporate finance, law, and strategic management. His articles on logistics and defense strategy have appeared in various security, military, and transportation related publications.
He is the 2020 "best paper award" and "top download award" winner from European Financial Management and received several other awards for his scholarship. He has been an invited presenter for various national and international conferences.