The Haven Project at Indiana University of Pennsylvania will host the annual Take Back the Night event on April 12 from 6:00 to 9:00 p.m. on the IUP main campus.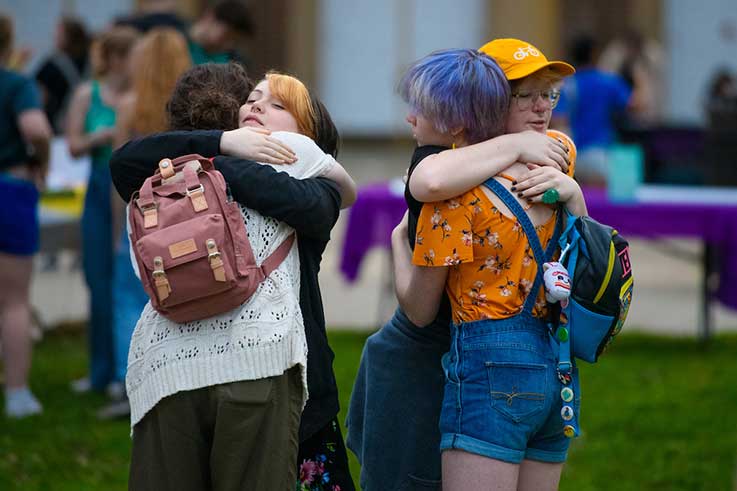 Take Back the Night is designed to raise awareness and support survivors of sexual violence, domestic and dating violence, and stalking.
TBTN is also intended to show those impacted by sexual violence that IUP is a unified community dedicated to ending sexual violence and supporting survivors and victims. The event is free and open to all.
TBTN is a global event held at colleges and universities throughout the nation. In many situations, violence occurs at night, and as a result, many people stay home out of fear.
Every year, more than a thousand people—students, staff, faculty, and Indiana residents—participate in the event, including the Alice Paul House, Indiana County's comprehensive victims' service organization that provides trauma-focused advocacy and empowerment to victims, survivors of domestic violence, stalking, and sexual assault.
The 2023 TBTN theme is "Shatter the Silence."
The Haven Project assists students who have experienced these issues, collaborating with area police departments, the IUP Counseling Center, and the Alice Paul House. The Haven Project also works closely with IUP's Social Equity and Title IX Office to address sexual harassment, sexual violence, retaliation, and other prohibited sexual misconduct.
The Haven Project supports victims and survivors by providing confidential counseling and information on resources, accommodations, and reporting options, and educates the campus community on these issues by providing educational programming and awareness campaigns and events. The Haven Project also provides volunteer opportunities, internships, and practicums for students.
This year's event includes the opening event at 6:00 p.m. in the Oak Grove and the TBTN march through campus starting at 7:00 p.m. in the Oak Grove; and the Survivors Support Reception and Speak Out event at 7:30 p.m. in the Hadley Union Building Ohio Room.
The opening event in the Oak Grove includes chalking the walks, sign-making, photo opportunities with Norm, visiting resource tables, and guest speakers including IUP President Michael Driscoll and Vice President for Student Affairs Tom Segar. As supplies last, participants can get a free TBTN 2023 T-shirt and can sign the IUP "It's On Us" pledge. It's On Us is a national initiative designed to combat campus sexual assault by engaging all students in awareness and prevention education programs.
The opening event also will feature a display of the Clothesline Project, which includes shirts designed by victims and survivors of sexual or relationship violence (no names are associated with the shirts), to raise awareness and show support for people who have experienced these crimes.
The TBTN march ends at the HUB (the march route follows ADA standards for accessibility and takes roughly 15 minutes in total). IUP's ROTC students, cadre, and staff will act as march guides to keep the path clear. The march is held in an effort to end violence and send the message that victims and survivors will no longer remain fearful and secluded in their homes.
Counselors and advocates will be available at the Survivors Support Reception and Speak Out event to talk with participants, and self-guided healing activities will be provided at every table. The Speak Out is a safe and judgment-free space for survivors, victims, and loved ones to share their experiences and stories with sexual violence. Any student is welcome to speak once the floor is open. Light refreshments will be provided by Insomnia Cookies.
To continue the conversation of Sexual Assault Awareness for the month of April, the Haven Project and the IUP Fashion Merchandising program will present the "What Were You Wearing?" exhibit from April 17 to April 28 in the first-floor atrium of IUP's Jane Leonard Hall.
This exhibit brings awareness to the issue of victim blaming and helps to dismantle the myths about sexual violence occurring due to what a person was wearing when the assault occurred.
In the case of inclement weather on April 12, the 2023 TBTN event will be rescheduled for April 19.
IUP is a six-time winner of Pennsylvania Governor Tom Wolf's It's On Us Grant. Part of the 2023 grant funds are being used to expand IUP's partnership with the Alice Paul House, including supporting the Alice Paul House's resource tables and advocates at the TBTN event.