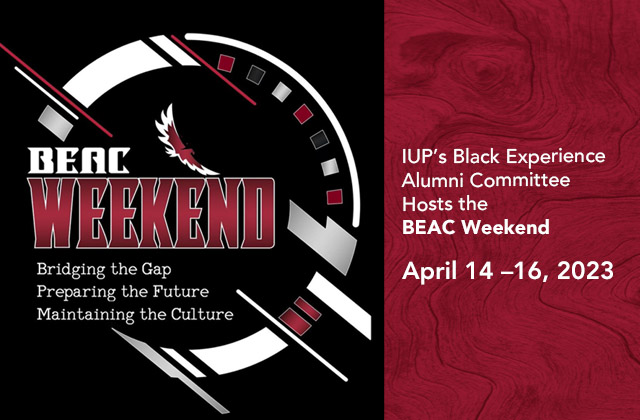 The Black Experience Alumni Committee is hosting the inaugural BEAC Weekend for both alumni and students. Events are designed to provide opportunities to bridge the gap between students and alumni, build lasting relationships, prepare for the future by supporting and uplifting Black students at IUP, and maintain the culture as alumni are reconnected to their alma mater. 
Highlight events include:
Friday, April 14
IUP Black Experience Roundtable Luncheon, Sutton Hall Blue Room, 11:30 a.m.–1:30 p.m.

BEAC Alumni and Student Meet and Greet, Breezedale Alumni Center, 4:30–6:30 p.m.

Stroll Competition, HUB Ohio Room, 7:00–9:00 p.m.
Saturday, April 15
Black Wall Street Vendor Market, HUB Ohio Room, 10:00 a.m.–2:00 p.m.

Scholarship Gala: Black Excellence in Academia, Sutton Hall Blue Room, 6:00–9:00 p.m.
Sunday, April 16
Farewell Breakfast, Victory Christian Assembly, 9:00–10:00 a.m.
For a full list of events and to register for events, please visit the IUP Alumni website or email Karen Cramer at kcramer@iup.edu. Registration closes at 7:00 a.m. on Monday, April 3.